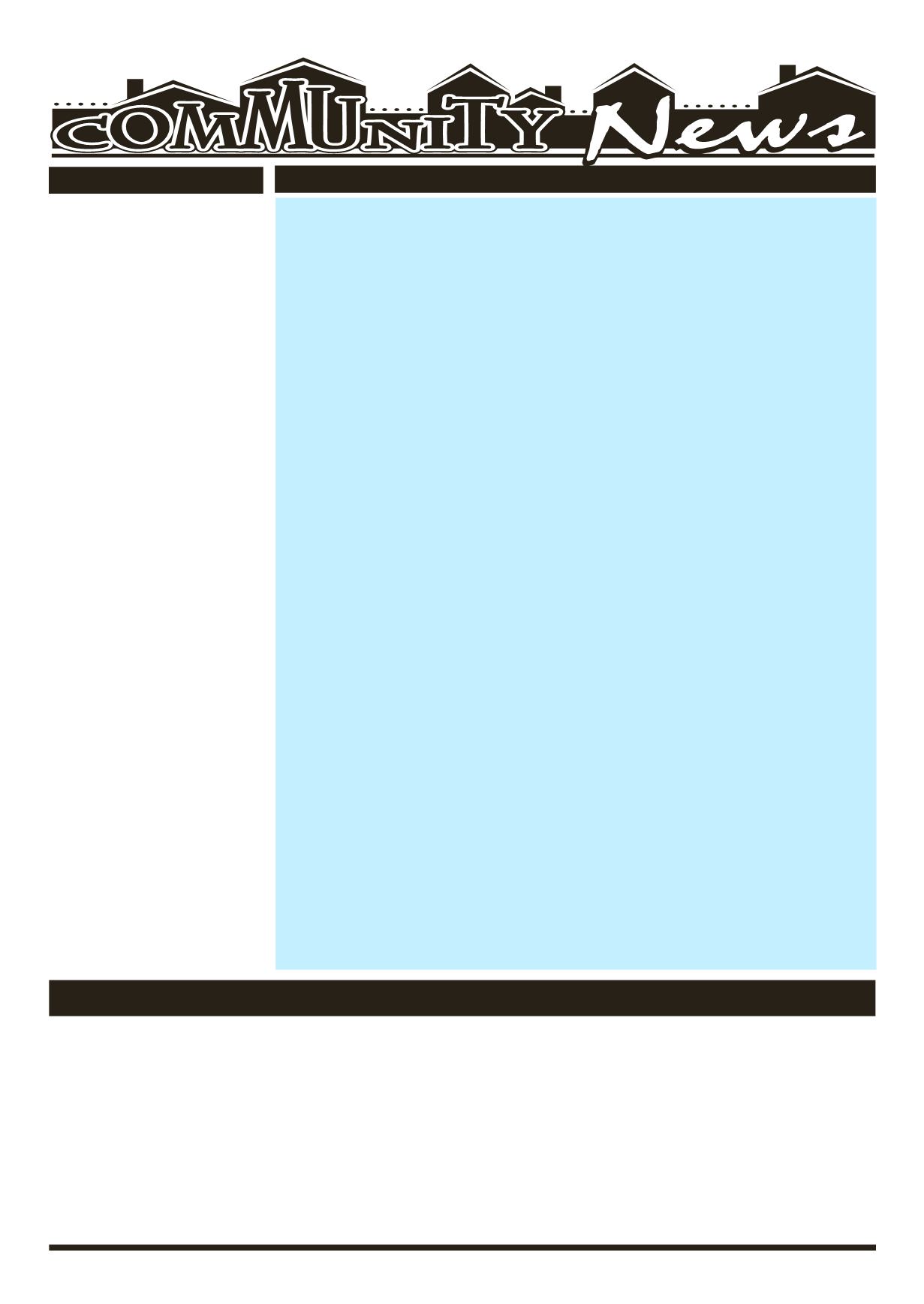 LEROYPENNYSAVER&NEWS - JULY 3, 2016
All GeneseeCounty residents, 60andolder, can takepart in thisweek'sactivitiesat theBataviaSenior Center, 2BankSt., Batavia. Formore information, call 343-1611.
SENIORCITIZENSACTIVITIES (July 4th - July 8th)
WEEKLYEVENTS
OBITUARIES
4thof JulyHoliday–SeniorCenterClosed
CatholicCharitiesMeeting
is scheduled tobeginat10:00a.m.;
Cribbage
is scheduled tobeginat1:00p.m.
AlzheimerAssociationMeeting
isscheduled tobeginat9:00a.m.;
Quilter'sGroup
isscheduled tobeginat9:00a.m.;
Second
Phaseof theAlzheimer'sAssociationMeeting
is scheduled tobeginat11:00a.m.;
Euchre
is scheduled tobeginat1:00p.m.
Cribbage
isscheduled tobeginat1:00p.m.;
Bridge
isscheduled tobeginat1:00p.m.
Legal ServicesbyAPPOINTMENTSONLY!
Will be takingplace this date.;
ArtClass
is scheduled tobegin at 10:00 a.m.;
LineDancing
is scheduled tobeginat10:00a.m.;
Euchre
is scheduled tobeginat1:00p.m.
SUNDAY, JULY3
MONDAY, JULY4
TOPS (TakeOffPoundsSensibly)
meetsMondayevenings at theLe-
Roy Presbyterian Church, corner of Clay &Main Streets. Doors open at
6:00pmandmeeting is from6:30-7:15pm.Visitorsarealwayswelcome.
Call 585-768-7103 formore information.
TUESDAY, JULY5
Preschool Storytime :
EveryTuesdayat 11am featuring stories, craft
and songs at PavilionPublic Library, 5WoodrowDr., Pavilion. For info:
LCCP's GRACE'S KITCHEN:
CLOSED JULY 5th, RE-OPEN July 12th.
A FREE dinner every Tuesday evening, 5-6:30 pm at the Masonic
CommunityCenteron12BankSt. Plentyofparking.Takeout&delivery
are available. For more info. contact Selby Davis at 585-738-8882 or
GRACE'SCLOSET:Aclothinggiveawayprogram
UnitedMethodist Church, 10 Trigon Park, Le Roy, 9:30 am to 11:30 am
every Thursday.We have clothing for all ages. We are in need of boy's
clothingsizes0-3T.Donationscanbedroppedoffat thehousenext to the
church. Pleaseput all bags INSIDE on thebackporch. NO ELECTRONICS,
OpenTuesdays5-6:30pm.
the office 768-8980.Wewill be
CLOSED
theweek of July 4th opening
AXISStudentMinistryatLivingWatersChurch
Sundaysfrom6:30to8:30p.m.for7thto12thgrade.Ourgoal isforteens'
livestobe impacted,andradicallychanged. Formore information,check
WEDNESDAY, JULY6
HealthySnacksProgramattheWoodwardMemorialLibraryforchildren
ingradesK-2onWednesday, July6 from1 -2p.m.
Registration is required! Call 768-8300 or register online at
WatercolorpaintingclassforadultbeginnersattheWoodward
MemorialLibrary
from6:30to7:30p.m. Learnsimpletechniquesto
createbreathtakingblooms. All supplies provided. LedbyAngelina
Viveralli. Registration is required! Call 768-8300or register onlineat
THURSDAY, JULY7
Who is Jackson Pollock? Program for children in grades 3-6
at theWoodwardMemorial Library
from 1-2 p.m. Create your
own JacksonPollack inspiredmasterpiece. LedbyMaryBethDolan.
Registration is required! Call 768-8300 or register online at
FRIDAY, JULY8
PenuelChristianFellowship,
OneSteptoFreedomaddictionsminis-
try,aChristCenteredAddictionsprogram,aweeklymeetingeveryFriday
at7pm.Call theChurch formore informationat768-6901or594-9575.
Penuel ChristianFellowship
isorganizingayoungadult fellowship
andBiblestudy.Ages:12andup,Time:Fridays from7-9pm,Study: the
bookof Romans (a16week course), taught by JosiahGariboldi.Place:
Legos,Games,andaMovieattheWoodwardMemorialLibrary
from 12 – 2 p.m. for children in grades Kindergarten through 6.
Registration isNOT required.
SATURDAY, JULY9
Veterans Only Social Club -
Genesee Veterans Support Network
announces a newmeeting location at Scooter's Family Restaurant,
3711WestMainStreet Road, Batavia, NY - for theonceamonthVet-
eransOnlySocialClub.Meetingsareheld thesecondSaturdayofeach
month from7:00 to8:30PM.Veteransofallerasare invited toattend.
GVSN is locatedat3837WestMainStreetRoad,Batavia,NY. Formore
Squirt Gun Painting and Play at theWoodwardMemorial
Library
(Grades3-4fromnoonto1p.m.,Grades5-6from2to3p.m.).
Participantswill paint a largemural using fun techniques including
squirt guns. LedbyAngelinaViveralli. Registration is required! Call
768-8300or registeronlineat
UPCOMINGEVENTS
The JulyLeRoyTown&CountryGardenClubmeeting
tour of the thehostagardens inCaledoniaonWednesday, July13th
at6:30pm. Contact JulesFeltesat703-0087 formore information.
SurfShackVBS July18th-21st,6-8:15pm,FirstBaptistChurch,
5EastMainStreet.BibleStories,games, snacks, crafts,music,drama,
missionprojectsforchildren4-12years.Call768-2308for information
or to pre-register Sponsored by First Baptist, First Presbyterian, St.
MarksEpiscopal, andUnitedMethodistChurchesof LeRoy.
CommunityCalendarSubmissions shouldbe sent to:
LEROY~Nelson, Peter "Pete", age 79, of
LeRoy, aftera tenyearbattlewithhealth is-
sues,peacecame toPeteonJune12,2016.
Petehas requested that therebenocalling
hoursandasks that in remembranceofhim,
youdo somethingniceandunexpected for
BERGEN~PatriciaA.Ruge,73,ofBergen,
went to be with our Lord at 6:00 p.m. on
Thursday (June 16, 2016) at Unity Health
System–ParkridgeHospital ICU inGreece.
In lieu of flowersmemorialsmay bemade
to the Bergen Evangelical Presbyterian
Church, 38 S. Lake Ave., PO Box 206,
CALEDONIA ~ Frank A. "Frankie The
Barber"Antinore,passedawayonJune22,
2016at age92.Memorialsmaybemade to
AvonAmbulance,74GeneseeStreet,Avon,
NY14414orCaledoniaAmbulance,POBox
BERGEN~RichardS.Seely,87,ofBergen,
a master mechanic at George & Swede
Sales and Service in Pavilion, died Sat-
urday, June 25, 2016 at NewRoc Nursing
& Rehabilitation Center, in Rochester. In
lieu of flowers, memorials may be made
to Bergen Rescue Squad, P.O. Box 428,
LE ROY ~ Mary E. Hannan, age 64, of
Perry Road, passed away on Sunday
afternoon (June 26, 2016) at Crossroads
House surrounded by her loving family. In
lieuof flowers,memorialsaresuggested to
CrossroadsHouse, P.O. Box 403, Batavia,
LEROY~G.Howard (Howdy) Jensen, age
90, of West Main Street, passed away at
home onMondaymorning, June 27, 2016.
Servicesand intermentwill beprivateat the
LeRoy - Paul C. Raffel passed away June
23,2016atage82.Memorialsmaybemade
to theHumaneSocietyofGeneseeCounty,
3841W. MainStreet, Batavia, NY14020.