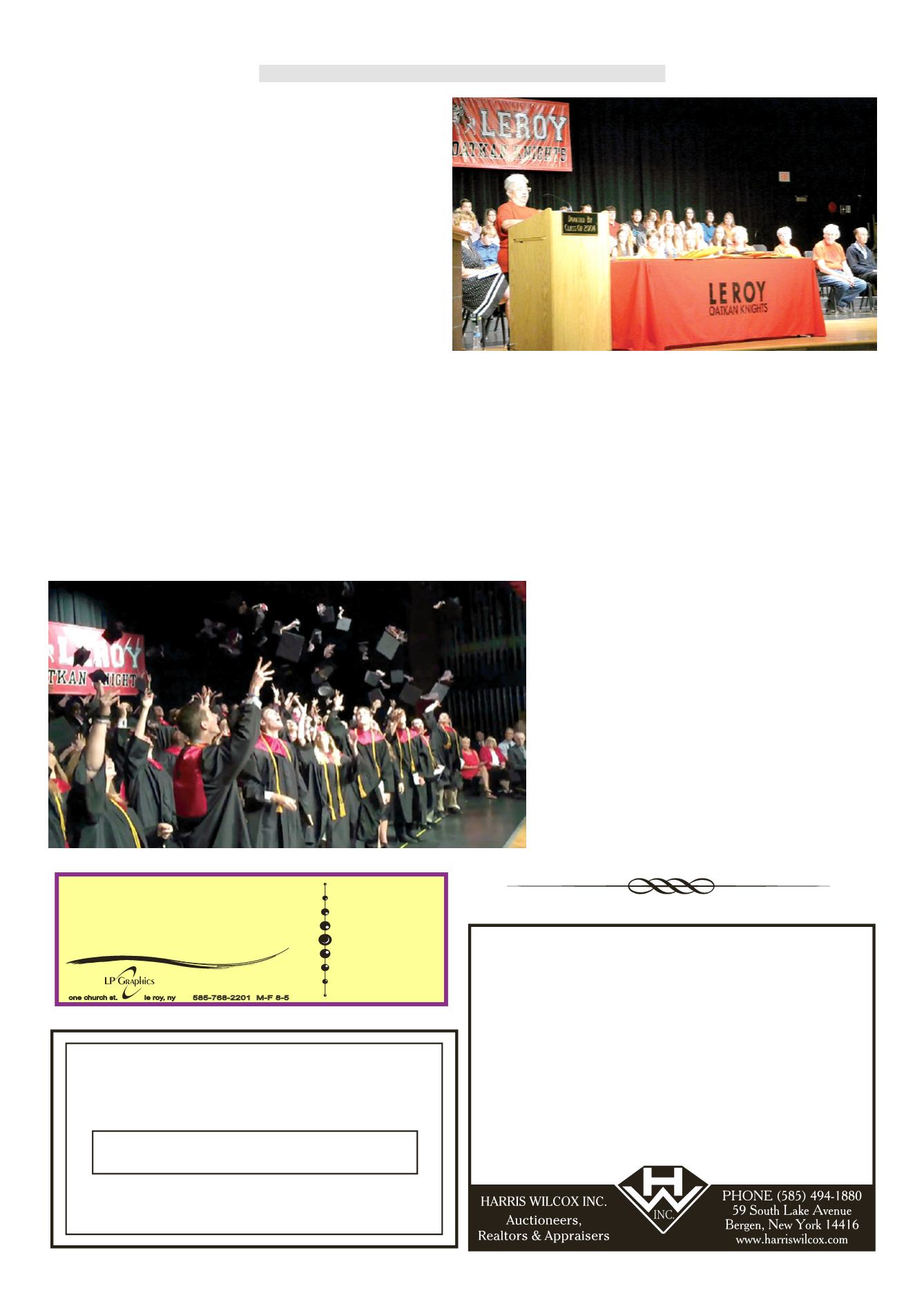 LEROYPENNYSAVER&NEWS - JULY 3, 2016
Plumbing • Heating
Installation&Repair Service
For All Residential &Commercial Work
SAT., JULY 16, 2016
• 12:00NOON
CALEDONIA, NY
Auction tobeheldat 375LeicesterRoad (Rt. 36) just south
Sellingwill be3.84acres.Lot is152'wideonLeicesterRoad
and 1365' deep. Lot has well and trees. Gas, cable and
electricareavailableat the road. Assessed for$22,800and
sells for$3,000orabove.$2,000deposit required tobid.For
information call Shelly at 683-0995.
byKimM. Cox
Superintendent of Schools
The 2015-16 school year came
toanexcitingconclusion thispast
Saturdayaswebid farewell to84
graduates at the 125th Le Roy
Central School District Com-
mencement Ceremony. Prior to
the ceremony, families, friends,
and students were treated to a
wonderful slideshow commem-
orating the seniors' journey
through their final school year.
The celebration itself featured
inspiringspeechesbyAmyLowe,
Valedictorian, Kieran O'Hal-
loran, Salutatorian, and Board
President, Don Hobart. Randy
Boyd was selected by the class
as facultypresenter, andsummed
up the feelingsofallpresentwith
his concluding statement, "I love
you guys!" We are very proud
of these youngmen and women
as they leave us and take the
next steps to college, career, or
militaryservice.Congratulations
a highlight of the graduation
season. Each year we invite
the class of "fifty years ago"
back to participate in Senior
Classof1966 joined theClass
of 2016 to help recognize ac-
complishmentson thisspecial
evening.Membersof theclass
met with students before the
ceremony to offer advice and
to provide the "50" year per-
spective. Thesemembers joined
the students as they entered the
auditorium and Lynne McK-
neown gave a special greeting.
The Le Roy Central School
District community works dili-
gently toensure thatour students
areprovidedwithsafepassage to
school,asafeandsecure learning
environment, healthymeals and
aviableand rigorouscurriculum.
Weare fortunate tohavesupport-
ive and caring adults serving in
all aspects of the school. This
year we have a few of our cher-
ished team members leaving
us to begin new adventures in
retirement. Congratulations to
JeanColby, teachingassistantand
Maureen Hanley-Ehmann, spe-
cial education teacher. Also, we
bid a sad farewell to JonWilson,
assistant principal at theWolcott
projectwill be in full swing and
is due to be mostly completed
for the start of theyear.AGrand
Opening for theHartwood Park
complex is tentatively planned
for September 23rd. I will keep
you updated on construction
progress throughout thesummer
andbe sure tocheckout pictures
onTwitter at@LeRoyKnights
New to theDistrict?Pleasecall
us as soon as possible to register
your children for school so we
can plan for a smooth transition
to our school district. Also,
don't forget to complete your
transportation forms for pick-up
and delivery of your children.
Routesarealreadybeingcreated
Finally, I would to take a mo-
ment to thank the staff and stu-
dents for theirdedicationandhard
work thatwent intomakingapos-
itive andproductive school year!
one church st. le roy, ny
one church st. le roy, ny