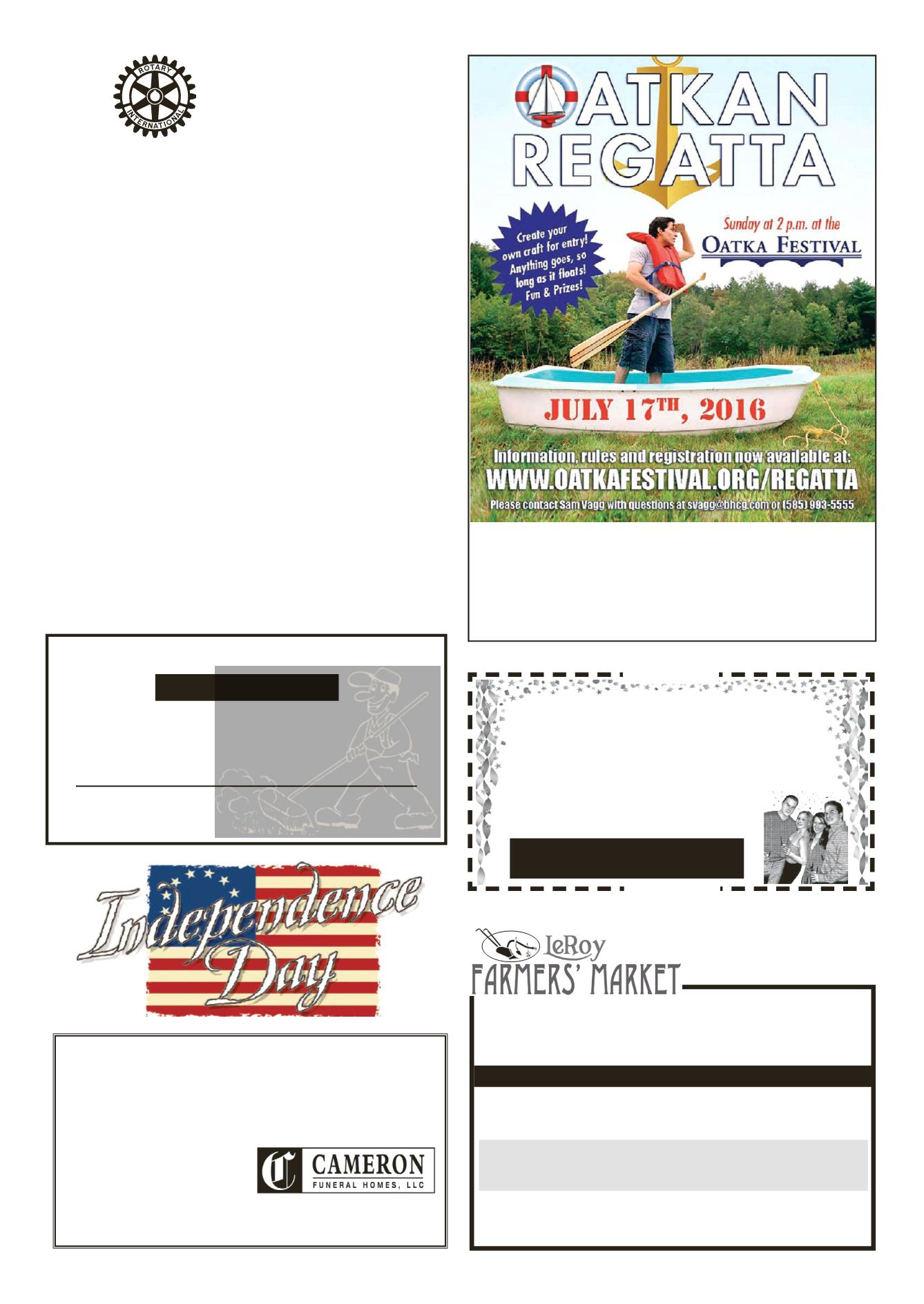 LEROYPENNYSAVER&NEWS - JULY 3, 2016
LeRotary
Notes
American Legion
Post 576
585-768-2090
CLIP&SAVE
CLIP&SAVE
Inside - 2RoomsAvailable
Outside - LargePavilion
CleaningService
•Carpet &UpholsteryCleaning
•Spot Cleaning&Odor Removal
•Tile&WoodFloor Cleaning&Waxing
•Complete Janitorial Services
The June 22ndmeeting of the
RotaryClub of LeRoy began in
theusualmannerwith thePledge,
Prayer and FourWay Test. Visi-
tors includedDawnMcCollough,
wife of Rotarian Jerry McCol-
lough. Also with us was former
Rotarian and Past President Dr.
Announcements were as fol-
lows: FridayMorning Breakfast
with Bob on Friday, June 24th,
REAL Book Away will be on
Saturday, June 25th, Installation
Dinner on Wednesday, June
29th, GeneseeCountyChamber
of Commerce Golf Outing on
Wednesday, July 27th at Batavia
Country Club. Thirsty Third
Thursdaywasheld lastThursday
atTheEaglewithagreat turnout
byRotarians and their guests.
LynneBellusciowaspresented
withacheck for thebenefitof the
Several members were called
on regarding missed meetings:
Lynne Belluscio, Christine Ge-
phart, Jerry McCollough, Tim
Moag, RandyVink, PhilWeise,
There were only a few fines
today: Jerry McCollough paid
forhis recentRotaryAnniversary
(16years),PhilWeise forhis two
weekoldbabydaughter andTra-
cyFordwas called on to discuss
a newspaper article about our
incoming Rotary 7090 District
Our program today was the
Annual Milne Fund Report.
Kim Cox and Samantha Vagg
discussed miscellaneous issues
of the prior year and reviewed
changes in the Milne Recipient
Selection Process. Tim Moag
updateduson thefinancial status
Please like theRotaryClub of
Youmay bring your boat the day of the event. Registration/check in table
will open at 12:30pm on the creek bank. Cost: $15.00 per person
Pleasemakecheckspayable to: OatkaFestival
Mail to: SamVagg, 72NorthStreet, LeRoy, NY 14482
Pleasemail payment, the completedTeamRegistrationForm, the2016OatkaFestival
RegattaApplication, Statement of Physical Condition, andWaiver &Release of Liability
All documents are available for download at:
Please register your team together.
HelpingFamiliesCelebrateaLifeLived
"Our FamilyServingYours Since 1907"
Trusted•Honest •Proven
Cameron, Brady&Steuber
FuneralHome
111Wolcott Street
LeRoy,NY 14482
(585) 768-6800 •
Likeus onFacebook
eRoyFarmer'sMarket onFacebook
Saturdays ThroughOctober 1st
LOCAL • FRESH•DELICIOUS •NUTRITIOUS
Seasonal Fruits andVegetables
Will BeArrivingWeekly!
NEWTHISSEASON in theManager'sTent -
Local Artists,MiniGallery Series
FeaturedArtist ThisWeek -CamilleParrish -Acrylics
ALWAYSLOOKINGFORNEWVENDORS&VOLUNTEERS
ContactMaryMargaret Ripley - 297-2441