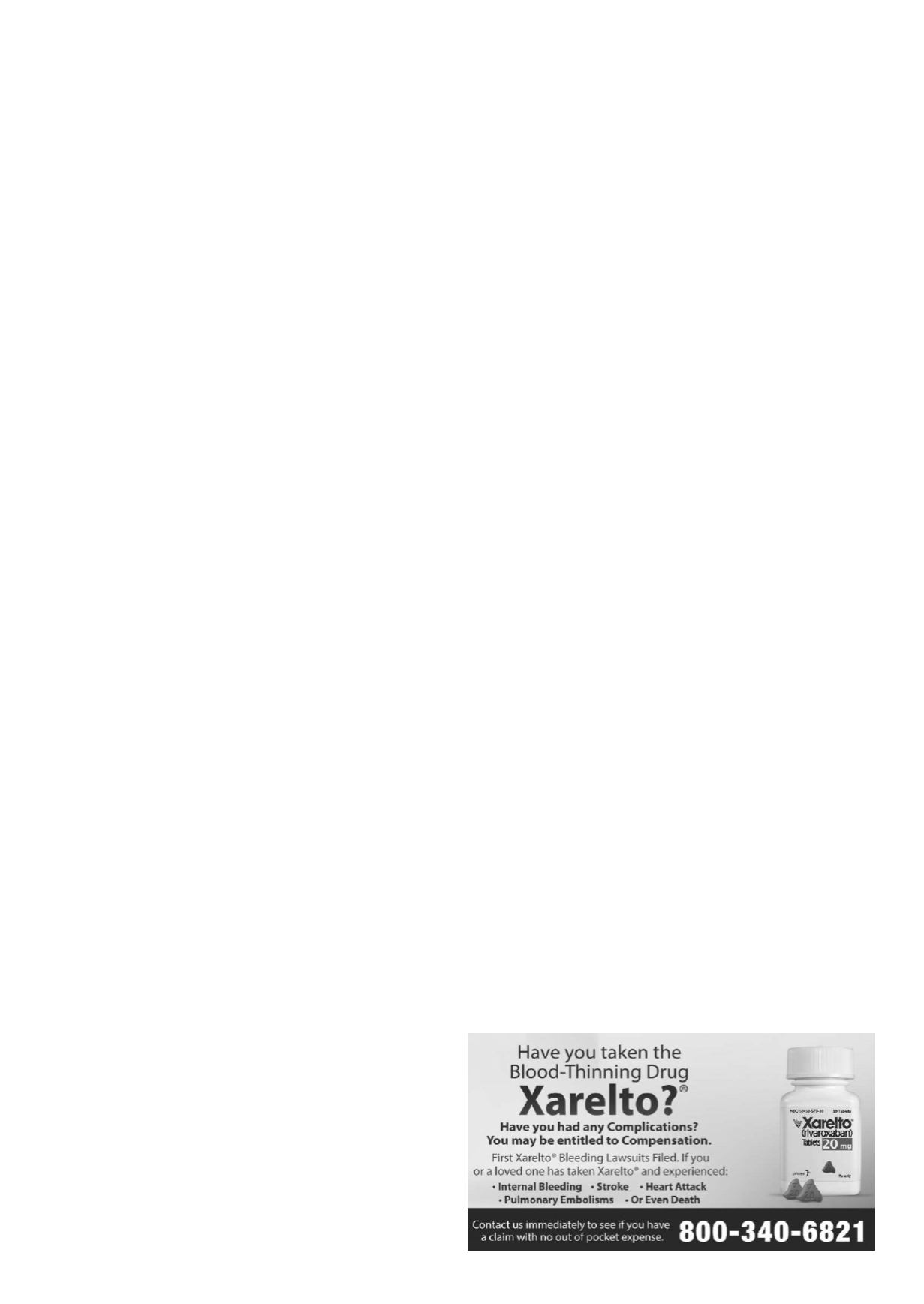 LEROYPENNYSAVER&NEWS - JUNE 5, 2016
LeRoyLittleLeague -May 23rd-28th
A's 7 WhiteSox 2
The A's used a strong 4th and
5th inning to pull away from the
White Sox in this early Monday
game. The scorewas tied at 2 af-
ter 3 innings asA's pitchersBrady
Fix and ShawnMorabito and Sox
pitcher Kenny Saunders kept the
hitters at bay. A Jake Williams
single followed by a Mike Covert
double opened it up for the A's in
the fourth. Back toback singlesby
theFixbrothersJacksonandBrady
followedbyawalk toMorabitoand
another Williams single made it
7-2 A's. The score would remain
that way as Morabito made quick
work of theWhite Sox in the top
Fix andMorabito would scatter
twohitsand3walkswhilestriking
out 9 for the A's. Saunders had 9
K's of his ownwhile allowing just
6hits in41/3 inningsbeforebeing
Orioles 10 RedSox7
matched up for the second time
this season in what amounted to
a back and forth battle to the end.
TheRedSox struckfirst in the top
of the first. After several walks, a
hardhitballbyLukeLathanscored
XavienWalkerandJohnPanepento
to take theearly2-0 lead. TheOri-
oles answered back in the bottom
of the first. Tyler Strollo drove in
brotherDrew, andwas soondriven
in by a triple by Jimmy Burns to
tie the game at 2. One batter later,
Ben Pocock hit a 2 run bomb over
the left field fence to give the O's
Not to be outdone, the Red
Sox answeredwith 3 in the top of
the 2nd to take a 5-4 lead. John
Panepentocleared thebaseswitha
double to left, scoring Zach Tool-
ey, Luke Caccamise, and Xavien
Walker. In the bottom of the 3rd,
theOrioles reclaimed the leadafter
singles byBen Pocock and Jimmy
Burns, who were subsequently
driven in by James Blake, setting
Again, the Red Sox answered
immediately in the 4th. This time
a single by Joey Brennan scored
Caccamise and Walker, flipping
thescoreboard in theRedSox favor
7-6. TheOrioleswould answer in
the bottom of the inning with a
twoout rally.DrewStrollo singled
himself onbasewith awell-placed
bunt, and would use his speed to
get to third on a throwing error.
A single to left from Tyler Strollo
would score Drew, knotting up
the score at 7. Jimmy Burns then
hit a triple, knocking in Tyler and
scoring himself on a throwing er-
ror. After adoublebyBenPocock,
James Blake singled him in again
to give the Orioles a 10-7 lead.
The leadwouldhold as both teams
pitching and defense settled in for
John Panepento struck out 8
pitching for the Red Sox. Luke
Caccamise finished the game on
the mound for the Sox. Offensive
contributors for the Sox included
Caccamise with a single and 2
runs, Xavien Walker with 3 runs,
and JohnPanepentowith a double,
3 RBI, and a run. Joey Brennan
added 2 singles and 2 RBI, while
LukeLathanalsoknocked in2, and
ZachTooley singled and scored.
Andrew Pocock earned the win
on themound for theOrioles, strik-
ing out 4. DrewStrollo and James
Blakealsopitched,withBlakeearn-
ing thesave(4Ks). OffensivelyBen
Pocockhad3hits,3 runs,and3RBI
while hammering a homer. Drew
Strollo singled and scored twice,
while Tyler Strollo added 2 hits,
2 runs, and 2 RBI. Jimmy Burns
sped around the bases for 2 triples,
scoring 3 runs and knocking in 2.
JamesBlakeadded2hitsand3RBI.
Indians 10 A's 7
The Indians and As played in
their second meeting of the sea-
son. After 2 scoreless innings, the
visiting Indians would strike first
after Jacob Iten reached safely.
Jacobwouldwork his way around
and eventually score on a passed
ball. Tony Piazza, who was hit
by a pitch, would also score in the
inning. The Indians would begin
to break the game open in the top
of the 4th scoring 6 runs after all
9batters reached safelyduring the
inning. Thescoringwashighlight-
ed by an RBI single by Maicen
McKenzie and a 2-RBI double by
Zach Vanderhoof. However, the
A's have a strong offense and they
would begin tomount their come-
back in thebottomof the5th. After
scoring1 in the 4th inning, theA's
wouldhave their own6 run inning
as Jackson Fix had an RBI single
and Shawn Morabito would have
a 2-RBI double as well. Heading
in to the6th inning,with thegame
now tight, the Indians refused
to fold. Cory Wallace, Connor
McGee, and Jack Duyssen each
reached safely. MaicenMcKenzie
would draw awalk to score a run.
JudeShermanwouldfollowupwith
a sacrifice to scoreMcGee giving
the Indiansa10-7 leadheading into
the bottom of the inning. Connor
McGee pitched in relief of Zach
Vanderhoof and retired all three
batters he faced in the 6th to close
out thewin for the Indians.
Hitting for the IndianswereZach
Vanderhoof, JackDuyssen (2 hits)
Hitting for theA's were Jackson
Fix (2hits),BradyFix (single, dou-
ble), andShawnMorabito (double).
Orioles 10 Tigers 0
TheOriolesandTigers lockedup
in a 4 PMmatchup onWednesday
afternoon. Tigers pitcher Adam
Risewick and Orioles pitcher Jim-
myBurnsbothbreezed through the
first two innings inefficient fashion.
The Orioles got on the board in
the top of the first with a two out
rally. TylerStrollosingled, andwas
driven in by a JimmyBurns triple.
BenPocock doubled inBurns, and
after a single by JamesBlake, both
Pocock and Blake stole home to
give theOrioles a 4-0 lead.
The Orioles would add 3 runs
in both the 5th and 6th innings,
powered by hits fromBenPocock,
Andrew Pocock, Drew Strollo,
Tyler Strollo, Jimmy Burns, and
Themain story line in this con-
test was the dominating pitching
of Jimmy Burns. Burns earned
the win, allowing only 1 hit and 2
free passes in 5.2 innings of work.
Burns used a full repertoire of
pitches tostrikeout15. BenPocock
finished thegameon themound for
Jackson Spezzano broke up the
no-hit bid in the5th inning, fouling
offmultiplepitchesbeforedoubling
down the rightfield line. Spezzano
would also relieveAdamRisewick
on the mound for the Tigers, who
Offensively 5 players had mul-
tiple hits for the Orioles. Orioles
hitting were Drew Strollo (single,
double), Tyler Strollo (2 singles,
2 runs), Jimmy Burns (double,
triple, 3 runs, 2RBI), Ben Pocock
(2 ground-rule doubles, single, 3
runs, 2RBI), James Blake (single,
double, 1 run, RBI), and Andrew
Pocockwhosingledanddrove in2.
Adrian Stephens gathered 3walks
RedSox 9 WhiteSox 0
The Red Sox were able to get
the victory over theWhite Sox on
Thursday by a score of 9-0. The
Red Sox used great pitching and
excellent defense to get the win.
Theyonlysurrendered3hitsallday.
After a scoreless inningandhalf
theRedSoxwereable toget on the
board in their half of the second
inning.LukeCaccamiseandBryce
Lathan started the inningwith sin-
gles. After a couple of strikeouts,
ZachFlansburdrewawalk.Adrop
third strike and a single byXavien
Walkerwouldbring inall threebase
runners. At the end of the second
theRedSox had a 3-0 lead.
They would strike again in the
3rd.Caccamise(single),AydenRig-
gi (HBP), Luke Lathan(HBP) and
Flansburg(walk)wouldall score in
the frame. The big hit was a 2-run
double by John Panepento. At the
endof 3 the scorewas 7-0.
The lastof thescoringcame
in their half of the 4th. Caccamise
would reach base via a fielders
choice. Lathan would follow with
a walk. They both scored after
reaching base thanks to a Riggi
single and Jayce Panepento RbI
The White Sox were kept in
check all day at the plate by Cac-
camiseand JoeyBrennan.Thepair
would throw a total of 64 pitches
to complete the game. Caccamise
started and pitched the first three
innings. He struck out 2. Brennan
threw the final three and struck
out 5. TheWhite Sox were led on
themound by Finn Shelby. Shelby
went31/3andstruckout6.Michael
Buccina pitched the final 1 2/3
TheWhiteSoxwere ledbyKen-
ny Saunders at the plate. He had 2
doubles on the day. Wyatt Draper
added a single to round out the
TheRedSoxwere ledbyPanepen-
to( doubleanda triple)andCaccam-
ise( 2 singles). Bryce Lathan(sin-
gle),Riggi(single), andFlansburg(2