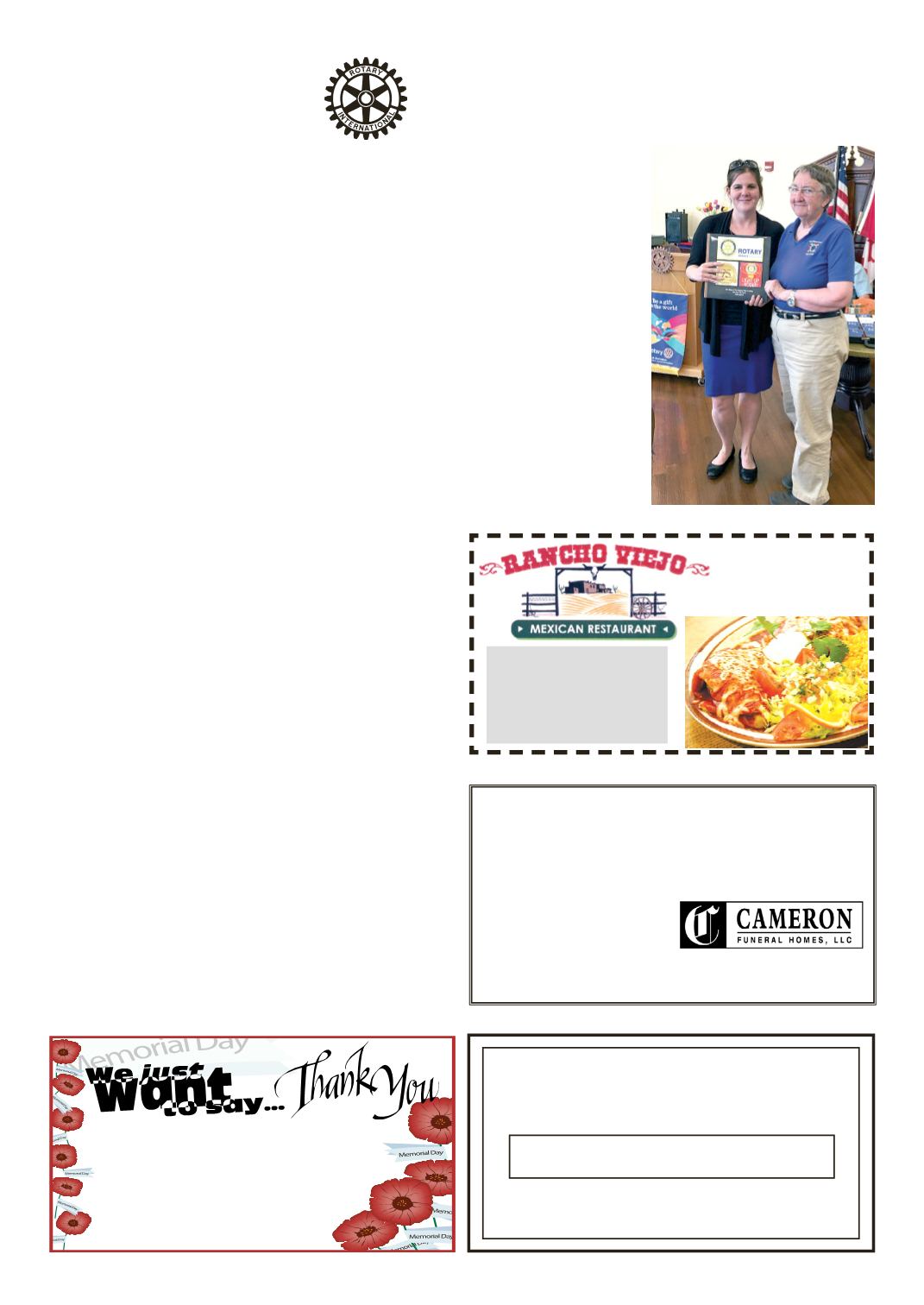 LEROYPENNYSAVER&NEWS - JUNE 5, 2016
LeRotary
Notes
HelpingFamiliesCelebrateaLifeLived
"Our FamilyServingYours Since 1907"
Trusted•Honest •Proven
Cameron, Brady&Steuber
FuneralHome
111Wolcott Street
LeRoy,NY14482
(585) 768-6800 •
Likeus onFacebook
Plumbing • Heating
Installation&Repair Service
For All Residential &Commercial Work
A
BIG
THANKYOU
to ourwonderful community for
supporting ourPoppySale and
coming out for the parade in honor
ofMemorialDay.
Itwasabeautiful sunnyday for
ourWednesday lunchmeeting at
theGreensofLeRoyasPresident
Tony Gugino, brought the meet-
Guests included: JennaHobart,
JamieBiviano,andJohnMcClurg
Pledge of Al-
legiance
Test theannouncements included:
Graze to Raise and UnitedWay
DayofCaringwrap-ups, Thirsty
ThursdayatMooney's,Breakfast
withBob, the InstallationDinner
at the Village Inn in Caledonia
at the end of July, the donation
to the LeRoy Historical Society
of the LeRoy Rotary history
book that SamVagg and Lynne
Belluscio created and of course
the announcements wouldn't be
complete without Randy Vink
letting us know when the Area
14 Christmas Party will be in
MissedMeetings:MikeCassata,
Kim Cox, Lynne Belluscio, Tom
Cox, Jim Ellison, Tracy, Ford,
ErikFix,TimMoag,RandyVink,
Phil Weise and Rob Murray all
hadmissedmeetings butmanyof
them hadmake-ups andmany of
themmissed last week's meeting
because they were participating
in theUnitedWayDay of Caring
where the Rotary Team helped
out at thePavilionPublicLibrary.
Sullivanwhile hewas in Florida
for the winter and showed him
how much we missed him by
fininghim forhisMarchbirthday.
He of course made up all of his
18 missed meetings at his local
Thefineswere interesting today.
KimCoxwasfined forher roleas
SuperintendentofourfineLeRoy
Central School system for being
named a Silver Medalist in the
National rankingsofUSNews&
World Report placing in the top
11% of schools in the country.
TimMoagwas fined for his for-
mermusic teacher fromPavilion
Centralwho is aworld renowned
singer who sang at the Village
Green recently. RandyVinkwas
fined for his employer,Orcon In-
dustrieswho got media attention
for theiremployeesallgivingpart
of theirChristmasbonuses to the
Independence Fund which is an
organization that helps veterans
become mobile again with spe-
cialized track wheelchairs. Ron
Pangrazio was fined for 2 of his
grandchildren graduating from
college, one from theUofR and
Christie LoTempio was back
after a longbreakwhile she con-
tinuedhereducationatGCC.She
caughtuponherfinesandmissed
meetings andwe are glad she is
back with us. Bob Boyce was
fined for his snazzy new Buick
Christine Gephart took the
floor as our program today and
with Mrs. Biviano's and Mrs.
Hobart's support talked about
our Rotary's Early Act crew
whichmeets after school atWol-
cott Street School. The children
ranging from kindergarten to
6th grade all work monthly on
different serviceprojects suchas
RedRibbonWeekwhere they tie
red ribbons along Main Street,
workingwith theGeneseeCoun-
tyAnimalShelterandVolunteers
for Animals where they learned
aboutpet therapy, and raised
over $100 to help the ani-
mals.Christine talkedabout
the group exercises they do
together and how they learn
that each of them plays an
important role in the whole
our meeting was over until
next week. Don't forget to
alsowewould like to thank
ourbiggest fundraiserof the
year, The Graze to Raise a
127WestMain St.
LeRoy, NY 14482
585-502-5292
BuyOne
Dinner or Lunch
&Get The SecondAt