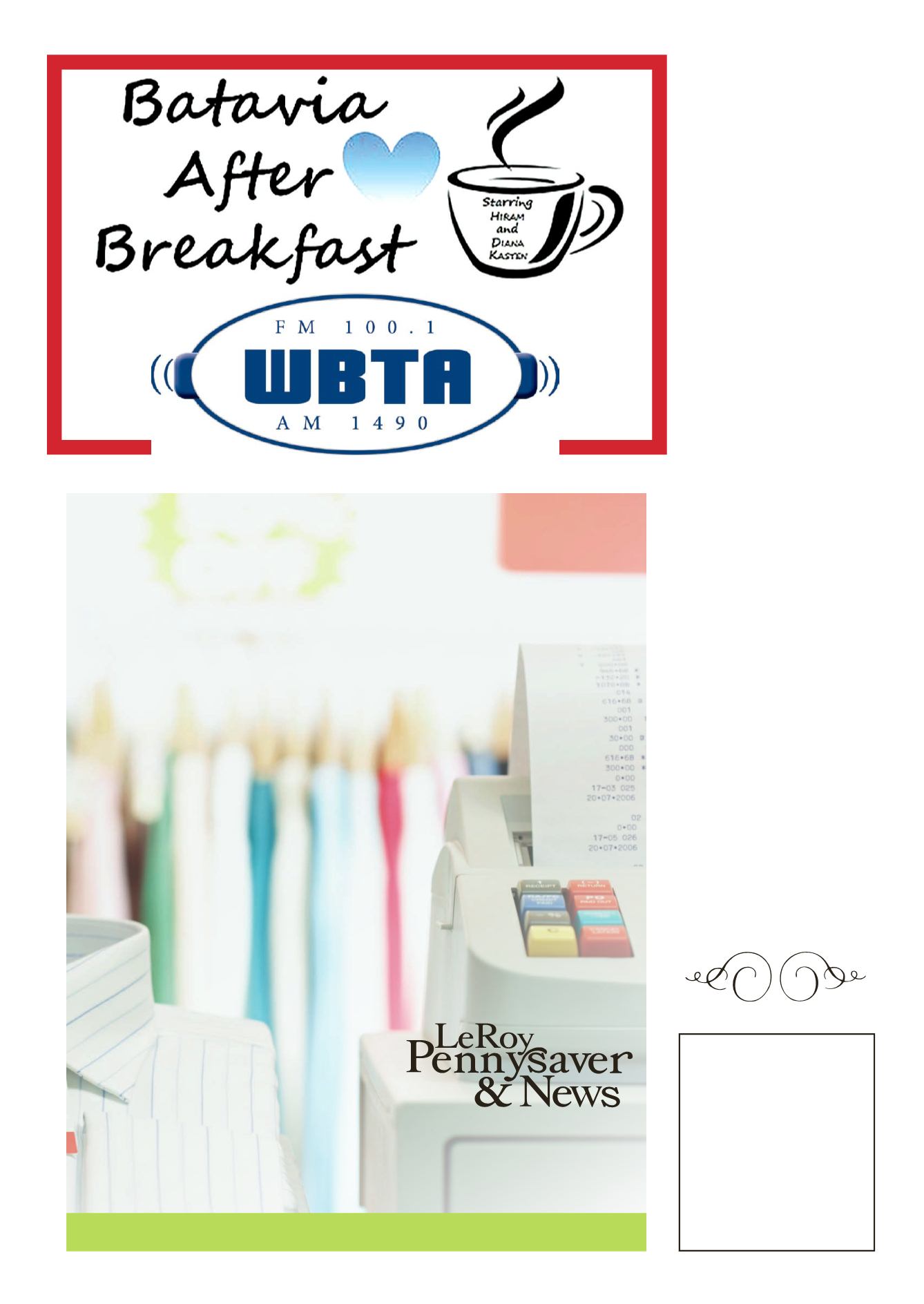 LEROYPENNYSAVER&NEWS - JUNE 5, 2016
Nazareth College announces
its Dean's List for the Spring of
KelseyMilligan
majoring inHealthSciences.
CourtneyTaylor
Alexandra Walker
is majoring in Communication
AllisonMWeaver
has been named to the Spring
2016 Dean's List at Kutztown
University. To be eligible for
Dean's List, an undergraduate
student must be registered for at
least 12 credits and have amini-
mumgradepointaverageof3.60.
More than 1,650 students were
Daniel Weaver
was named to theDean's List at
LehighUniversity in the Spring
Dean's List status, which is
awarded tostudentswhoearneda
scholasticaverageof3.6orbetter
while carrying at least 12 hours
of regularly graded courses, has
been granted to Daniel Weaver,
of Le Roy, NY, in the fall 2016
Samantha Walker
is one of nearly 700 Lebanon
Valley College students named
to the Dean's List for the spring
semester. Dean's list students
must maintain aGPA of at least
Walker, a graduate of By-
ron-BergenHigh School, is pur-
suing a bachelor of science in
actuarial science at TheValley.
PRAYERTOTHEBLESSEDVIRGIN:
(Neverknown to fail).Oh,mostbeautiful flower
ofMt.Carmel, fruitful vine, splendorofHeaven,
BlessedMotherof theSonofGod, Immaculate
Virgin,assistme inmynecessity.Ohstarof the
Sea, helpmeandshowmehereinyouaremy
Mother. OhHolyMary,Mother of God, Queen
of Heaven and Earth, I humbly beseech you
from thebottomofmyheart tosuccorme inmy
necessity (make request).Therearenone that
canwithstand your power. OMary, conceived
without sin, pray for us who have recourse to
thee (three times).HolyMary, Iplace thiscause
inyourhands (three times).Say thisprayer for
threeconsecutivedaysyoumustpublish itand
it will be granted to you.
Advertise •Classifieds •News •HelpWanted •CommunityCalendar
585.768.2201
1ChurchSt., LeRoy, NY14482
oyny.com