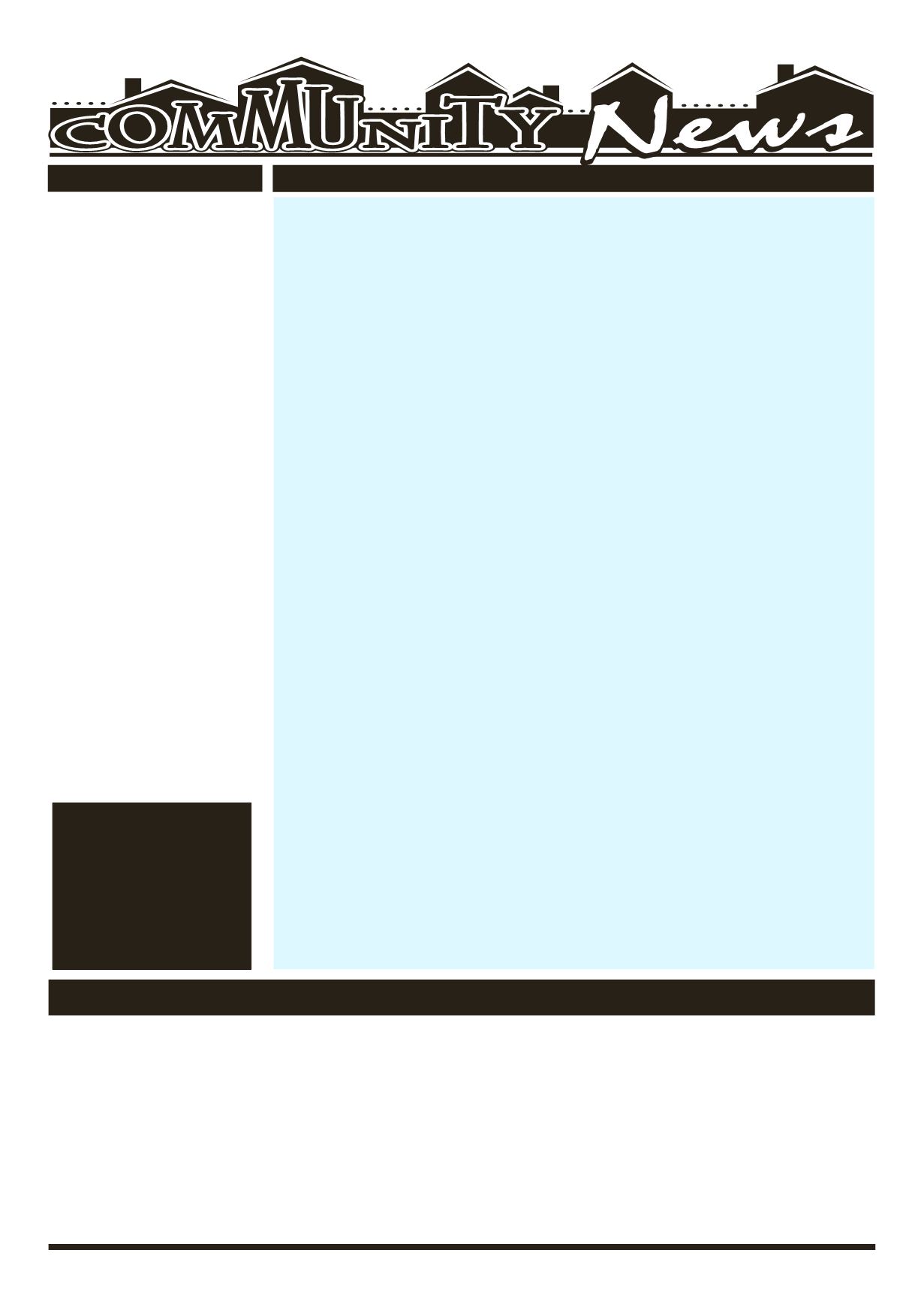 LEROYPENNYSAVER&NEWS - JUNE 5, 2016
All GeneseeCounty residents, 60andolder, can takepart in thisweek'sactivitiesat theBataviaSenior Center, 2BankSt., Batavia. Formore information, call 343-1611.
SENIORCITIZENSACTIVITIES (June 6th - June 10th)
WEEKLYEVENTS
OBITUARIES
ArthritisExercise
is scheduled tobeginat9:30am;
Bridge
is scheduled tobeginat11:30am;
DefensiveDrivingClass
TaiChi
isscheduled tobeginat1:30pm;
RTSMeeting
is scheduled tobeginat1:00pm;
DriversandCongregateMealsiteManagers
Meetin
g is scheduled tobeginat1:00pm.
DefensiveDrivingClas
s is scheduled tobeginat9:00am;
SeniorCenterKickOffSummerLuncheon
is scheduled tobeginat11:00am;
Crib-
bage
is scheduled tobeginat1:00p.m.
Quilter'sGroup
isscheduled tobeginat9:00a.m.;
OmbudsmanMeeting
isscheduled tobeginat9:00am;
Euchre
isscheduled tobeginat1:00p.m.
TaiChi
isscheduled tobeginat9:30a.m.;
GentleFitness
isscheduled tobeginat10:30a.m.;
Cribbage
isscheduled tobeginat1:00p.m.;
Bridge
isscheduled tobeginat1:00p.m.
LegalServicesforAPPOINTMENTSONLY
ArtClass
isscheduledtobeginat10:00a.m.;
LineDancing
Euchre
is scheduled tobeginat1:00p.m.
SUNDAY, JUNE5
MONDAY, JUNE6
TOPS (TakeOffPounds Sensibly)
meetsMonday evenings at the LeRoy
Presbyterian Church, corner of Clay&Main Streets. Doors open at 6:00 pm
andmeeting is from 6:30-7:15 pm. Visitors are always welcome. Call 585-
768-7103 formore information.
TUESDAY, JUNE7
Preschool Storytime :
EveryTuesdayat11am featuring stories, craft and
songsatPavilionPublicLibrary,5WoodrowDr.,Pavilion.For info:584-8843.
LCCP'sGRACE'SKITCHEN:
AFREEdinnereveryTuesdayevening,5-6:30pm
at theMasonicCommunityCenteron12BankSt.Plentyofparking.Takeout
&deliveryareavailable. Formore info. contactSelbyDavisat585-738-8882
GRACE'SCLOSET:Aclothinggiveawayprogram
MethodistChurch,10TrigonPark,LeRoy,9:30amto11:30ameveryThursday.
Wehaveclothingforallages.Weneedbeddingofallkindsespeciallyblankets.
Donations canbedroppedoffat thehousenext to the church. Pleaseput all
bags INSIDE on the back porch. NO ELECTRONICS, COMPUTERS,DISHES, etc.
OpenTuesdays5-6:30pm.
Anyquestions call theoffice768-8980.
AXIS Student Ministry at LivingWaters Church
Sundays from6:30 to8:30p.m. for 7th to12thgrade. Our goal is for teens'
lives tobe impacted,and radicallychanged. Formore information, checkus
WEDNESDAY, JUNE8
THURSDAY, JUNE9
Townof LeRoyBoardMeeting
, 7 pm at theTownHall BoardRoom, 48
FRIDAY, JUNE10
PenuelChristianFellowship,
OneStep toFreedomaddictionsministry,a
ChristCenteredAddictionsprogram,aweeklymeetingeveryFridayat7pm.
Call theChurch formore informationat768-6901or594-9575.
Penuel ChristianFellowship
is organizinga youngadult fellowshipand
Bible study. Ages: 12andup,Time: Fridays from7-9pm, Study: thebookof
Romans (a 16week course), taught by Josiah Gariboldi.Place: 7115West
TheStaffordUnitedMethodistChurch ishavingaFREEgiveaway
onJune10th from11AMto5PMandJune11th from11AMto2PM.There
will be assorted clothing, household items, books, holiday decorations
andmuchmore. The church is located at 6134Main Rd., Stafford. And
remember.....all itemsare free!
SATURDAY, JUNE11
The Byron Bergen Public will be hosting the Kelly's Heroes
MarchingBand
at theBergenParkFestivalon June11,2016. Theband
will be in the parade and in the park afterward. This free program is
madepossiblewith funds from theDecentralizationprogram, a regrant
programoftheNewYorkstateCouncilontheArtswithsupportofGovernor
AndrewCuomoand theNewYorkStateLegislatureandadministeredby
theGenesee-OrleansRegional ArtsCouncil (akaGo-Art).
Veterans Only Social Club -
Genesee Veterans Support Network an-
nounces a newmeeting location at Scooter's Family Restaurant, 3711
WestMainStreetRoad, Batavia, NY - for theonceamonthVeteransOnly
Social Club. Meetings are held the second Saturday of eachmonth from
7:00 to8:30PM.Veteransof all erasare invited toattend.GVSN is located
at 3837WestMain Street Road, Batavia, NY. Formore information, con-
tactGVSN,POBox541,Batavia,NY14021-0541
TimeforOurSpringRummage!!
Somenice itemshavearrivedalready
andmore coming! NO JUNK-all items sorted andpriced to sell ! Salebe-
ginningat7AMand running till 2PMRigaChurch, 6057Chili-RigaCenter
Rd. (Rts. 33a@36)Churchville,NY Come treasurehunt !
UPCOMINGEVENTS
The PavilionPublic Library
will celebrate the new additionwith an
Open House - Sat., June 4 at 11 am.
Woodrow Rd., Pavilion. Info:
TheGeneseeValleyCivilWarRoundtable
presentsDennis P. Bielewiez
on"Heroes in theAttic",Wednesday, June15that7:00pm.Themeetingwill
takeplaceat LeRoyUnitedMethodist Church, 3rddoor on right endof long
sidewalk, 10TrigonPark, LeRoy, NY. Discussionperiodwill followprogram.
TheSeniorCitizensofLeRoyandStafford
of themonth fromMarch through December for dinner and a planned
program.Wemeet in the Knights of Columbus Hall behind Save-A-Lot
onWestMain Street. Each person attending brings a generous dish to
passorpays$4.00each foranicebuffetmeal andsocial. Bringyourown
place settingandbeverage. Coffee, teaanddessertareprovided.Dinner
isservedat6:00pmfollowedbyaprogram.Please joinusforanenjoyable
evening. Anyquestions,pleasecontactJudyRidley,Director@768-2001,
Le Roy High School's Class of 1961 is planning a 55th Reunion
brunch
onSunday, July17that theLeRoyCountryClub. Brunchwill be
servedat 11:00amat aper person cost of $20.00. Please contact Lynda
Taylorat585-768-8024,e-mail
and to confirmyour attendance.
CommunityCalendarSubmissions shouldbe sent to:
GEORGIA/LE ROY ~ Peter J. Perna, 69,
formerly of LeRoy passed away onMay 17th
withhis lovingwifeRosaathisside.Heserved
5 tours of duty in the VietnamWar receiving
many accommodations including the Purple
Heart. Militarymemorial serviceswill be held
at a later date inGeorgia.
LE ROY/ALEXANDER ~ Mildred R. Curtis,
age 96, of LeRoy, formerly of Alexander died
peacefully Thursday May 26, 2016 at the
LeRoyVillageGreenNursingHome. In lieuof
flowersmemorials inhermemorycanbemade
to theLeRoyVillageGreenNursingHome10
MunsonStreet LeRoy, NY14482.
LE ROY ~ Thomas E. Steen Sr., age 81, of
JeffersonAvenue, passed away Friday after-
noon (May27,2016) theLeRoyVillageGreen
Nursing Home. Memorials are suggested to
theKessler Burn&TraumaCenter, 601Elm-
woodAvenue, Rochester, NY14642.
LE ROY ~ Angeline M. Carson, age 95, of
South Street Road, passed away Thursday
evening (May26, 2016) atCrossroadsHouse
inBataviaafter a longbattlewithAlzheimer's.
In lieu of flowers, memorials are suggested
to Crossroads House, PO Box 403, Batavia,
BERGEN~MariaKowalczyk, 100, ofBergen,
died Friday, May 27, 2016 at her home, in
Bergen. In lieu of flowers, memorials in the
formofMassesmaybeoffered inhermemory.
LEROY ~ Linda J. Cianci, age 72, passed
awayFridayevening (May27,2016)atStrong
MemorialHospital inRochester. In lieuof flow-
ers,memorialsaresuggested to thePalliative
Care Program, Strong Memorial Hospital,
601 Elmwood Avenue, Box 687, Rochester,
Le Roy
Pennysaver