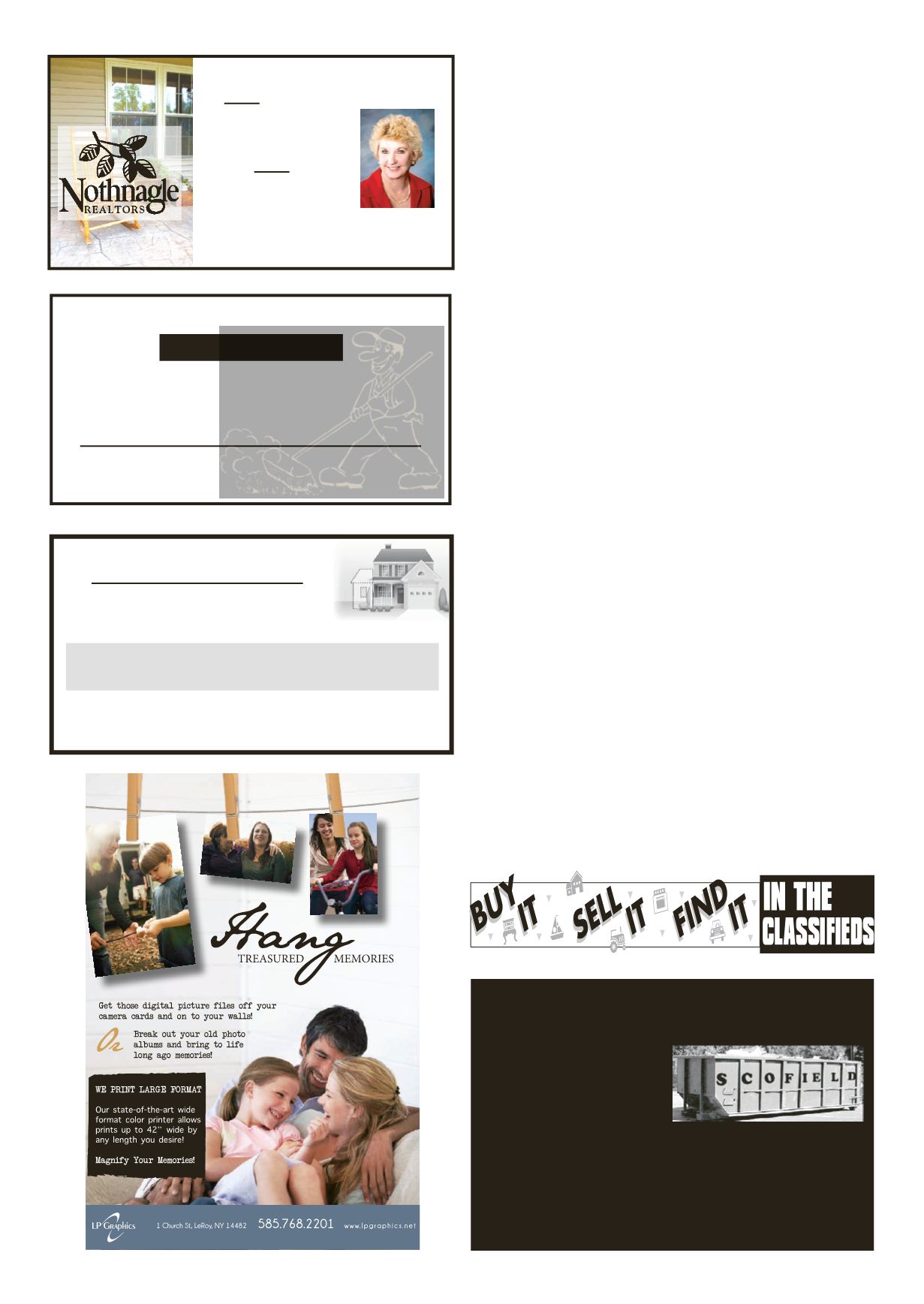 LEROYPENNYSAVER&NEWS - JUNE 5, 2016
05/28/2016 -20yearoldRichardOrtizofParkway,Rochesterwas
arrestedby theLeRoyPoliceDepartmenton the27thdayofMayand
charged with the following; one count of Criminal Possession of a
ControlledSubstance in the7thDegree, aClassAMisdemeanor,one
count ofAggravatedUnlicensedOperation in the3rdDegree, aMis-
demeanor, onecount ofUninspectedMotorVehicle, aViolation, one
countofUnlicensedOperator, aViolation,onecountofPassingaRed
Signal, aViolation, andonecountof InadequateMuffler, aViolation.
It is alleged that Ortiz was observed by patrols passing through
a red signal, upon stoppingOrtiz hewas found to be in possession
ofOxycodonewithout a prescription aswell as several other traffic
infractions including not having a valid license.
Ortizwas issued several tickets and is to appear on June 20, 2016
in theLeRoyTownCourt to answer to the charges.
27yearoldEricSwedeofMainStreet,LeRoywasarrestedby the
LeRoyPoliceDepartment on the28thdayofMay and chargedwith
one count ofDisorderlyConduct, aViolation.
In the early morning hours of May 28, 2016, patrols received a
complaint from a local establishment of a patron refusing to leave.
Patrols locatedSwede behind the establishment where he allegedly
refused to leavewhen told to do and then proceeded to cause a dis-
turbancebybeing loud and cursing. At that timehewas taken in to
Swedewasarraigned in frontof theHonorableJudgeSehmandwas
turnedover to theGeneseeCountyJail in lieuof$250cashor$3000
bond. Swede is to return to theLeRoyTownCourtonJune16, 2016.
5/30/2016 - 38 year old Rebecca J. Fili of Myrtle Street, LeRoy
NYwas arrestedonMay29, 2016by theLeRoyPoliceDepartment
and chargedwith one count of Criminal Possession of aControlled
Substance in the 7thDegree, a Class AMisdemeanor, Aggravated
UnlicensedOperationof aMotorVehicle in the3rdDegree, aClass
AMisdemeanor, UnlicensedOperator, aViolation, and Inadequate
Fili was stopped by the LeRoy Police after allegedly operating a
motor vehicle onBacon Street with an inadequate exhaust. After a
brief investigation itwas found thatFilihadasuspendedandexpired
driver's license. Further investigation revealed that Fili allegedly
possessed a quantity of cocaine.
Filiwas issuedanappearance ticket for thechargesandwillappear
in theLeRoyTownCourt on June 20, 2016.
15, 17, 20, 25, 30,
and 40 cu. yd.
CONTAINERS
ScofieldRolloff •343-8383
NobodyBeatsOur Prices!
CleaningService
•Carpet &UpholsteryCleaning
•Spot Cleaning&Odor Removal
•Tile&WoodFloor Cleaning&Waxing
•Complete Janitorial Services
"CompleteCarpentry Service"
M
ILLER
B
ROTHERS
B
UILDERS
CustomHomes •Remodeling•Additions
Roofing• Siding
DANIEL
MICHAEL
Batavia
585-343-6750
NOW is theBEST time
toBUYwith the interest rates
at their lowest!
Don't wait
toBUY -
call
LindaBeaumont
for all your real
estateneeds.
LindaBeaumont
Home (585) 768-6315
LicensedReal Estate
Salesperson
Multi-MillionDollar Producer