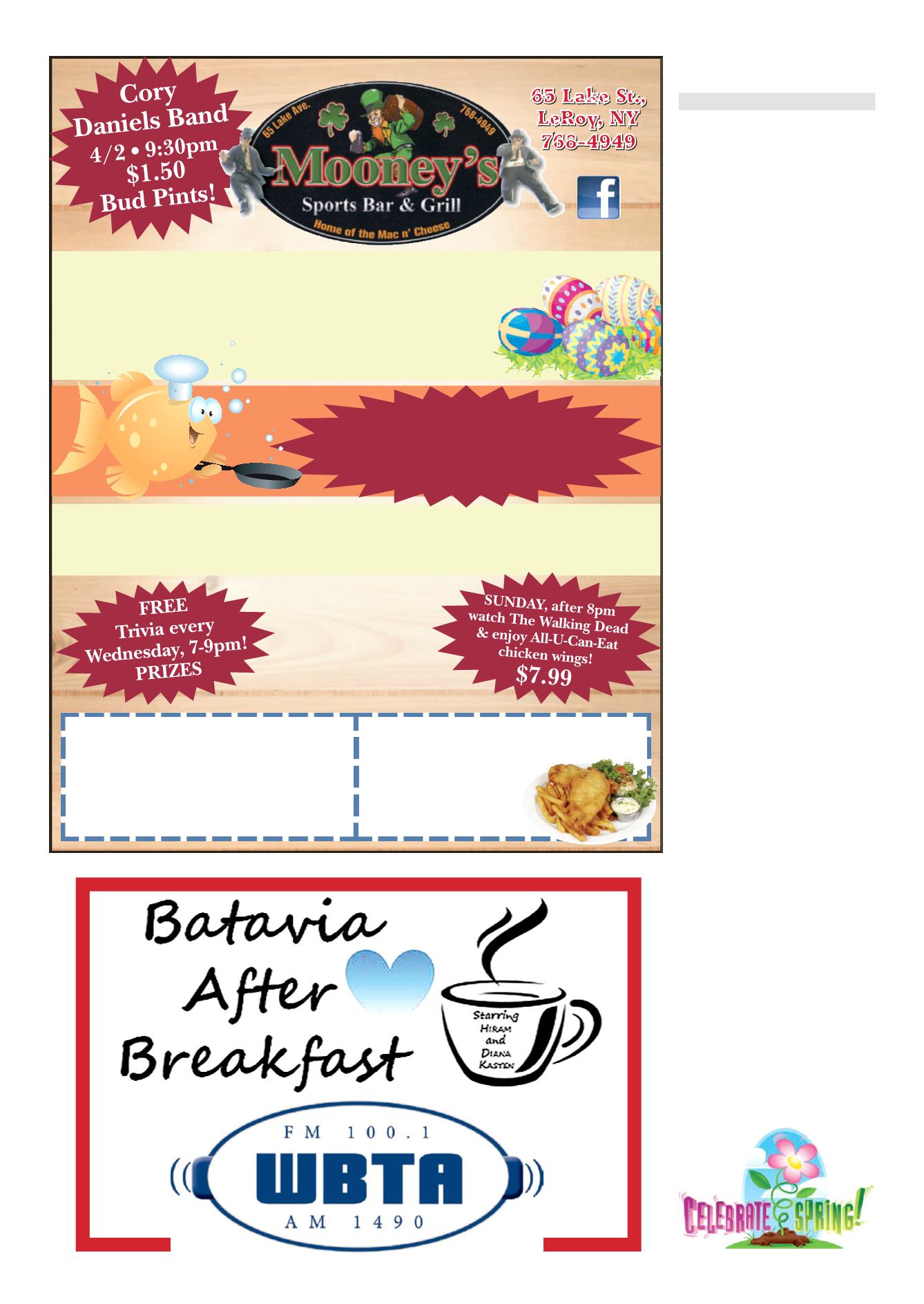 LEROYPENNYSAVER&NEWS -MARCH 27, 2016
$1OFFFriday FishFry
Yes, you canuse this on topof
EarlyBird! (Up to $5 value.)
FREECoffeeorBeverage
With/your breakfast order.
BREAKFASTSERVEDSat.&Sun. 8am-1pm
Not validw/other offers. Exp. 4/17/16.
(See server for details.)
EASTER SUNDAY BRUNCH BUFFET!
$5 Food Specials after 9pm - Daily!
3/4pmSeatingsAvailable
By reservation only! Call now for details.
• 10ChickenWings • Beef onWeck • AnyQuesadilla
• Personal Pizza • PotatoSkins • 2Small Beef orChickenTacos
byGreg "Porp"Rogers
Mayor
Iwould like to thank thepeople
of theVillage for re-electingme
to be theMayor for another four
years. In the last few months
many people have approached
me, and askedwhy Iwouldwant
this thankless job.Nothingcould
be farther from the truth, it is a
very rewarding position and the
people of the Village have been
verysupportive. It ismyhonor to
serve in this capacity andwill do
mybest to liveup toyour expec-
Alongwithme, newly elected
TrusteeRayYacuzzoandre-elect-
ed Trustee Jim Bonacquisti will
makeup theBoard. Raybrings a
level of experience and political
connections that is unmatched.
Jimhasbeena solidBoardmem-
ber for four years, and is very
instrumental in thehiringof new
With the good comes the bad,
Mike Tucci will be leaving the
Board, heandhiswifeCasey just
had their seconddaughter. Mike
has decided he is needed more
at home. We hope to see Mike
return to theBoard at some time.
Mike brought a perspective to
theBoard of the future of LeRoy
witha respect to thepast.Hewill
be greatly missed; his follow
through and attention to details
was a great asset to the Board.
(Thatobviouslyserveshimwellat
Tompkins Insurance). If you see
Mike, thank him for his service.
On this past Sunday, Iwent to
Street, the listingagentwas from
the East side of Rochester. She
was completely taken in by the
beauty of our little Village. She
called it a hidden gem, as she
had never been here. Sometimes
we don't realize just how lucky
we are to live in a place like this
"Failure is not fatal, but failure
tochangemightbe"JohnWooden