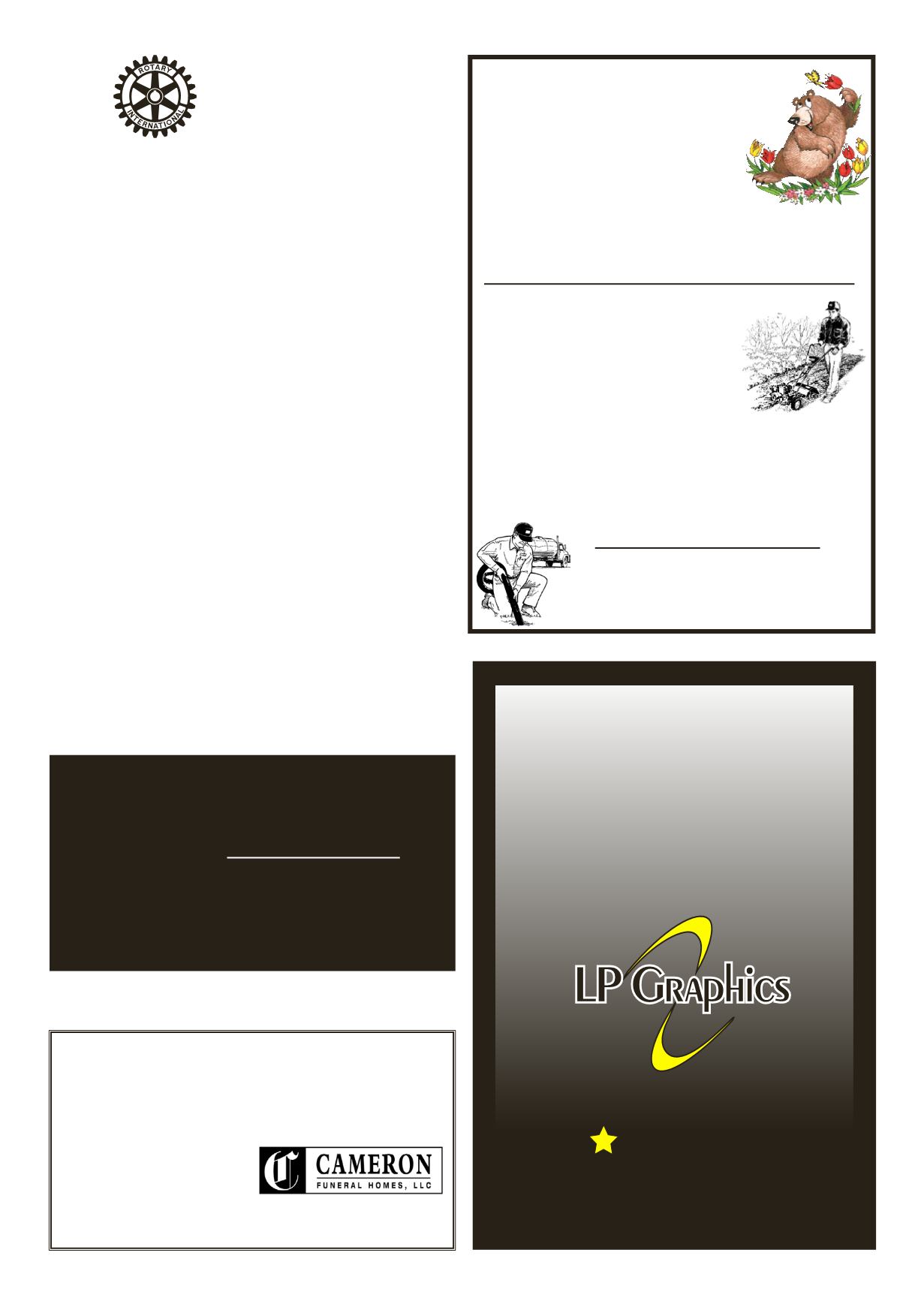 LEROYPENNYSAVER&NEWS -MARCH 27, 2016
LeRotary
Notes
HelpingFamiliesCelebrateaLifeLived
"Our FamilyServingYours Since 1907"
Trusted•Honest •Proven
Cameron, Brady&Steuber
FuneralHome
111Wolcott Street
LeRoy,NY14482
(585) 768-6800 •
Likeus onFacebook
Will beheld
April 2nd, 2016
at 1:00pm
At thehome of JeanKelkenberg
11304StarrRd.,Wyoming, NY
All lot owners arewelcome to attend.
a call for anyof your needs at 768-6769.
Starting our 52nd year servingLeRoy and surrounding areas!
LawnRolling •GardenTilling
LawnRestoration andCleanup
Hydro-Seeding • Septic Pumping,
Excavator,Backhoe &Bulldozer Service
PureOrganic or ScreenedTopsoil
Gravel • Stone ProductsAvailable at
781/2LakeSt.
Delivered by the yard or small loads picked up.
PlumbingNeeds
No JobToo Small
Or Large For
McGinnis Excavating
Happy Easter!
Notes 3-16
It was a beautiful pre-spring
day at TheGreens of LeRoy for
ourmeeting today. TimMcArd-
le from Le Roy Central School
Announcements included RLI
isMarch 19th, LeRoyBusiness
Council's Annual Easter Egg
Hunt is March 26th at 1 pm at
Hartwood Park, Relay for Life
is August 6th and The Moose
SpringRaffle isApril17th. Mar-
thaBailey is now accepting jobs
for Rent a Rotarian. Sam Vagg
reported that everything is on
trackwith theGraze toRaise.The
event is scheduled forMay 20th
atMercyGrove.We are looking
for auction items and tickets
are now available. Tickets will
sell out fast, so she encouraged
Rotarians to get them quickly.
Kim Cox reported that Interact
will be hosting a Roller Skating
PartyatWolcottStreetSchoolon
Martha Bailey, Lynne Bel-
luscio, Ben Deragon, Erik Fix,
Tracy Ford, Lauren Humphrey,
Rob Murray and Mary Marga-
ret Ripley were all tagged for
missed meetings. Bob Carlsen
wasfined forhisbracket&a joke.
ScottMcCumiskeywasfined for
success in a local tournament.
LaurenHumphreywasfined fora
new job.Laurenwas thendouble
finedwithpalSamVagg for their
over achieving ways during last
weekend'sEaster Egg stuffing.
TimMcArdlewas our speaker
todayandpresentedon theHOBY
award. HOBY is anacronym for
Hugh O'Brien Youth Award.
HOBY's flagship program, the
State Leadership Seminar (LS)
is designed to help high school
sophomores to recognize their
leadership talents and apply
them tobecomeeffective, ethical
leaders in their home, school,
workplace and community. The
school is budgeted to send one
student, while the Rotary Club
of Le Roy sponsors a second
student. Tim looks forward toan-
nouncing the deserving students
that have been selected soon.
Followinghispresentationand
raffle, the meeting adjourned.
Please like the Rotary Club of
1CHURCHST, • LEROY, NY • lpgraphics.net
WEHANDLEALLASPECTSOFPRINTING...
PROGRAMS
LETTERHEADS
BILLHEADS
FLYERS
BROCHURES
POSTERS
CARBONLESSFORMS
ENVELOPES
RAFFLETICKETS
NEWSLETTERS
RESUMES
TYPESETTING
RUBBERSTAMPS
ENGRAVEDSIGNS
NAMETAGS
COPIES
LAMINATION
COMMUNITYFAX
NEWSANDPICTURES
ADVERTISING
BUSINESSCARDS
HOURS: Monday thruFriday 8:00 to5:00