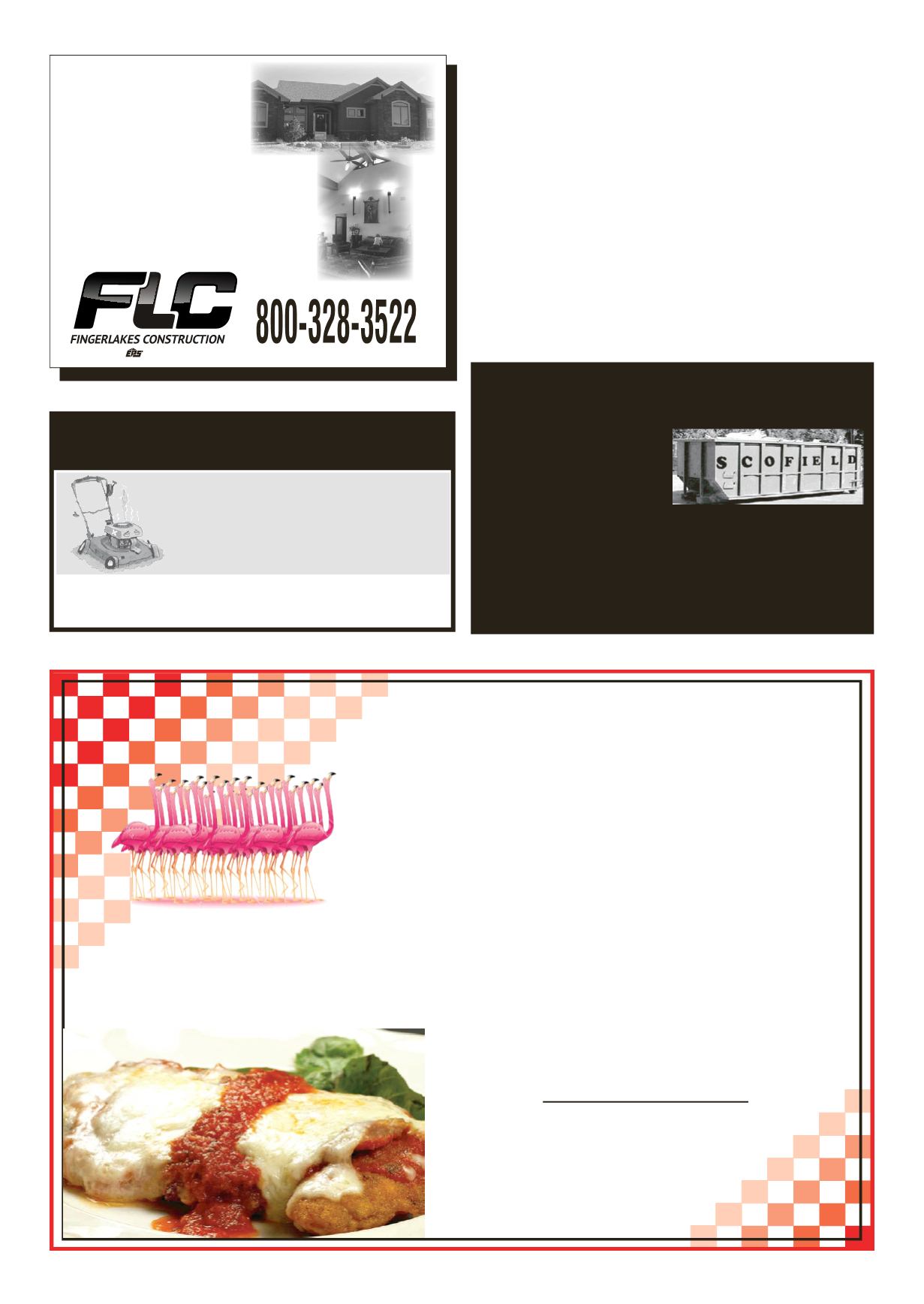 LEROYPENNYSAVER&NEWS -MARCH 27, 2016
Part of the family of companies
fingerlakesconstruction.com
3/22/2016 -TheGeneseeCo.ProbationDept. conducteda searchat
5919CookRd., Byron, NY, the residence of Gregory J. Vogt whom
ispresentlyunder the supervisionof theProbationDept.TheGenesee
Co.Sheriff'sOfficeand theNYSDept.ofEnvironmentalConservation
also assisted at the scene.
Various items were seized during the search and as a result of the
investigation,Vogt ispresentlychargedwith:6countsofCriminalPos-
sessionof aWeapon, 3rd (D-Felony); 5countsofCriminal Possession
ofaWeapon,4th(A-Misdemeanor);UnlawfulPossessionofMarihuana;
TheNYSDept.ofEnvironmentalConservationfiledcharges including
IllegallyTakingadeer,Trappingwithout aLicenseand takingWildlife
inContravention of Environmental ConservationLaw.
Vogtwas arraignedon the listed charges andwas committed to the
GeneseeCo. Jail on$25,000 cashbail/$50,000bond.Vogt is to reap-
pear inByronCourt onMarch 28, 2016 at 5:00 pm.
• Engine andTransmissionRebuilds
• Lawn andGardenEquipment
•ATV's, Dirt Bikes • Light Equipment
• PickUp andDeliveryAvailable
8525Rt. 237, Stafford, NY
15, 17, 20, 25, 30,
and 40 cu. yd.
CONTAINERS
ScofieldRolloff •343-8383
NobodyBeatsOur Prices!
$8.00/person• $6.50/seniors over 55
Includes: Salad•Coffee• TeaandDessert
LeRoyAmerican LegionBotts-FioritoPost #576