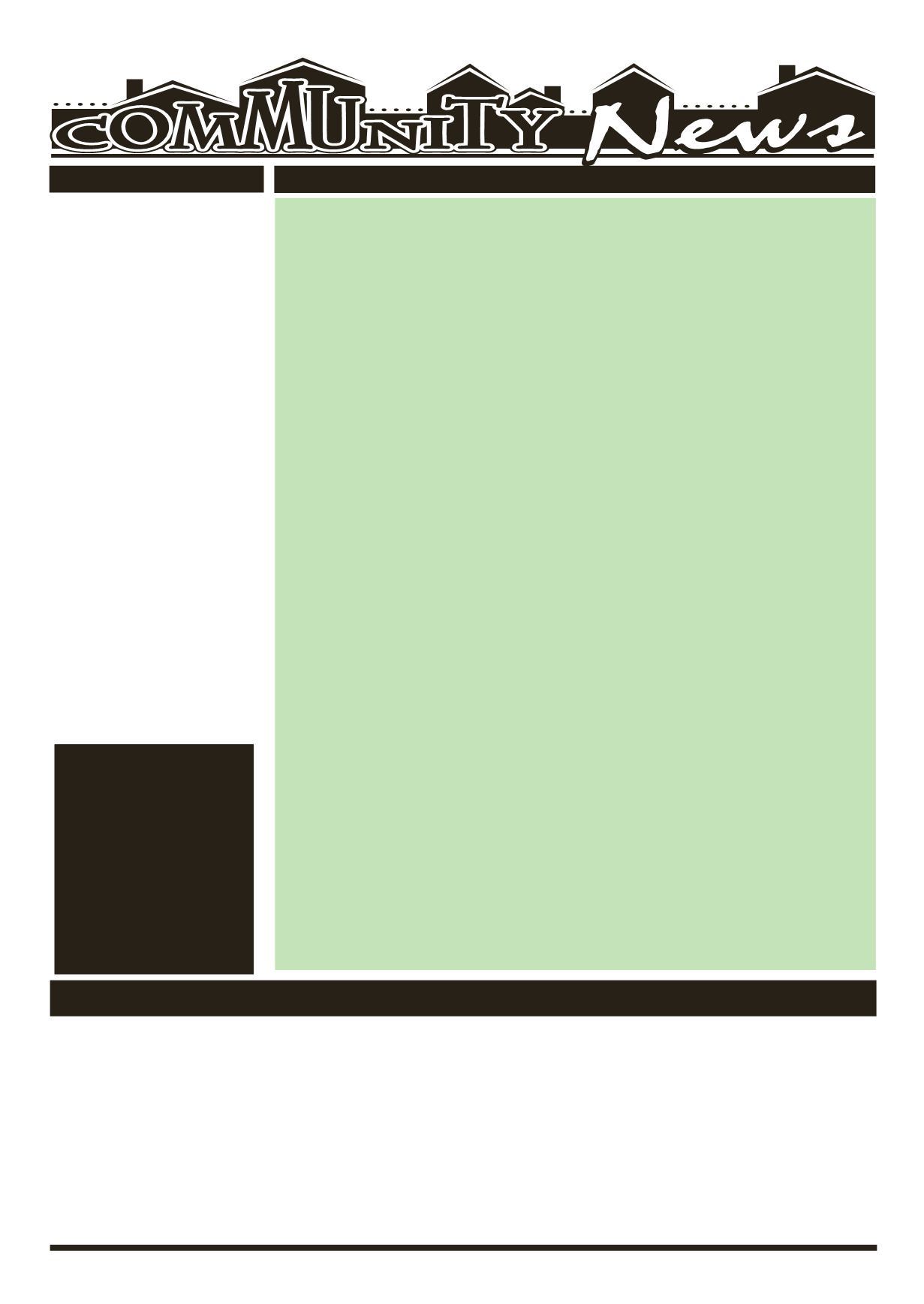 LEROYPENNYSAVER&NEWS -MARCH 27, 2016
All GeneseeCounty residents, 60andolder, can takepart in thisweek'sactivitiesat theBataviaSenior Center, 2BankSt., Batavia. Formore information, call 343-1611.
SENIORCITIZENSACTIVITIES (March 28th -April 1st)
WEEKLYEVENTS
OBITUARIES
TaxPreparation
AvailablebyAppointment Only 9:00 a.m. to 3:00p.m.;
Arthritis Exercise
is scheduled tobegin at 9:30 a.m.;
Bridge
is scheduled tobeginat11:30a.m.
Cribbage
is scheduled tobeginat1:00p.m.
TaxPreparationAvailable
byAppointmentOnly9:00a.m. to3:00p.m.;
Quilter'sGroup
is scheduled tobeginat 9:00a.m.;
Eu-
chre
is scheduled tobeginat1:00p.m.
TaiChi
is scheduled tobeginat 9:30a.m.;
LifespanMeeting
is scheduled tobeginat 10:00a.m.;
GentleFitness
Cribbage
isscheduled tobeginat1:00p.m.;
Bridge
isscheduled tobeginat1:00p.m.
ArtClass
is scheduled tobeginat10:00a.m.;
LineDancing
is scheduled tobeginat10:00a.m.;
Euchre
SUNDAY,MARCH27
KonnectYouthGroupatLivingWatersChurch,
Roy. Sundays from6:30 to8:30pm for ages12-18. "BringDownall
theWalls! Connect with God and Connect with others." For more
information, check us out online at: livingwatersleroy.org/kon-
MONDAY,MARCH28
TOPS (TakeOffPoundsSensibly)
meetsMondayevenings at the
LeRoyPresbyterianChurch, cornerofClay&MainStreets.Doorsopen
at 6:00 pm andmeeting is from 6:30-7:15 pm. Visitors are always
welcome. Call 585-768-7103 formore information.
TUESDAY,MARCH29
Preschool Storytime :
Every Tuesday at 11 am featuring stories,
craft and songs at PavilionPublic Library, 5WoodrowDr., Pavilion.
LCCP's GRACE'S KITCHEN:
A FREE dinner every Tuesday evening,
5-6:30pmat theMasonicCommunityCenter on12BankSt. Plenty
of parking. Takeout &delivery are available. Formore info. contact
SelbyDavisat585-738-8882or
GRACE'SCLOSET:Aclothinggiveawayprogram
RoyUnitedMethodistChurch,10TrigonPark,LeRoy,9:30amto11:30
ameveryThursday.Wehave clothing for all ages. Weneedbedding
of all kinds especially blankets. Donations canbe dropped off at the
housenexttothechurch.Pleaseputallbags INSIDEonthebackporch.
NOELECTRONICS, COMPUTERS,DISHES, etc.
OpenTuesdays5-6:30
pm.
Anyquestions call theoffice768-8980.
AXIS Student Ministry at LivingWaters Church
LeRoy. Tuesdays from 6:30 to 8:30 p.m. for 7th to 12th grade. Our
goal is for teens' lives to be impacted, and radically changed. For
more information, check us out at:
WEDNESDAY,MARCH30
Wednesdaysfrom6:30pmuntil8:00pm-
will be having their youth program. titled"JOY CLUB". It is open to
children in thePre-school ageup to6thgrade. Itwillbeheldat the
church10956S. LakeRoad, Rte. 19. It is a fun timeof Bible stories,
game time, refreshments andmemorywork. Call for further infor-
mation585-584-3179ext.12.Leaveyournameandnumberandthe
secretarywill call youback.
THURSDAY,MARCH31
Benefits of Yoga, aprogram at theWoodwardMemorial
Library
on at6:30p.m. Presentedby JessicaHeldof theHolistic
Hub, the focusof thisprogram is to introduce thebenefitsofyoga
poses,meditation,andbreathingtechniques.Thisprogram isopen
to all fitness levels. Registration is required. Call 768-8300 or
FRIDAY,APRIL1
Penuel Christian Fellowship,
One Step to Freedom addictions
ministry, a Christ CenteredAddictions program, aweeklymeeting
every Fridayat 7pm. Call theChurch formore informationat 768-
PenuelChristianFellowship
isorganizingayoungadult fellow-
ship andBible study. Ages: 12 andup, Time: Fridays from7-9pm,
Study: the book of Romans (a 16week course), taught by Josiah
Gariboldi.Place: 7115WestMainStreet.
SATURDAY,APRIL2
LivingWaters Churchpresents its 6thannual PromDress
Giveaway
, offeringover500dresses for free!Theeventwill take
place from10a.m. to1p.m. Formore information,call thechurch
UPCOMINGEVENTS
St. Paul's Episcopal Church
Rummage and
BakedGoodsSale
-Friday,April8,2016 from9am to3pmand
Saturday,April 9, 2016bag sale from9am tonoon.
Cal-MumLionsClub
has selected Janet P. Cappotelli Caledonia
Mumford 2016 Citizen of the Year. A dinner will be held April
16th • 6pm - Cocktails • 7pm dinner, JW Jones Hall, Caledonia,
NY. Reservations by April 11th
frontiernet.net Call 226-6817or538-4618
The Le Roy Stafford Senior Citizens
toAuburn,NYonTuesday June14th. The costper personwill be
$75.00andwill includebus transportation; a tour of theWillard
Chapelwellknown for it'soriginalTiffanyStainedGlassWindows;
lunchat theSpringside InnoverlookingOwascoLakeand tickets
to theMerry-Go-Round Playhouse performance of themusical
Oklahoma. For additional informationor tomakea reservation,
please contact JudyRidley, Director at 768-2001or Sharon Frost
CommunityCalendarSubmissions shouldbe sent to:
LEROY - Ross C. Anzalone, age 93,
formerly of Gilbert Street, passed away
Tuesday afternoon (March 15, 2016) at
the Batavia Health Care Center. In lieu
of flowers, memorials may be made to
Our Lady of Mercy Parish, 44 Lake St.,
PAVILION - James A. Phillips, age 74,
of Perry Road, passed away Tuesday
afternoon (March 15, 2016) at United
Memorial Medical Center in Batavia. In
lieuof flowers,memorialsare suggested
to either the First Baptist Church of Pa-
vilion or thePavilionFireDept.
LEROY -GeorgeJ.StevensbornMarch
6,1938 inLeRoy,NY,passedawayMarch
15, 2016 at home in DeLand, Florida.
The family has plans to hold aMemorial
service at a later time at the Mumford
WYOMING - DorisA. Bannister Age 64,
died suddenly onMarch 15, 2016 at the
Wyoming County Community Hospital
in Warsaw. Memorials may be made to
the Middlebury Historical Society, 22 S.
AcademySt.,Wyoming, NY14591.
PAVILION - Kevin P. Heiman passed
awaySaturday,March19, 2016. Hewas
born June 27, 1982 in Batavia NY, son
of Phil and Angela Heiman. Memorials
maybemade toa charityof your choice.
Le Roy
Pennysaver