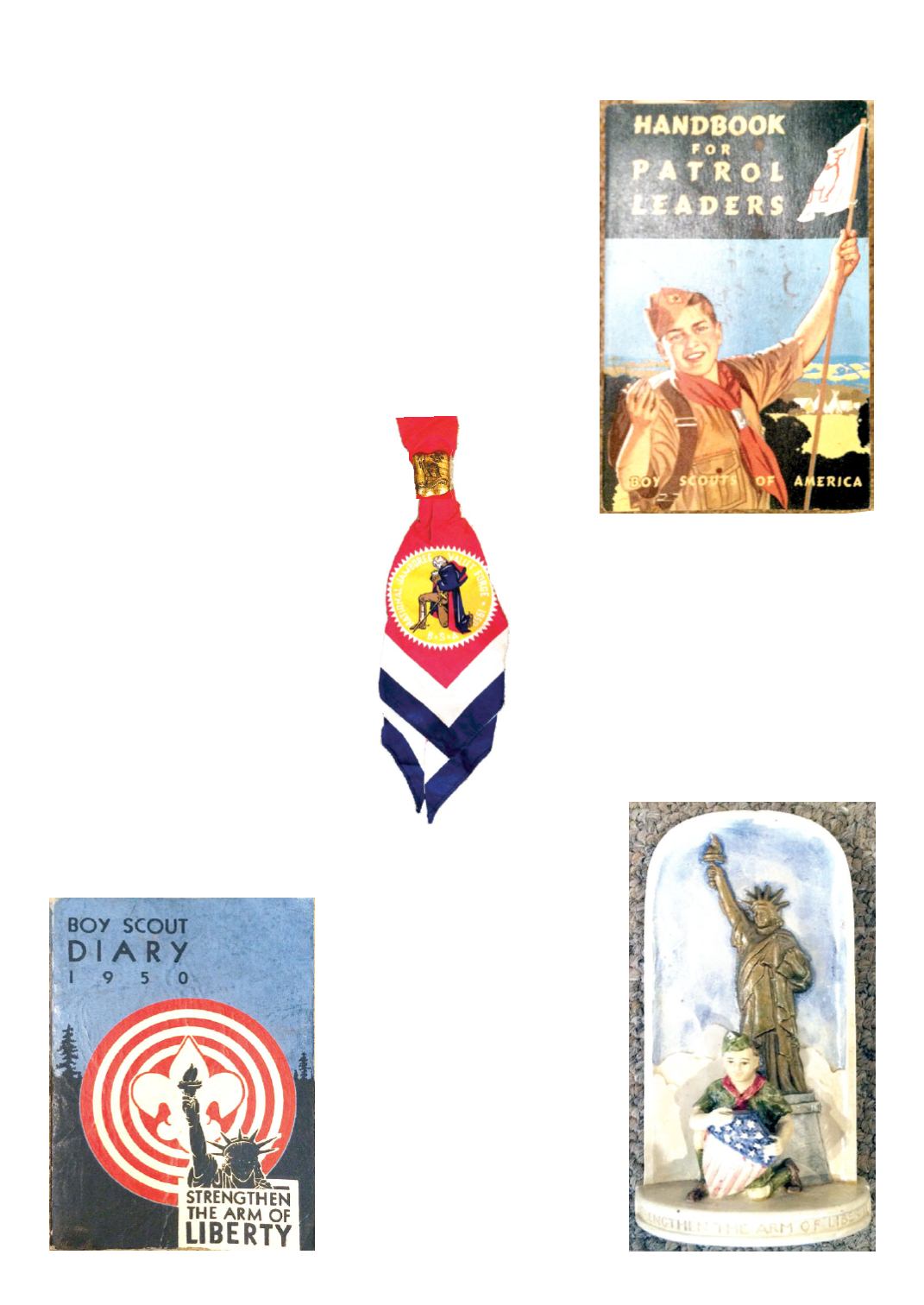 LEROYPENNYSAVER&NEWS -MARCH 13, 2016
LadyLiberty and the Ideal BoyScout
byLynneBelluscio
Thomas Podnar called from
Ohio last week. LeRoy's Lady
Liberty is ready to come back
home. (In fact, by the time you
read this, shemayalreadybeback
in LeRoy.) Her face has been re-
stored, and thegaping seamsnear
her feet are repaired. The wood
inside the basewas in such good
shape, theydidn't have to replace
it. We decided that the seams
wouldnotbesoobvious ifafinish
Originally she was made of
forty sheets of copper that were
soldered together. Then in 1984,
when she was repaired, she was
soldered again, but not with the
original type of solder, so she
really looked like a pieced quilt.
Thomassuggestedaspecialfinish,
whichwouldminimize the solder
lines. They still show, but aren't
as prominent. In order to restore
the face, Thomas had to remove
the top of her head and press the
copperout from the inside.Healso
straightened the seven rayson the
topof her crown. (The seven rays
symbolize the seven continents
and the seven seas of theworld.)
During our conversation, we
talked about the Boy Scout con-
nection to the statues that are
across thenation, and IaskedTom
ifhehadeverrepairedoneof these
before. No he hadn't, but he did
work on the "Ideal Scout" statue
inCleveland. Ihadn'theardabout
thisstatue, so Idida little research
and found it quite interesting.
In 1914, the President of the
Philadelphia Council of Boy
Scouts asked Dr. R. Tait McK-
enzie to create a statuette of the
"Ideal Boy Scout." McKenzie
was a Canadian physician, writ-
er, artist and sculptor, who had
moved toPhiladelphia to teach at
the University of Pennsylvania.
He was a pioneer in the field of
physical education and servedon
theBoardof thePhiladelphiaBoy
ScoutCouncil.Heproducedan18
inchbronze statuetteandonly ten
In 1930, the Philadelphia Boy
Scout Council asked Dr. McK-
enzie to create a life size statue
to stand before their new head-
quarters. Instead of reproducing
the small statuette in a life-sized
is the statue that Tom Podnar
in the scout tie is to re-
post office. I also found
object that Ipurchased- -
and itwasn't cheap - - is
of these little figures for
a series for Jell-O in the
I also bought an Explorer shirt
from the1950Jamboreebut itwas
not worn by a local scout.When
I paid for the shirt, the seller told
me that he had a second shirt. I
toldhimaboutourproject and the
storyof theStatue of Liberty and
the Boy Scouts, and he donated
the second shirt for the exhibit.
So if you have a scout uniform
from the 1950s, please giveme a
call at 768-7433,we'd like toput