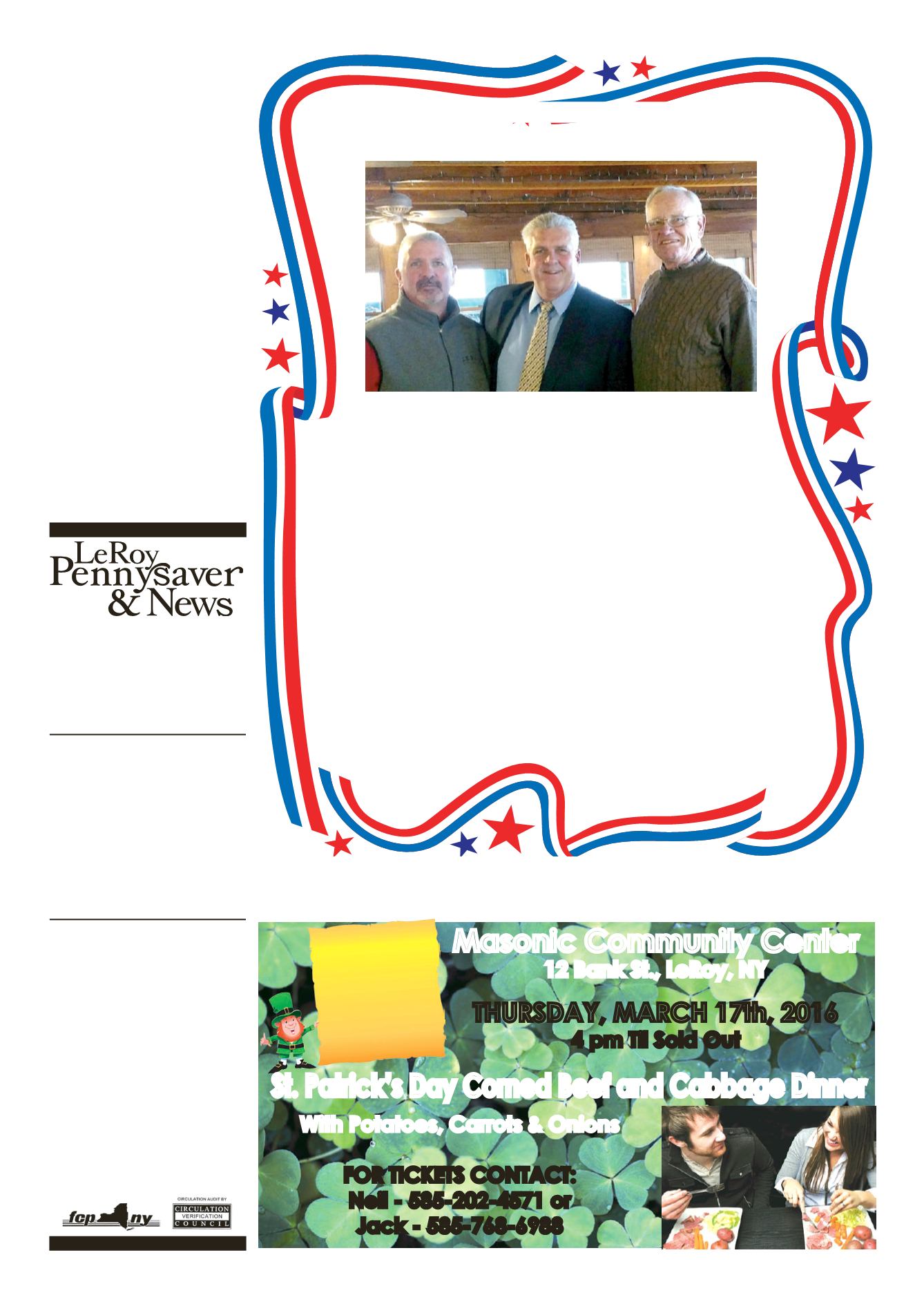 LEROYPENNYSAVER&NEWS -MARCH 13, 2016
Experienced, loyal &dedicated to LeRoy
MayorGregRogers -
8 years Trustee, 4 years asMayor.
Gregandhiswife Jodyare lifelong residents. In thepast
4 years stabilized tax rate, whilepayingdownVillage
debtwithout diminishing services.
Jim Bonacquisti -
4 years as Trustee. Jima 50 year resident,
withhiswifeMichelle raised their 3childrenhereand is ac-
tive inyouth sportsandworks closelywith LPDonnewhires.
Ray Yacuzzo -
served 10 years as Mayor and 3 years as
Trustee. Ray is another lifelong resident, with his wife Kathy
raised their family. Recently retired from theDEC, Raybrings
awealthofexperienceandconnectionswith state leaders.
Please take the time tocomeout andvote, it stillmatters.
Thepoles openon Tuesday,March15that noonuntil 9pm
at theVillageHall, 3W.Main St.
RachelKobel
2015-16 Liberty LeagueWinter
Liberty League commissioner
Tracy King has announced that
236winter sport student-athletes
have qualified for the league's
2015-16 All-Academic Teams
in their respective sports. Twen-
ty-eight RIT student-athletes
earned All-Academic honors
for the winter season, including
Rachel Kobel of the women's
AlexandraWalker
was recently initiated into The
Honor Societyof PhiKappaPhi,
thenation'soldestandmostselec-
tive collegiate honor society for
all academic disciplines. Walker
was initiatedatNazarethCollege.
LeRoy'sBestAdvertisingMedium
Le Roy Pennysaver
will not knowingly accept or
publish advertising which is fraudulent or misleading
in nature. The publisher reserves the right to reject or
cancel anyadvertising.The
LeRoyPennysaver
no financial responsibility for typographical errors in
advertisements, but if at fault, will reprint the portion of
the ad in which the error appears. Style, size of type
and locationof advertisement are left to thediscretionof
the publisher. The opinions expressed in this publication
are not necessarily those of the publisher. We cannot
guarantee the returnof photographs.
LeRoyPennysaver
OliveBranch
Lodge#39
and
Eunice Lodge
#830
MasonicCommunityCenter
12Bank St., LeRoy, NY
THURSDAY,MARCH17th, 2016
4pm Til SoldOut
With Potatoes, Carrots &Onions
FOR TICKETSCONTACT:
Neil - 585-202-4571or
Jack - 585-768-6988
St. Patrick'sDayCornedBeef andCabbageDinner