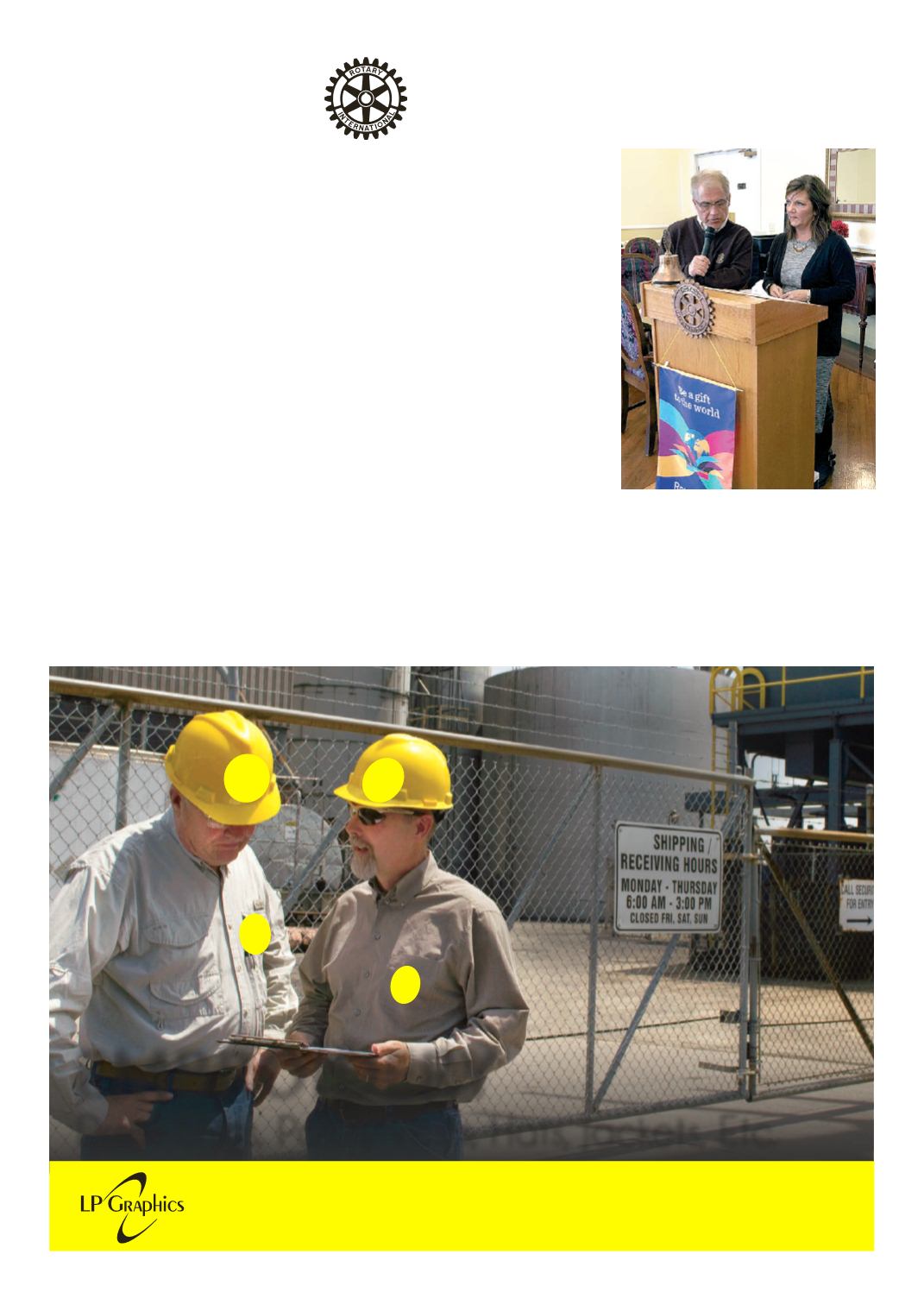 LEROYPENNYSAVER&NEWS -MARCH 13, 2016
LeRotary
Notes
RotaryNotes 3-2-16
It was a chilly winter day at
The Greens of Le Roy for the
March2ndmeetingof theRotary
Club of Le Roy. Guests today
included Jaylene Smith-Kilner
andShannonStone fromHabitat
We acknowledged the birth-
days ofMaryYoung,MaryMar-
garetRipley,AnilSawhney,Tom
McGinnisandChristineGephart.
RotaryLeadership Institute ison
March19thatNCCC,TheUnited
WayDayofCaring isMay18th,
and Relay for Life is on August
6th at Byron Bergen Central
School. LeRoyBusinessCoun-
cil is looking for volunteers to
stuffEasterEggsat theMooseon
March 12th at 9 am. The Easter
EggHunt isscheduled forMarch
26th at 1 pm at Hartwood Park.
Randy Vink accepted a check
from our Club to help support
the Easter Egg Hunt. SamVagg
reported that thisyear'sGraze to
RaisewillbeheldatMercyGrove
on May 20th. There have been
many fabulous auction items do-
nated, and theevent isgoing tobe
beautiful.Moredetails to follow.
ChrisBiviano,NanetteChiuli,
TomCox,BobBoyce,TonyGugi-
no, MarciaMcKenzie andMary
Margaret Ripley were all called
Chris Biviano was fined for
missing the St. Bonaventure/St.
Joes game. Tom Cox and Bob
Boyce paid up for mid-winter
getaways. Tracy Ford was fined
for a recent promotion & for a
magazine forherchildren.Randy
Vinkwas also asked to purchase
amagazine. BobCarlsenpaidup
Ourprogram todaywasJaylene
Smith-Kilner, the Executive
Director of the Genesee County
Habitat for Humanity. Habitat
for Humanity is part of a global,
nonprofit housing organization
operated on Christian principles
structing, rehabilitating
lies improve theirshelter
on the conviction that every
man, woman and child should
have a simple, durable place to
live in dignity and safety, and
that decent shelter in decent
communities should be a matter
of conscience and action for all.
Since1999,Habitat forHumanity
ofGeneseeCountyhas provided
18 homes to eligible recipients.
For more information on donat-
ing, volunteering or the Restore
Please like theRotaryClub of
1ChurchSt., LeRoy, NY14482
585.768.2201
raphics.net
Dress Shirts, Polos, Vests, Hats, Jackets, Etc.