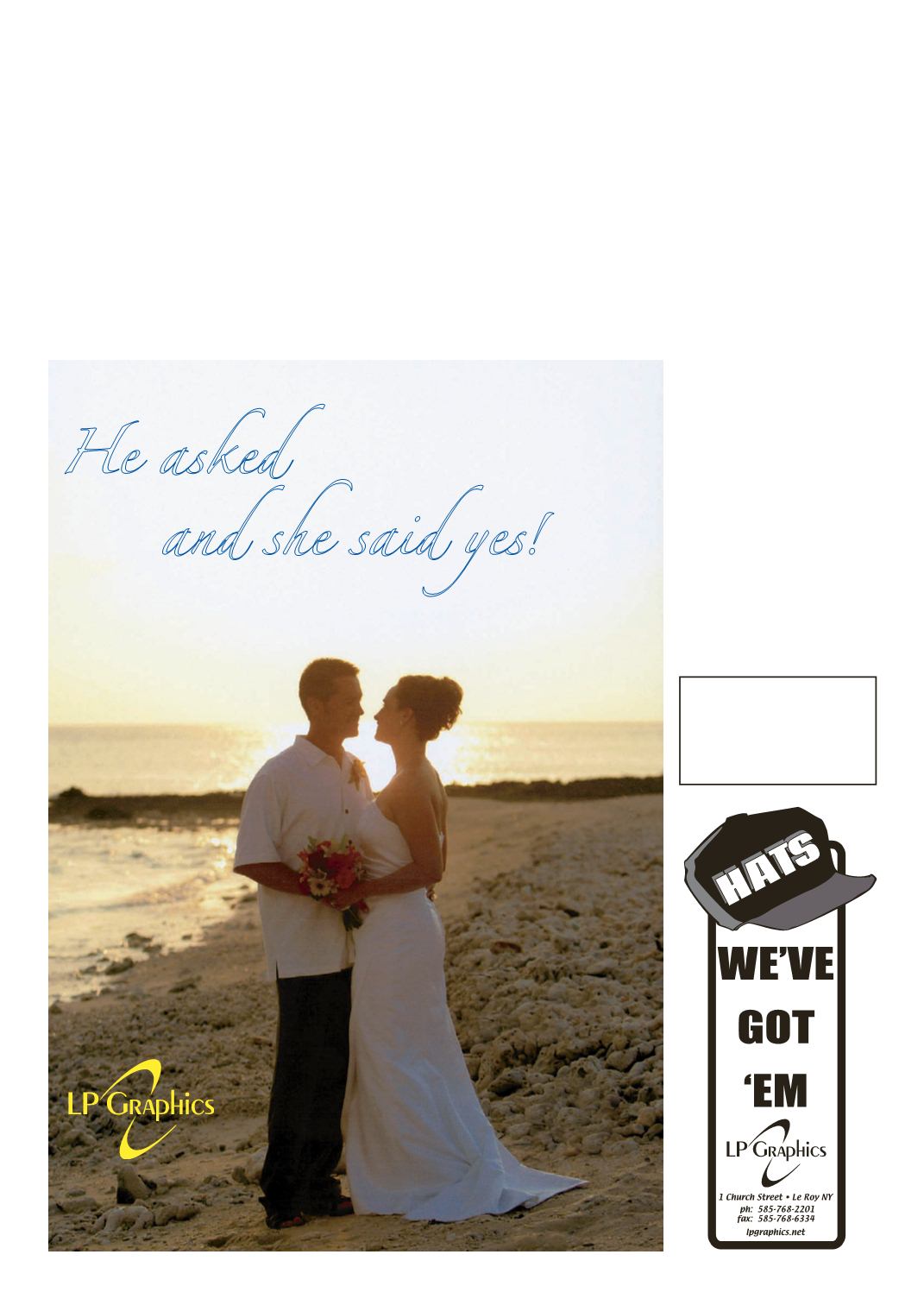 LEROYPENNYSAVER&NEWS - FEBRUARY 14, 2016
1Church St., LeRoy, NY14482
02/05/2016 - 26 year oldWil-
liam J. Hixenbaugh of LeRoy
wasarrestedonFebruary5,2015
by theLeRoyPoliceDepartment,
and charged with one count of
Harassment in the Second De-
Hixenbaughwasarrestedafter
allegedly being involved in a
physical dispute in theVillageat
Hixenbaugh was arraigned in
theTownofLeRoyCourt by the
Hon.MichaelWelshandwas re-
leased on his own recognizance.
He is to returnback to theLeRoy
TownCourt onMarch7, 2016 at
02/06/2016 - 36year oldAdri-
anP.Morris of SouthStreet, Le-
Roy, was arrested by the LeRoy
Police Department on February
5,2016, andchargedwith the fol-
lowing,DrivingWhile Intoxicat-
ed2ndOffense, aClassEFelony,
DrivingWhile Intoxicatedwhile
having a BAC of .08% or more
2nd Offense, a Class E Felony,
and Inadequate headlights, a
Morriswas arrested following
a traffic stop for allegedly not
having any headlights on while
traveling on West Main Street
in the Village. After a brief in-
vestigationMorriswas allegedly
Morris was arraigned in the
Town of LeRoy Court by the
Hon. Michael Welsh. Morris
was released under supervision
of Genesee Justice. Morris is to
appear back incourt onMarch7,
02/08/2016 -28yearoldEliza-
bethA.Wortman of Lake Street,
LeRoy, was arrested by the Le-
RoyPoliceDepartmentonFebru-
ary8, 2016, andchargedwith the
following, DrivingWhile Intox-
icated, a Class AMisdemeanor,
DrivingWhile Intoxicatedwhile
havingaBACof .08%ormore, a
ClassAMisdemeanor, andDriv-
ersViewObstructed, aviolation.
Wortmanwas arrested follow-
ing a traffic stop after a witness
called in a vehicle operating
erratically on Lake Street Road.
Patrols observed the vehicle on
LakeStreet in theVillageand ini-
tiateda trafficstoponLakeStreet
forallegedlyhavingdriversview
obstructed. After a brief investi-
gation Wortman was allegedly
Wortman was issued appear-
ance tickets for thecharges.Wort-
man is to appear in the LeRoy
Town Court onMarch 21, 2016
Don't waste precious time