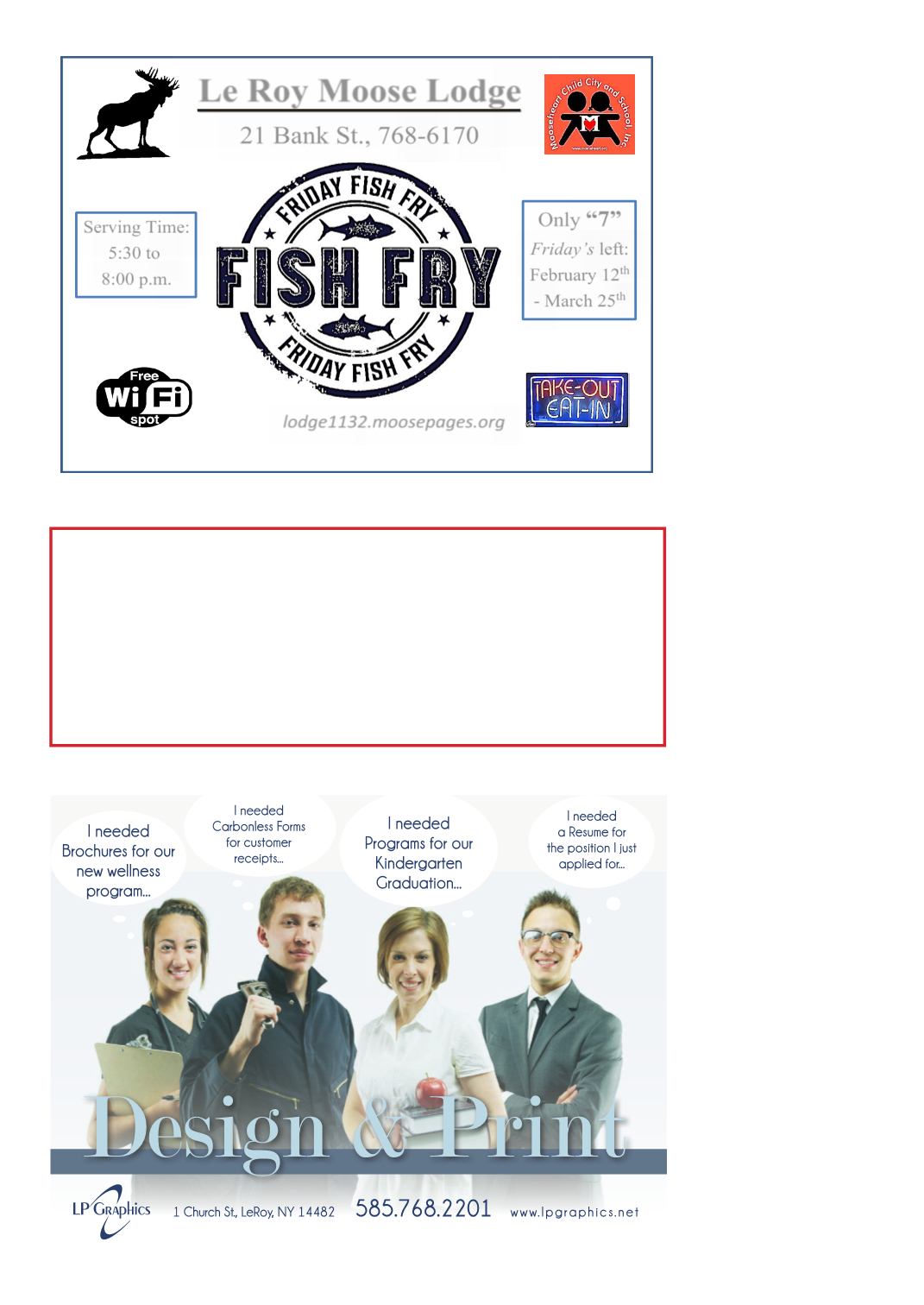 LEROYPENNYSAVER&NEWS - FEBRUARY 14, 2016
Ashley Jenks
is a member of Ashland Univer-
Jenks is majoring in forensic
chemistry. Jenks is a 2015 grad-
uate of Pavilion Central High
ElizabethBolton
wasnamed to thePresident'sList
at The State University of New
York at Geneseo for the fall se-
mester 2015. To be on the list, a
student must have achieved anA
inall coursework (4.0gradepoint
average) while taking at least 12
AshleyElliott
been named to SUNYGeneseo's
Dean's List for the fall semester
2015. To be on the list, a student
must have achieved at least a 3.5
grade point averagewhile taking
aminimum of 12 credit hours.
StevenFarnholz
beennamed to theElmiraCollege
Dean'sList forTerm I, 2015.
Students who earn a 3.6 or
greater grade point average on a
4.0 scale for the academic term
are recognized on the Elmira
CollegeDean'sList for academic
SUNYBuffaloStateAnnounces
Fall 2015 Dean's List - Students
with aGPAof 3.5 or higher who
have completed at least 12 credit
hoursqualify for thedean's list at
Buffalo State. We are pleased to
recognize the following students
whoattained thishonor in theFall
TaylorTillotson
ticemajor, fromLeRoy, NY.
Jessica Page
WilliamA.Callanan
ford, N.Y., a senior majoring in
computer engineering & electri-
cal engineering, was named to
the Dean's List for the fall 2015
semester at ClarksonUniversity.
The following students have
been named Presidential Schol-
ars for the fall 2015 semester at
Milton James Griffin
gen, a sophomore majoring in
James I. Hughes
junior majoring in engineering
Presidential Scholars must
achieve a minimum 3.80 grade-
point average and carry at least
Please send resume to: DRIVERSCDL-A, POBox 190, LeRoy, NY14482
EOE/AA Disability/Veterans
Local Manufacturerwith companyownedFleet looking for experienceddrivers.
Weoffer the following:
• PaidHolidays andVacations
• Year RoundWork if mechanically inclined
• $17 - $20/hr. depending on experience