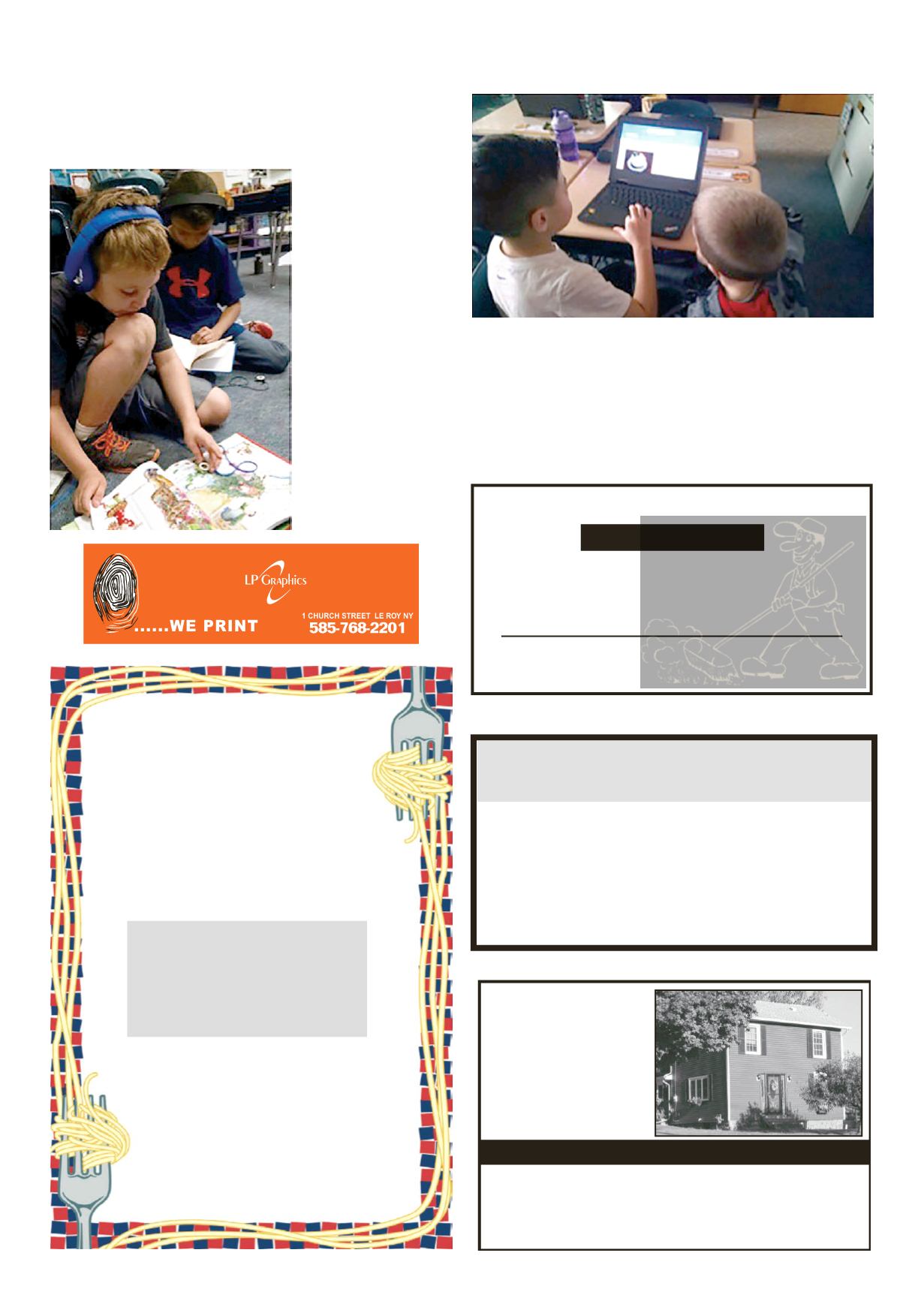 LEROYPENNYSAVER&NEWS - FEBRUARY 14, 2016
CleaningService
•Carpet &UpholsteryCleaning
•Spot Cleaning&Odor Removal
•Tile&WoodFloor Cleaning&Waxing
•Complete Janitorial Services
Spaghetti
Supper
hosted by
LeRoyUnitedMethodist
ChurchYouth
Saturday,
February20th
3:30pm till 7:00pm
LeRoyUnitedMethodistChurch
Tickets: $10.00 forAdults
Ticket sale proceeds to go towards LeRoyUnited
Methodist Church Youth Summer Camp
Creativity, collaboration, en-
thusiasm and hardwork abound
as 2nd grade students explore
a variety of tech tools to boost
2ndGradersGetTechSavvy atWSS
their learning experiences! Stu-
dents have had the opportunity
to use Google Apps for Edu-
cation (GAFE) to create infor-
sessionearlier in theyear.
triedusingan iPodMini asaway
to improve readingfluency,word
recognitionand love for reading.
By connectingwith theGen-
esee Valley Educational Part-
nershipMedia Library Services,
teachers are able to loan iPod
Minis which have a digital re-
cording of a variety of books.
The 2nd grade students enjoy
plugging in their headphones to
listen to a book of their choice.
These younger readers andwrit-
ers are quickly becoming adept
withusingavarietyof tech tools.
ALLWORKMANSHIP GUARANTEED • INSURED
297-9097 • 768-7737
• InteriorPainting
• Plaster/LathRestoration
•Drywall&Drywall Repair
•TextureRemoval
• Floors Stripped
&Refinished
•OldCeilings&Walls
MadeLikeNew!
MikeDarby'sPatch&Paint
SAWCC
REALTY
N.TONAWANDA,NY
LoriKoerner
585-315-2422
(716) 695-0005
HOMEFORSALE -40SFEDERALST.PERRY,NY
Completely redone insideandout! 4bedrooms,2 full baths,
move incondition.Great location for your family.Amust see!
SAWCCRealty,N.Tonawanda,NY
Call LoriKoerner585-315-2422 tosee!
lpgraphics.net