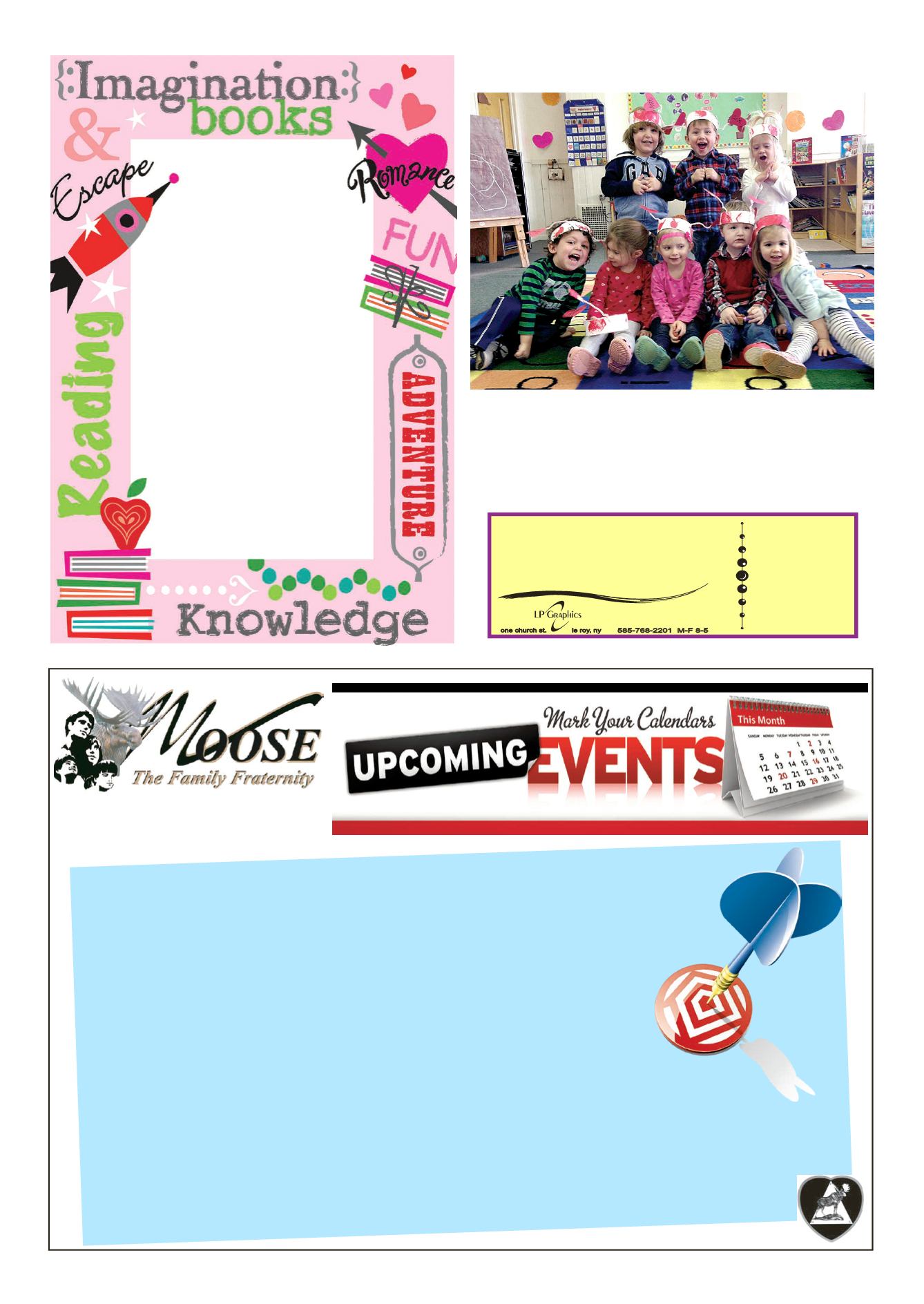 LEROYPENNYSAVER&NEWS - FEBRUARY 14, 2016
Used
Book Sale
Saturday, February 13 -
Saturday, February 20 at Noon
Paperbacks&Children'sBooks: 50 cents each
Sale Hours
Saturday, Feb. 13 - 10 a.m. to 4 p.m.
Tuesday-Thursday, Feb. 16, 17& 18
Friday, Feb. 19 - 9 a.m. to 5 p.m.
Saturday, Feb. 20 - 10 a.m. to 12Noon
(BagSale – a bag of books
21Bank St., LeRoy, NY
585.768.6170
February 21st, 1pm•Registration starts at noon
AMooseMember andaprospectiveMember qualifies as a team
Needs volunteers tohelp. Benefits Kids' Easter EggHunt -March26th
April 9th, 5pm toMidnight
Featuring Eddie Lee&Closing Timeand LittleHouse
Proceeds tobenefit the LeRoyMoose Scholarship Fund
Featuredprizes include:CubCadet48"RidingMower; LeRoyCCGolfPackage; StihlChain-
sawandWeedTrimmer; S&SLimoWineTourup to20peopleandotherprizes.BasketRaffles,
TurkeyRaffles, SideRaffles, FoodandDrinks.
These EventsAre OpenToThe Public!
Theplaygroup childrenatLoveBugsPreschool celebratedVal-
entine'sDaybystamp-paintingheartheadbands, theyplayedan
actionpackedValentine balloon game anddecorated (and then
filled) theirspecialValentinecontainers. Duringsnack time they
took turnsusingacookiecutterandcut outheart cookies toeat.
What a special day!
Valentine'sDayCelebrated
one church st. le roy, ny
one church st. le roy, ny