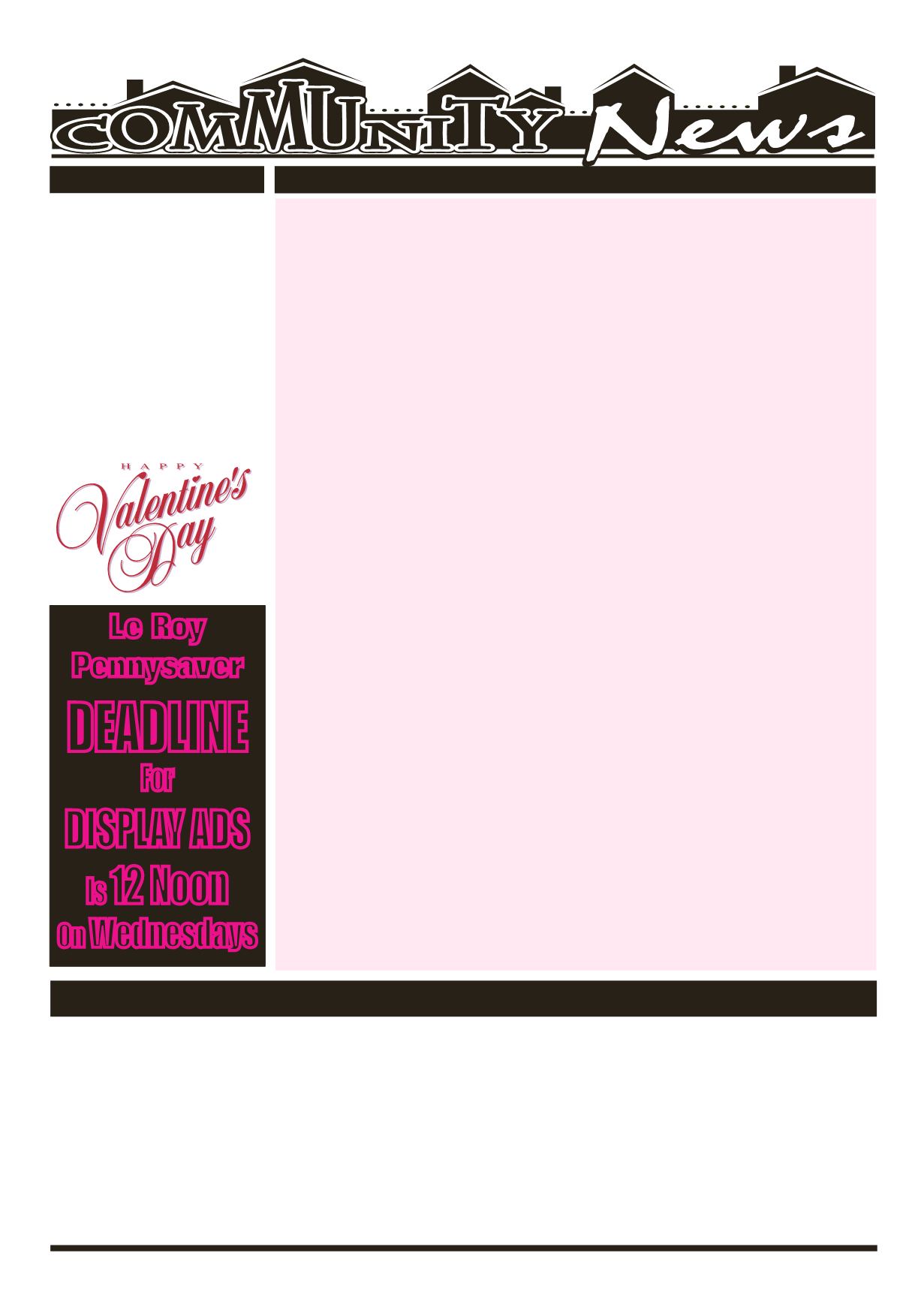 LEROYPENNYSAVER&NEWS - FEBRUARY 14, 2016
All GeneseeCounty residents, 60andolder, can takepart in thisweek'sactivitiesat theBataviaSenior Center, 2BankSt., Batavia. Formore information, call 343-1611.
SENIORCITIZENSACTIVITIES (February 15th - February 19th)
WEEKLYEVENTS
OBITUARIES
President'sDayHoliday–OFAClosed
NewsletterAssembly
is scheduled tobeginat8:45a.m;
Cribbage
is scheduled tobeginat1:00p.m.
TaxPreparationAvailable
byAppointment Only 9:00 a.m. to 3:00p.m.;
Quilter'sGroup
is scheduled tobegin at 9:00
Euchre
is scheduled tobeginat1:00p.m.
Tai Chi
is scheduled tobegin at 9:30 a.m. ;
GentleFitness
is scheduled tobegin at 10:30 a.m.;
Cribbage
Bridge
isscheduled tobeginat1:00p.m.
ArtClass
is scheduled tobegin at 10:00 a.m.;
LineDancing
is scheduled tobegin at 10:00 a.m.;
Euchre
SUNDAY, FEBRUARY14
Konnect Youth Group at Living Waters Church,
Sundays from 6:30 to 8:30 pm for ages 12-18. "Bring Down all theWalls!
ConnectwithGodandConnectwithothers." Formore information, checkus
outonlineat: livingwatersleroy.org/konnect-youth-ministry/
ChickenBarbecue.
MONDAY, FEBRUARY15
TOPS (TakeOffPounds Sensibly)
meetsMonday evenings at the LeRoy
Presbyterian Church, corner of Clay&Main Streets. Doors open at 6:00 pm
andmeeting is from 6:30-7:15 pm. Visitors are always welcome. Call 585-
768-7103 formore information.
TUESDAY, FEBRUARY16
Preschool Storytime:
EveryTuesdayat 11am featuring stories, craft and
songsatPavilionPublicLibrary,5WoodrowDr.,Pavilion.For info:584-8843.
LCCP'sGRACE'SKITCHEN:
AFREEdinnereveryTuesdayevening,5-6:30pm
at theMasonicCommunityCenteron12BankSt.Plentyofparking.Takeout
&deliveryareavailable. Formore info. contactSelbyDavisat585-738-8882
GRACE'SCLOSET:Aclothinggiveawayprogram
MethodistChurch,10TrigonPark,LeRoy,9:30amto11:30ameveryThursday.
Wehaveclothingforallages.Weneedbeddingofallkindsespeciallyblankets.
Donations canbedroppedoffat thehousenext to the church. Pleaseput all
bags INSIDE on the back porch. NO ELECTRONICS, COMPUTERS,DISHES, etc.
OpenTuesdays5-6:30pm.
Anyquestions call theoffice768-8980.
AXIS Student Ministry at LivingWaters Church
Tuesdays from6:30 to8:30p.m. for 7th to12thgrade. Our goal is for teens'
lives tobe impacted,and radicallychanged. Formore information, checkus
Townof LeRoyPlanningBoardMeeting
(asnecessary) 7:30pmat the
TownHall, 48MainSt. For further info. call 768-6910, Ext. 223.
WEDNESDAY, FEBRUARY17
TheSandlot -MovieShowingattheWoodwardMemorialLibrary
for children ingradesK-6, from2–3:45p.m. Registration isappreciated!
Call 768-8300or registeronlineat
Wednesdays from6:30pmuntil8:00pm -
FirstBaptistPavilionwillbe
having their youth program. titled"JOY CLUB". It is open to children in the
Pre-school ageup to6thgrade. Itwill beheldat the church10956S. Lake
Road, Rte. 19. It isa fun timeof Bible stories, game time, refreshmentsand
memorywork.Call for further information585-584-3179ext.12.Leaveyour
nameandnumber and the secretarywill call youback.
THURSDAY, FEBRUARY18
FRIDAY, FEBRUARY19
PenuelChristianFellowship,
OneSteptoFreedomaddictionsministry,a
ChristCenteredAddictionsprogram,aweeklymeetingeveryFridayat7pm.
Call theChurch formore informationat768-6901or594-9575.
Penuel ChristianFellowship
isorganizingayoungadult fellowshipand
Bible study. Ages: 12 and up, Time: Fridays from 7-9 pm, Study: the book
ofRomans (a16weekcourse), taughtby JosiahGariboldi.Place:7115West
SilentMovie
,Featuring"TheKid",Produced,DirectedbyandStaringCharlie
Chaplin. Featuring Jackie Coogan. 1921 Black andWhiteMoviewith Live
OrganMusic, performedby JackBollman. St.Mark's Episcopal Church, 1E.
Main St., LeRoy, NY at 7:00pm. Cost: Free. Donationswill be accepted for
LeRoyChristianCommunityProject (LCCP)
SATURDAY, FEBRUARY20
LeRoyUnitedMethodistYouthGroup
Spaghetti
Supper
at10TrigonPark. Seating is from3:30till7pm. Ticketsavailable
at the door. Handicapped accessible (use the parking in the lot behind
the church toaccess thehandicapped ramp). Proceeds tobenefit LUMC
YouthCampprogram. Formore info: 768-8980.
Free Food outreachbrought to youby Foodlink
parking lot. Every 3rd Saturday of the month. 11-1pm. Call Penuel
ChristianFellowshipat585-768-6901withanyquestions.
Used Book Sale
at theWoodward Memorial Library from Saturday,
February 13 through Saturday noon, February 20. The sale runs during
regular business hours. Hardcover books are $1.00 and paperbacks are
50 cents. Abag salewill beheldonSaturday, February20 from10a.m.
tonoon–abagof books for$1.00.
UPCOMINGEVENTS
LivingWatersChurch
hasbeenblessingareateenagegirls
freedresses for theprom.
Donationsofgentlyuseddresses can
be receiveduntil March27that theChurchoffice.Tues,Thurs&Fri from
8am to3pm.Pleasecall thechurchofficeat768-7570 ifadifferentdrop
CommunityCalendarSubmissions shouldbe sent to:
LE ROY - Suzanne Jones passed
away on January 31, 2016. Memo-
rials may be made in her name to
theLeRoyHistorical Society, 23East
MainStreet,NY14482andSt.Chris-
topher'sChurch, US 1, HobeSound,
PAVILION -PatrickLeeLogsdon-Age
65, of Pavilion, NY died February 5,
2016at theUnitedMemorialMedical
Center in Batavia. There are no
Le Roy
Pennysaver