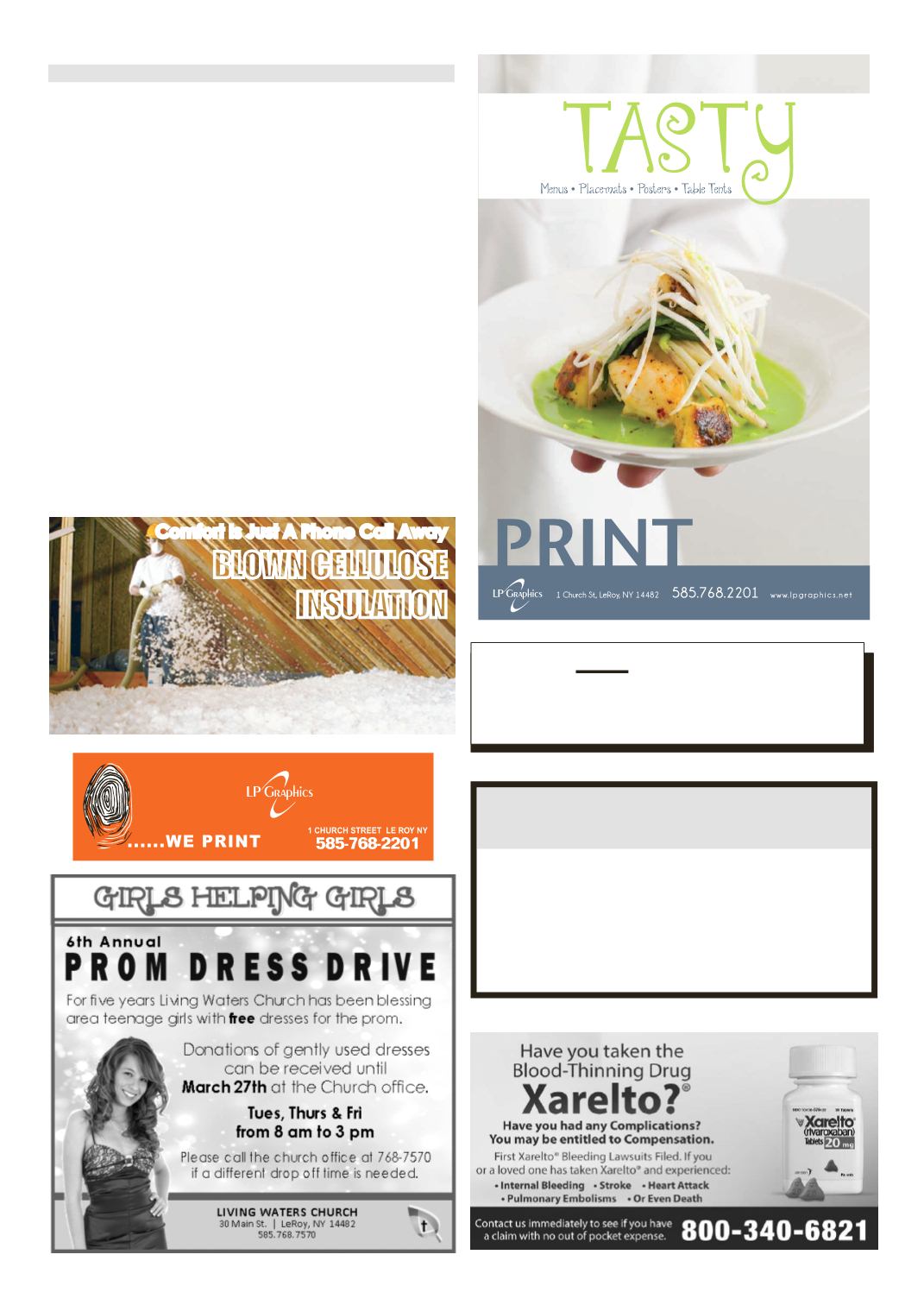 LEROYPENNYSAVER&NEWS - FEBRUARY 7, 2016
byGreg "Porp"Rogers,
Mayor
The Annual Banquet of the
LeRoy Fire District was held
on January 30th. The event was
well represented by just about
every emergency agency and
political representatives. They
came to show their respect to
ouroutstandingdepartment.Fire
ChiefTimHoglewas theMaster
ofCeremony for theevening. He
presentedawards to: JoeOrlando
-Chief'sAward, andJerryDiskin
- Firefighter of the Year. Craig
Johnson informed all, of the
1,571hoursof trainingperformed
by the group that responded to
Jerry and Regina Diskin have
nowbeenhonored inourcommu-
nitywith twoof themost respect-
ed awards. Jerry (former Fire
Chief) asFireFighter of theYear
andReginaapast recipientof the
LeRoyan of theYear, thanks for
all your selfless dedication.
Weasacommunityaresofortu-
nate tohave such anoutstanding
group of well-trained people to
come to our need at a time of
trouble. The time and effort put
in by these men and women are
truly remarkable,onbehalfof the
Village thank you all somuch.
Anyone interested in joining the
FireDepartment or theAuxiliary
contact Chief Tim Hogle, it is
a great way to give back to the
community and make new and
"No matter what people tell
you,wordsand idea'scanchange
Notes From TheMayor's Office
ALLWORKMANSHIP GUARANTEED • INSURED
297-9097 • 768-7737
• InteriorPainting
• Plaster/LathRestoration
•Drywall&Drywall Repair
•TextureRemoval
• Floors Stripped
&Refinished
•OldCeilings&Walls
MadeLikeNew!
MikeDarby'sPatch&Paint
Le RoyPennysaver•768-2201
Hours:Monday thru Friday8:00 to 5:00p.m.
lpgraphics.net
Comfort Is Just APhoneCall Away
Call Andyat 585.297.8198
For Free Estimate