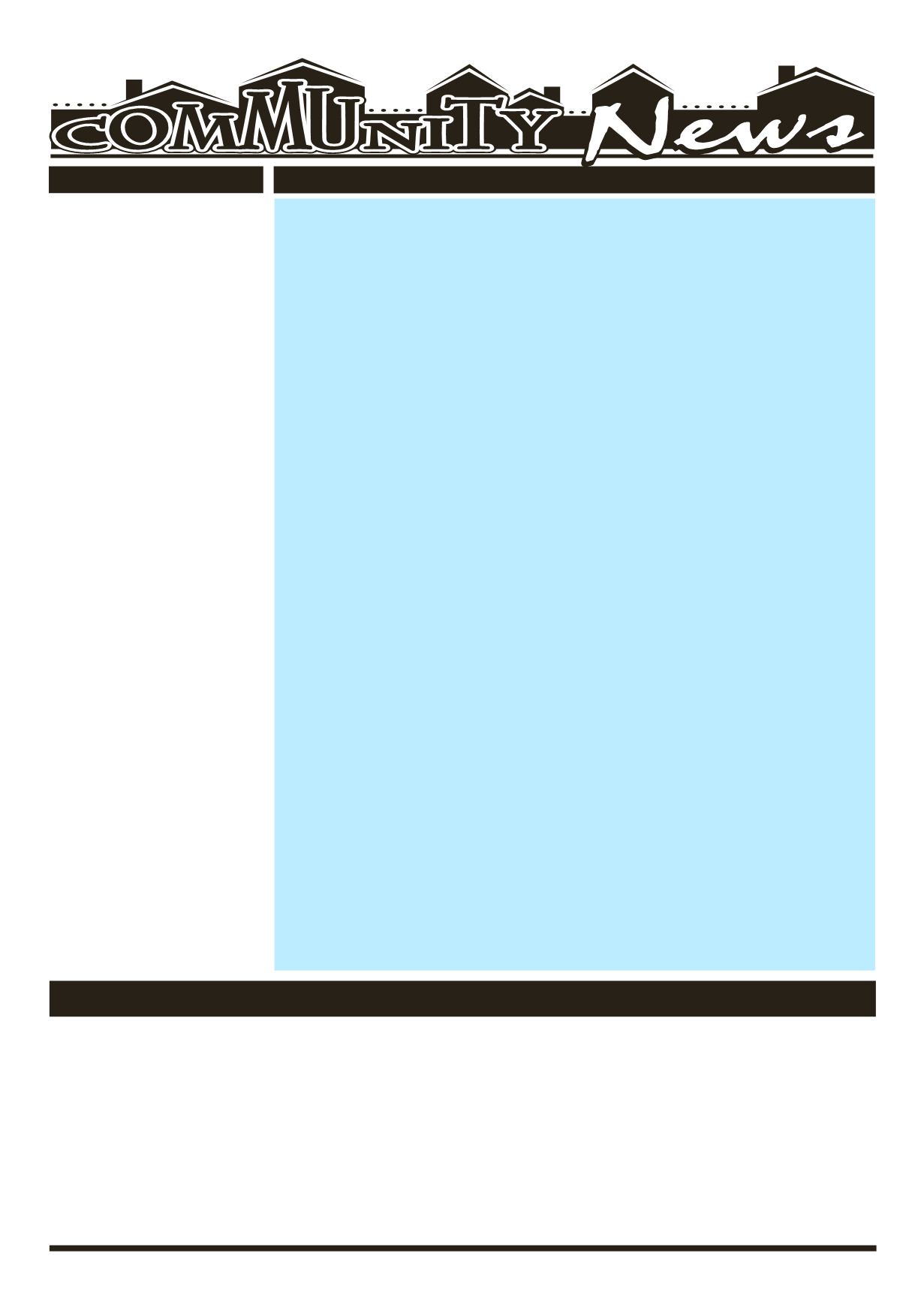 LEROYPENNYSAVER&NEWS - FEBRUARY 7, 2016
All GeneseeCounty residents, 60andolder, can takepart in thisweek'sactivitiesat theBataviaSenior Center, 2BankSt., Batavia. Formore information, call 343-1611.
SENIORCITIZENSACTIVITIES (February 8th - February12th)
WEEKLYEVENTS
OBITUARIES
TaxPreparationAvailable
byAppointmentOnly9:00a.m. to3:00p.m.;
ArthritisExercise
isscheduled tobeginat9:30a.m.;
Bridge
AlzheimerAssociationMeeting
scheduled tobeginat11:00a.m. ;
Cribbage
is scheduled tobeginat1:00p.m.
TaxPreparationAvailable
byAppointmentOnly9:00a.m. to3:00p.m.;
OmbudsmenMeeting
is scheduled tobeginat 9:00a.m.;
Quilter's
Group
is scheduled tobeginat 9:00a.m.;
ARepresentative fromUnivera
is scheduled tobeavailable from10:00a.m. to12:00p.m.;
Euchre
is scheduled tobeginat1:00p.m.
TaiChi
isscheduled tobeginat9:30a.m. ;
GentleFitness
isscheduled tobeginat10:30a.m.;
Cribbage
isscheduled tobeginat1:00p.m.;
Bridge
isscheduled tobeginat1:00p.m.
Legal Services
is scheduled to take place this date by Appointments ONLY;
Art Class
is scheduled tobegin at 10:00 a.m.;
LineDancing
scheduled tobeginat10:00a.m.;
Euchre
is scheduled tobeginat1:00p.m.
SUNDAY, FEBRUARY7
KonnectYouthGroupat LivingWaters Church,
Sundays from6:30 to8:30pm forages12-18. "BringDownall theWalls!
Connect with God and Connect with others." For more information,
checkusoutonlineat: livingwatersleroy.org/konnect-youth-ministry/
MONDAY, FEBRUARY8
TOPS (TakeOffPoundsSensibly)
meetsMondayevenings at theLe-
Roy Presbyterian Church, corner of Clay &Main Streets. Doors open at
6:00pmandmeeting is from6:30-7:15pm.Visitorsarealwayswelcome.
Call 585-768-7103 formore information.
TUESDAY, FEBRUARY9
Preschool Storytime:
EveryTuesday at 11 am featuring stories, craft
and songs at PavilionPublic Library, 5WoodrowDr., Pavilion. For info:
LCCP'sGRACE'SKITCHEN:
AFREEdinnereveryTuesdayevening,5-6:30
pmat theMasonicCommunityCenteron12BankSt. Plentyofparking.
Takeout & delivery are available. Formore info. contact Selby Davis at
GRACE'SCLOSET:Aclothinggiveawayprogram
UnitedMethodist Church, 10 Trigon Park, Le Roy, 9:30 am to 11:30 am
everyThursday.Wehaveclothingforallages.Weneedbeddingofallkinds
especiallyblankets.Donationscanbedroppedoffatthehousenexttothe
church. Pleaseput all bags INSIDE on thebackporch. NO ELECTRONICS,
OpenTuesdays5-6:30pm.
AXISStudentMinistryatLivingWatersChurch
Tuesdaysfrom6:30to8:30p.m.for7thto12thgrade.Ourgoal isforteens'
livestobe impacted,andradicallychanged. Formore information,check
The LeRoy Town& Country Garden Club
meetingat 6:00pmat LeRoyPresbyterianChurch. This isour annual
PotLuckDinnermeetingsomembersneed tobringadish topassand
place setting. Also comewith some ideas for 2016-2017 programs.
Visitors arewelcome. Contact AnnWalters at 737-9481 or 768-8130
WEDNESDAY, FEBRUARY10
Village of LeRoy BoardMeeting
, 7 pm at the Village Hall, 3West
Wednesdaysfrom6:30pmuntil8:00pm-
behavingtheiryouthprogram. titled"JOYCLUB". It isopentochildren in
thePre-schoolageupto6thgrade. Itwillbeheldatthechurch10956S.
LakeRoad, Rte. 19. It isa fun timeofBible stories, game time, refresh-
mentsandmemorywork.Callforfurther information585-584-3179ext.
12. Leaveyournameandnumber and the secretarywill call youback.
THURSDAY, FEBRUARY11
TownofLeRoyBoardMeeting
, 7pmat theTownHall BoardRoom,
FRIDAY, FEBRUARY12
PenuelChristianFellowship,
OneSteptoFreedomaddictionsminis-
try,aChristCenteredAddictionsprogram,aweeklymeetingeveryFriday
at7pm.Call theChurch formore informationat768-6901or594-9575.
Penuel ChristianFellowship
isorganizingayoungadult fellowship
andBiblestudy.Ages:12andup,Time:Fridays from7-9pm,Study: the
bookof Romans (a16week course), taught by JosiahGariboldi.Place:
SATURDAY, FEBRUARY13
Veterans Only Social Club -
Genesee Veterans Support Network
announces a newmeeting location at Scooter's Family Restaurant,
3711WestMainStreet Road, Batavia, NY - for theonceamonthVet-
eransOnlySocialClub.Meetingsareheld thesecondSaturdayofeach
month from7:00 to8:30PM.Veteransofallerasare invited toattend.
GVSN is locatedat3837WestMainStreetRoad,Batavia,NY. Formore
UPCOMINGEVENTS
SAVE THE DATE!
12th Annual Oatka Hose Co.
Chicken Barbecue,
LeRoy United Methodist Youth Group
Spaghetti Supper
on Saturday, Feb 20 at 10TrigonPark. Seating
is from 3:30 till 7 pm. Tickets available at the door. Handicapped
accessible (use theparking in the lotbehind thechurch toaccess the
handicappedramp). ProceedstobenefitLUMCYouthCampprogram.
CommunityCalendarSubmissions shouldbe sent to:
LEROY/JACKSONVILLE,FL-Paul Irwin
("Bubby") Carmichael, age 93, passed
awayThursday, January14,2016atMe-
morial Hospital in Jacksonville, Florida.
Memorials may be made to the LeRoy
Volunteer Ambulance, 1 Tountas Ave.,
LEROY ~ RalphWilliam "Billy" Strobel,
age84,passedawayThursdaymorning
(Jan. 28, 2016) at Rochester General
Hospital. Memorials are suggested to
the LeRoy First Baptist Church, 5 East
LEROY - Rose R. Battaglia, passed
away on Sunday, January 24, 2016,
three days after she celebrated her
102ndbirthday.Beforemoving toFlorida
she worked as a pharmacist assistant
and for the Jell-O Company in LeRoy,
NewYork – the home town of Jell-O.
LEROY ~ Francis E. Miggins, age 91,
passedawaySunday evening (January
31,2016)at theNewYorkStateVeterans
Home in Batavia. Memorials are sug-
gested to the NewYork State Veterans
Home, Veterans' Activity Fund, 220
RichmondAvenue,Batavia,N.Y. 14020.
LEROY - Dale R. Morrison, age 73, of
LinwoodRoad, overcamehis final battle
onFebruary1, 2016atStrongMemorial
Hospital. In lieu of flowers, memorials
aresuggested to theNationalParkinson
LEROY/LANCASTER - GeorgeE. Mol-
trupJr.,age88passedawayonJanuary
30, 2016 at at theNYSVeteransHome
inBatavia.Memorialsmaybemade toa
charityofyourchoice.Memorialsmaybe
made to a charity of your choice.