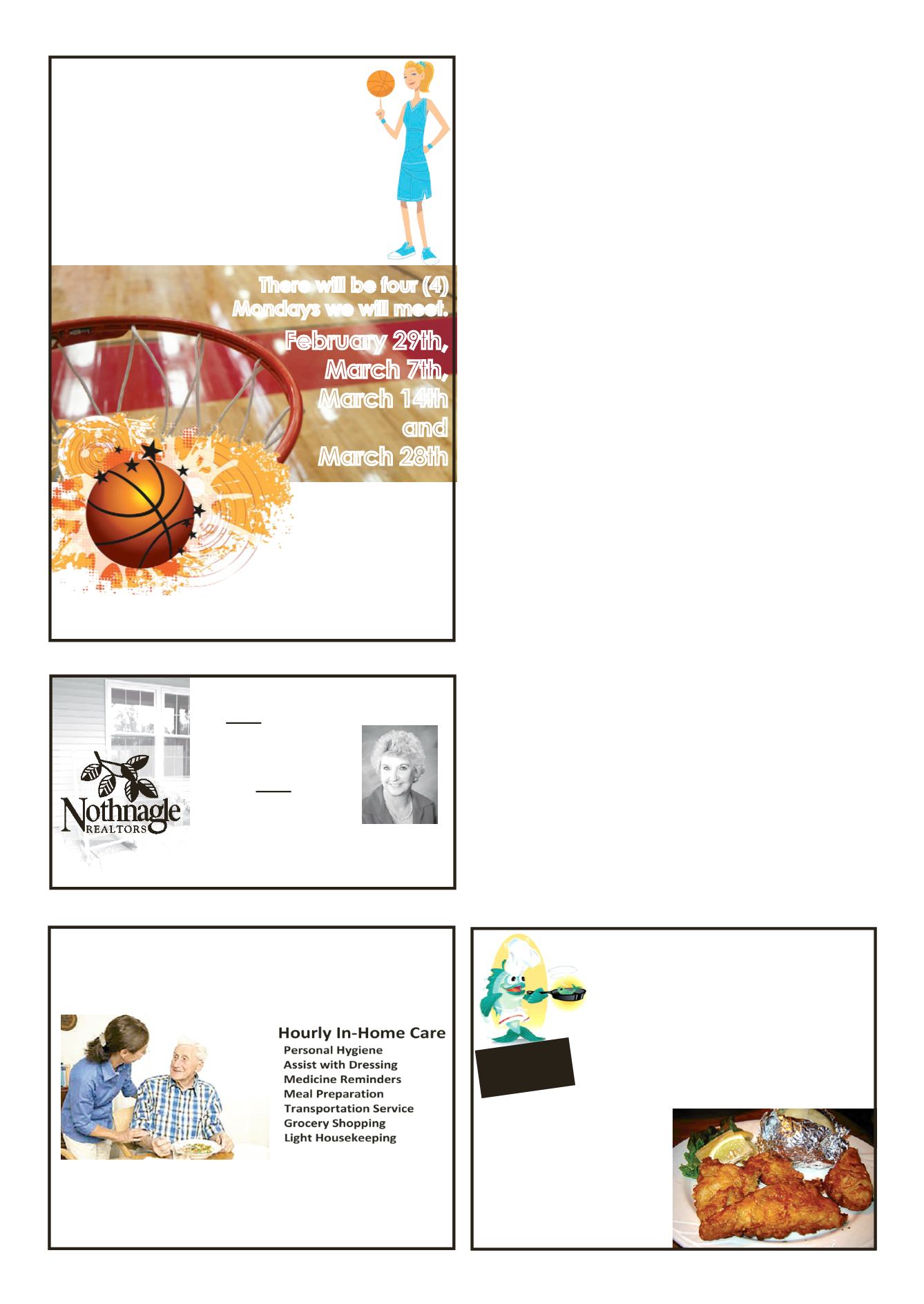 LEROYPENNYSAVER&NEWS - FEBRUARY 7, 2016
HelpingHands In-HomeCare
CaringPeopleAssistingSeniors!
"AnAlternativeToAssistedLivingOrANursingHome"
"Love begins by taking careof the closest ones -
the ones at home."
"Local PeopleYouKnowandTrust"
FullyLicensed, Certified& InsuredSince2010
BarbaraRider-Hotze 737-7264 • HowardHotze, Jr. 690-7811
On Saturday, January 30th the
Batavia Ramparts Squirt A team
took to their home ice in the
late morning to meet the unde-
feated Livingston County Blues
out of Geneseo. The Ramparts
had met up with the Blues for a
pre-season scrimmage in which
the Ramparts skated away vic-
toriously. However, this time the
Blues were able to retain their
undefeated regular season titleas
they came away with a decisive
scored theonlygoal for theRam-
parts ... not for lack of effort by
all his Ramparts teammates. In
the2ndand3rdperiods theRam-
parts held the Blues to just one
additional goal. Goalie extraor-
dinaire, Robert McCarthy from
Medina successfully blocked
Later on Saturday the 30th
the Batavia Ramparts Pee Wee
A team took on the undefeated
Webster Cyclones for a head
to head, heated battle ending
up in a 3-4 loss for the Batavia
Ramparts. Landin Pizzi of Bat-
avia scored the first goal for the
Ramparts on a breakaway. Pizzi
later assistedAdam Risewick of
LeRoy to score the Ramparts
2ndgoal.The3rd andfinalRam-
parts goal was scored by LeRoy
duo ShawnMorabito and Zack
Eschberger. From the face off
Eschberger drew the puck to
Morabito who then rifled a shot
Wee B team fronted by Center
JayEck andRightWinger Jacob
Marcelo, both of LeRoy, also
played on home ice Saturday af-
ternoon resulting in a tied game
against the Livingston County
PWBBlues out of Geneseo. Jay
Eck assisted Kyle Neiderhoffer
with 1 of his two goals scored.
The 3rd Ramparts goal was net-
On Sunday, January 31st the
Batavia Ramparts Squirt A team
traveled to Lakeshore rink in
Greece to take on the Monroe
County Youth Hockey Eagles.
The first period was an even-
ly matched battle resulting in
no goals scored. The Ramparts
started off the 2nd period with
Defenseman Brennen Pederson
with a pass to Tyler McClurg
of LeRoy to Tyler Kidder for
the goal. The Ramparts defense
includingAnna Stevens of Staf-
ford held strong throughout the
2nd and 3rd periods and Robert
McCarthy, goaltender, denied
the MCYH Eagles any scoring
opportunities. Will Eschberger
of LeRoy solidified thewinwith
a 3rdperiodgoal, unassisted.
The Ramparts organization
will bring their regular season
to a close over the next 2 week-
ends and then head into playoffs
in lateFebruary and tournaments
in March. Stay tuned for the
last fewweeks of youth hockey
reports as well as information
pertaining to upcoming Batavia
Tournaments andLearn toSkate/
YouthHockey
TownOf LeRoy
GIRL'SYOUTHBASKETBALL
PROGRAM
MarchMadness is BackOnMondays!
6:15pm to7:45pm
TrigonParkGym
Therewill be four (4)
Mondayswewillmeet.
February29th,
March7th,
March14th
and
March28th
TO SIGNUPandREGISTER ...
Sat., Feb. 13th
from10:30-12:00
at the Townof LeRoyofficebuilding.
Anyquestions, pleasecall RodAllenat 585-943-2189.
Batavia
585-343-6750
NOW is theBEST time
toBUYwith the interest rates
at their lowest!
Don't wait
toBUY -
call
LindaBeaumont
for all your real
estateneeds.
LindaBeaumont
Home (585) 768-6315
LicensedReal Estate
Salesperson
Multi-MillionDollar Producer
Companionship&
DailyActivities
FISH FRY
(585-502-5155)
Starting
Feb. 12th!