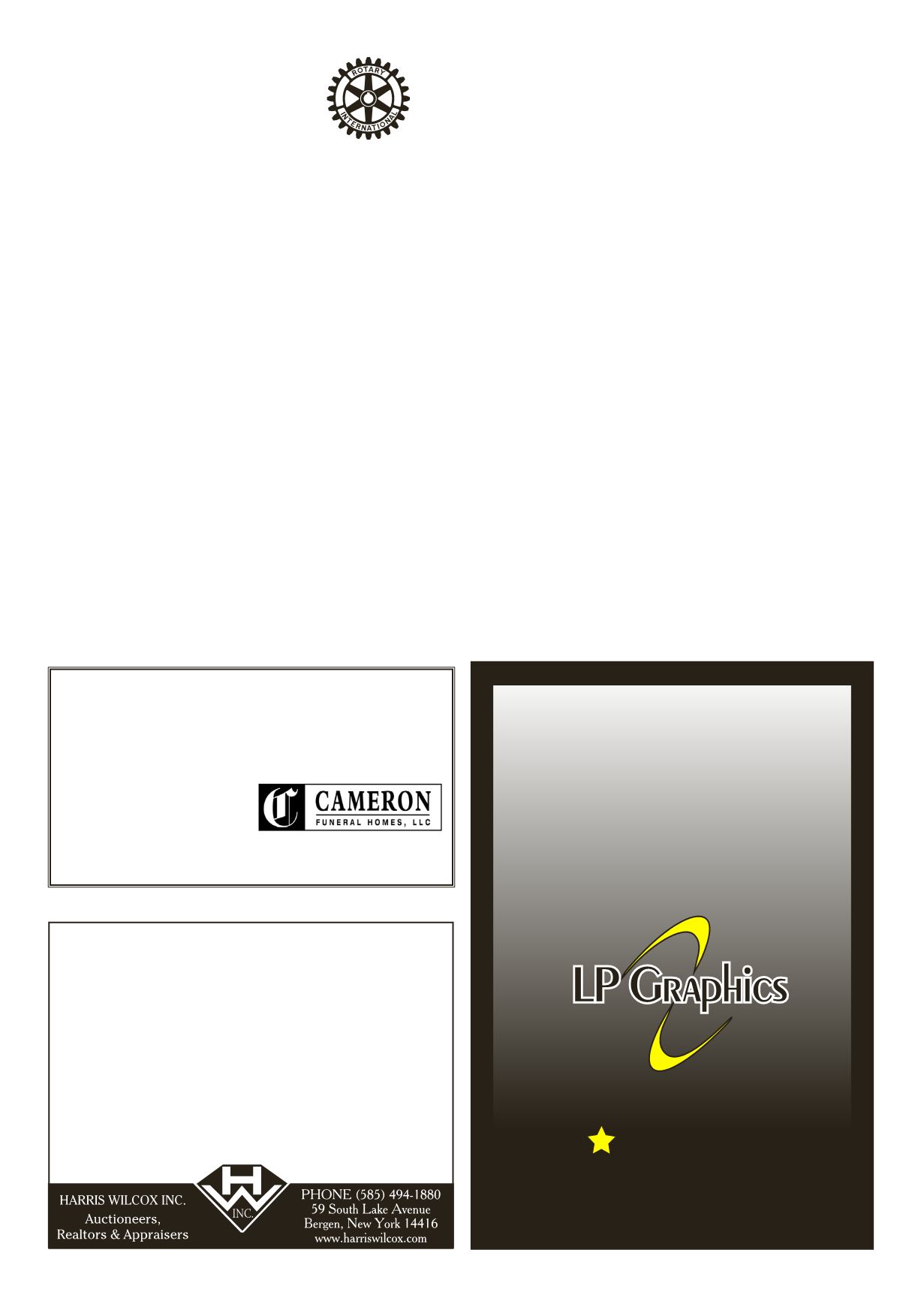 LEROYPENNYSAVER&NEWS - FEBRUARY 7, 2016
HelpingFamiliesCelebrateaLifeLived
"Our FamilyServingYours Since 1907"
Trusted•Honest •Proven
Cameron, Brady&Steuber
FuneralHome
111Wolcott Street
LeRoy,NY 14482
(585) 768-6800 •
Likeus onFacebook
LeRotary
Notes
FRI., FEB. 12, 2016
•10:00AM• LEROY, NY
Auction to be held at 52 Clay Street in the Village of
LeRoy, just southof theOatkaCreekBridge. Sellingwill
be a 3 bedroom, 2 bath housewith first floor laundry,
updatedelectricandplumbing. Next toOatkaCreek.
Assessed for$52,300, sells for$38,000orabove.A$5,000
deposit is required tobid.
OPENHOUSES: SAT., FEB. 6 from10-11am
andWED., FEB. 10 from10-11am.
call Shelly Falconeat 585-683-0995.
As the steady snow fell, our
Rotarians gathered together in-
side the comfortable Greens of
Le Roy as President Tony called
themeeting to order at a quarter
past noon on January 27th. Al-
though the attendancewas about
as scarce as the snow this year,
we proudly stood for the Pledge,
Joining us was our speaker,
Lt. Mick Nolte, invited by Rob
Murray to speak on behalf of the
RochesterFireDepartment.There
were no birthdays that necessitat-
ed the infamousbirthdaychoir, so
more important announcements
included a reminder that our BIG
Game TV Raffle continues until
the winner is picked on Febru-
ary 6th and tickets to sell can be
obtained from Tracy Ford. The
Woodward Memorial Library is
Dessert in the Stacks
from 7-8:30 pm on February 5th
and tickets must be purchased in
advance for $7/person.Therewill
be a committee meeting on Feb-
ruary 8th for the annual Graze to
Raise event being held on May
20th this year. Philip announced
his upcoming program on Febru-
ary 24th being presented by the
Vocational Institute for the Chil-
dren of South Sudan which was
founded by a local Rochestarian
whose goal it is to spread voca-
tional education in his hometown
to avoid fines, those called upon
to speak for themselves includ-
ed Randy Vink, Rob Murray,
MaryYoung, MarciaMcKenzie,
PhilipWeise, and our very own
president Tony Gugino. Philip
Weise paid-up on his one year
Anniversary with Rotary while
we celebrated a truemilestone as
Bob Bennett achieved 30 years
with the RotaryClub of Le Roy.
Morefines includedRobMurray
paying for a classic familyphoto
taken from his parish yearbook,
TracyFord for a handyConsum-
er Reports magazine, TimMoag
for crediting his wife for being
quoted in an article in the New
YorkTimes , andawell-deserved
fine paid by TomMcGinnis for
being caught on camera dozing
Lt.MickNolte started his pre-
sentation by giving us a little
history of his fire fighting ca-
reer. Beginning as anExplorer at
22, he worked his way up to his
current role of being in charge
of EMS for the City of Roches-
ter Fire Department made up of
twenty fire companies.With this
role, he alsoworkswith the high
schoolbasedminorityhiringpro-
gram. Beginning in the 60's, the
program aims to educate youth
on careerswithin the fire depart-
ment and has since pulledmany
graduates from areahigh schools
into their trainee program and
eventually into full-time posi-
tions within the Rochester Fire
In addition to the more well-
known functions of the Fire
Department is their Rescue De-
partment,which servesRochester
and the surrounding counties in
almost any kind of rescue oper-
ation. Rotarians learned how the
RFD was the first department in
the country to use the opioid an-
tagonistNarcanand its successful
use in reversing the often deadly
effects of narcotics. It became
evident just how important the
drug is when, in 2014, the City
saw the largest spike in heroin
use and subsequent casesneeding
Narcan.Mick'sclosingadvice for
Rotarians was to convey the im-
portance of able bodied citizens
getting trainedand stayingcurrent
in CPR since administering this
right away can often dramatical-
ly increase the chance of survival
compared to waiting only min-
utes for professional help.
Remember to "like" Rotary
1CHURCHST, • LEROY, NY • lpgraphics.net
WEHANDLEALLASPECTSOFPRINTING...
PROGRAMS
LETTERHEADS
BILLHEADS
FLYERS
BROCHURES
POSTERS
CARBONLESSFORMS
ENVELOPES
RAFFLETICKETS
NEWSLETTERS
RESUMES
TYPESETTING
RUBBERSTAMPS
ENGRAVEDSIGNS
NAMETAGS
COPIES
LAMINATION
COMMUNITYFAX
NEWSANDPICTURES
ADVERTISING
BUSINESSCARDS
HOURS: Monday thruFriday 8:00 to5:00