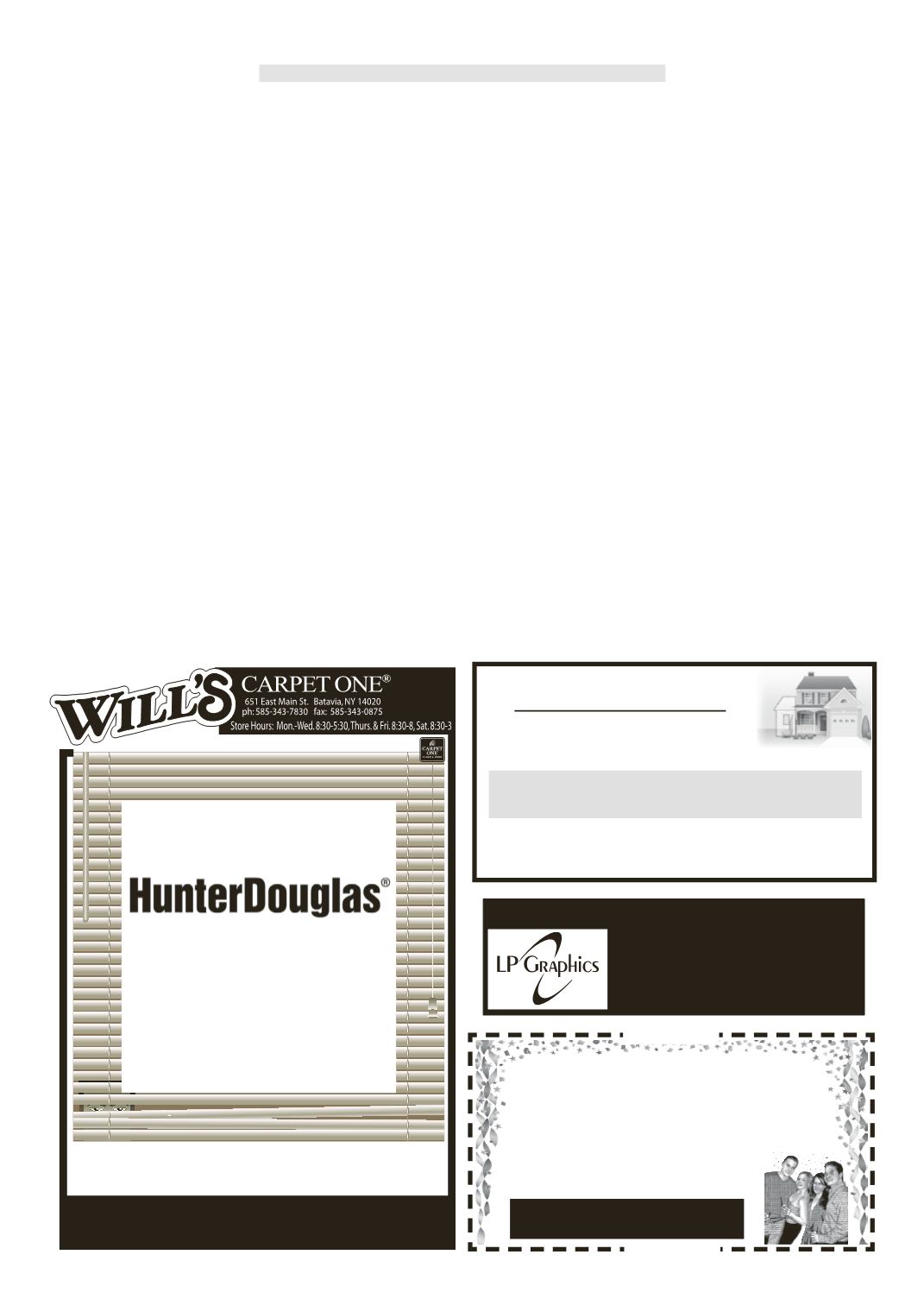 LEROYPENNYSAVER&NEWS - FEBRUARY 7, 2016
"CompleteCarpentry Service"
M
ILLER
B
ROTHERS
B
UILDERS
CustomHomes •Remodeling•Additions
Roofing• Siding
DANIEL
MICHAEL
1ChurchSt., LeRoy, NY14482
585-768-2201
FAX 585-768-6334
WeDo
•FinancingAvailableToQualifiedBuyers
•Professional InstallationAvailable
TheONE store for your perfect floor.
FLOOR
&HOME
20%
OFF
CustomMade
WindowShades
andBlinds
Sale!
American Legion
Post 576
585-768-2090
CLIP&SAVE
CLIP&SAVE
Inside - 2RoomsAvailable
Outside - LargePavilion
byKimCox, LCSD
Superintendent of Schools
It is impossible to believe
that we have completed the
first semester! This has been an
incredible year of progress-and
we still have another half of the
So what's been happening?
Students have expanded their
experiencesutilizing technology.
Technology is being infused into
classrooms,not justbecause tech-
nology is the "new thing", but
to forward the overall learning
process. Our students are more
active and involved in healthy
lifestyles throughour PEPGrant
and new fitness center. They
haveengaged in service learning
projects thathavehelped to instill
the importanceofcitizenshipand
service toone's community. Our
teachers have beenworking dil-
igently unpacking the standards
and creating authentic learning
experiences that provide our
students the opportunity to think
deeply about the learning.
And
we are on the verge of approval
of our R.I.T.E Capital Project,
which is going to ensure our
students and staff are learning
and working in a 21st century
environment.Weareawaitingour
official notice, but appear to be
on track foraspringconstruction
start.This is trulyanexciting time
for the Le Roy Central School
District. I want to take this time
tocongratulate theLeRoyBoard
ofEducation, theAdministration,
and theentire staff for all of their
efforts in helping to make these
The news has been good from
the NYS State Education De-
partment as they have taken a
thoughtful look at the standards
and assessment implementation.
We applaud the changes that
have been made and appreciate
that the Education Department
has heard the call from teachers,
administratorsandparents.While
the Common Core is inherently
good-excellent really- the imple-
mentation has been challenging.
Thechangeofdecouplingassess-
ments from teacher evaluation,
alleviating the time constraints,
and allowing districts to focus
on great teaching and learning,
is commendable. We value as-
sessment and understand its
importance in educating our
children. We will continue with
our practices in this area, but we
are grateful to have the freedom
to conduct this in a way that is
more student-centered. We are
confident inourstaffandstudents
to demonstrate what they know
and are able to do, and that we
canuse this information to further
developourprograms tomeet all
Despite all this good news,
the Governor's Budget has not
totally addressed one of the
greatest threats to actual school
improvement efforts - the Gap
EliminationAdjustment (GEA).
Thisyear theGovernor'sbudget
proposal denies our district
about$150,000,orabouthalfof
our owedGEA. In addition, the
foundation aid formula is still
notbeing implementedproperly,
andwehavenot receivedanac-
curatecalculation in thepast six
years. In fact, we are just now
receivinganaidcalculation that
isonparwithwhatwas received
in 2008-09. Unfortunately, the
cost of running the district, or
anything for thatmatter, hasnot
stayedat the2008-09 level.The
Districthasworkeddiligently to
keep the tax rate fairly consis-
tent for thepast eight years.We
are sensitive to our community
and thefiscal concerns facedby
all.Wearecommitted toremain-
ingwithinour tax levy limit, as
weknow that iswhat is best for
The beginning stages of the
2016-17 budget development
havebegun.Wehaveheard from
many of you to keep programs
strong, provide for all of our
students' needs and, as always,
continue to be fiscally respon-
sible.We are committed to each
of these important elements of a
On behalf the Le Roy Board
of Education, the Staff and the
thankyou