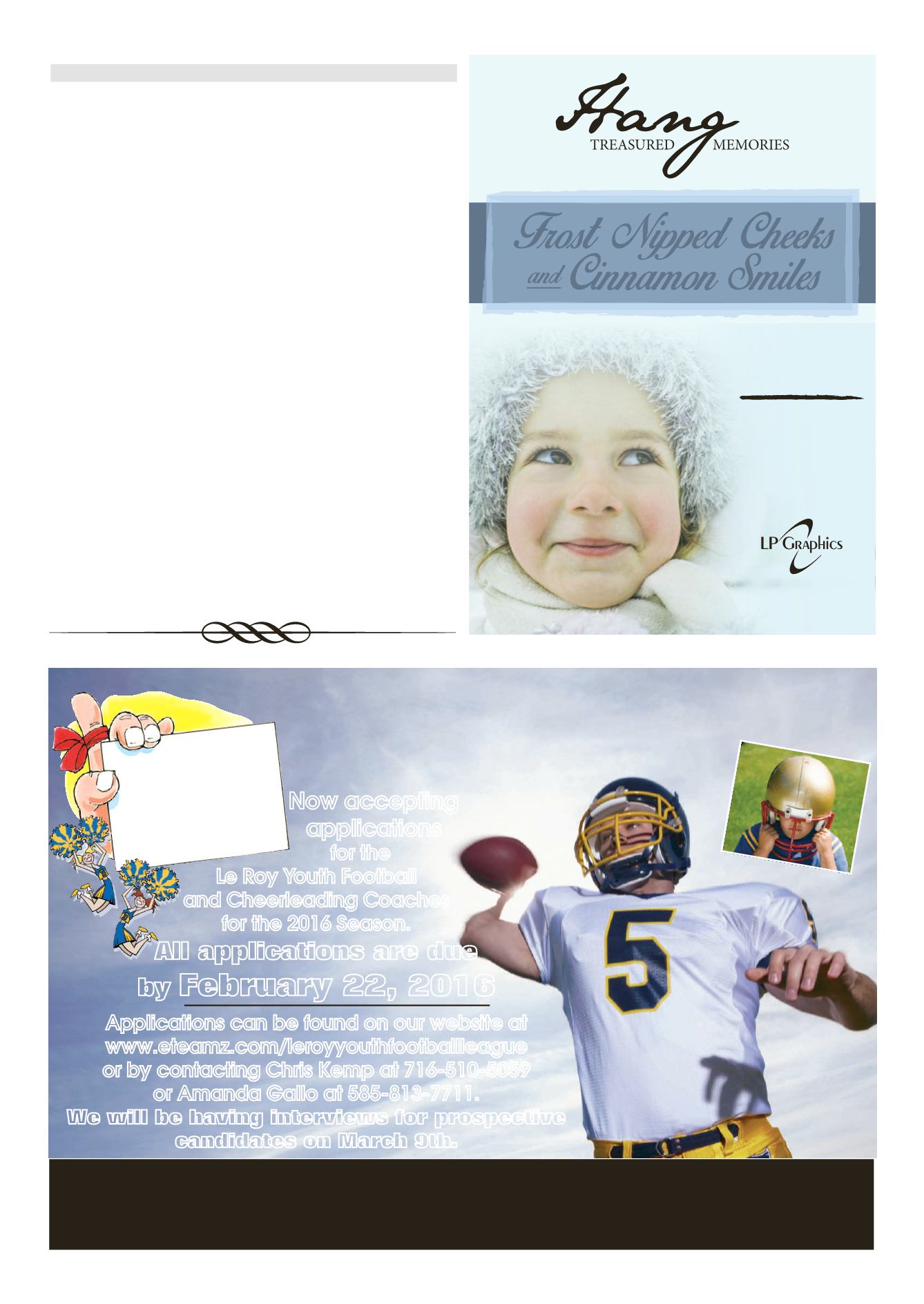 LEROYPENNYSAVER&NEWS - JANUARY 24, 2016
All applications are due
by
February 22, 2016
Applications canbe foundonour websiteat
or bycontactingChris Kempat 716-510-5059
or AmandaGalloat 585-813-7711.
Wewill be having interviews for prospective
candidates onMarch 9th.
Registration for playerswill beon
Saturday, April 9th, 2016
LeRoy Youth Football
and Cheerleading
byKimM. Cox,
Superintendent of Schools
Winter has finally arrived.We
thoughtwemightavoid it,but it is
here.Please remember toencour-
ageyour children todress appro-
priately for these coldmornings.
Even though it is January, our
thoughts are alreadyon June and
the 2016 Graduation Ceremony.
We are very excited to announce
a change to our ceremony. This
year we will be holding gradua-
Saturday, June25, 2016
at 11:00a.m. in theJr./Sr.High
SchoolAuditorium
recall, graduation has been held
Over the years, we have been
approachedbymany familiesand
students toconsider thischange to
betteraccommodatefamilyatten-
danceandcelebrations.Many felt
that Sunday afternoon left little
time tocelebrateandoftenout of
town familymembers needed to
come back for a party at another
time.After much discussion and
input from the 2016 Graduates,
we decided tomake this change.
This will be the first of several
reminders.As always, awonder-
fulceremony isbeingplanned, so
save thedateofSaturday, June25,
I wanted to take a minute to
thanks and gratitude
to Le RoyChristianCommunity
Project (LCCP). LCCP partners
with the Le Roy Central School
District to support the Backpack
and Afterschool programs that
benefit several families in our
community. Inaddition, theLCCP
has many other additional pro-
grams and services that support
the community at large. LCCP is
trulyaremarkableorganization. If
youwould likemore information
about this organization or how
youcansupport thework that they
do, pleasevisit their newwebsite
Enjoy the winter weather and
WE PRINT
LARGE FORMAT
1Church St., LeRoy, NY14482
585.768.2201