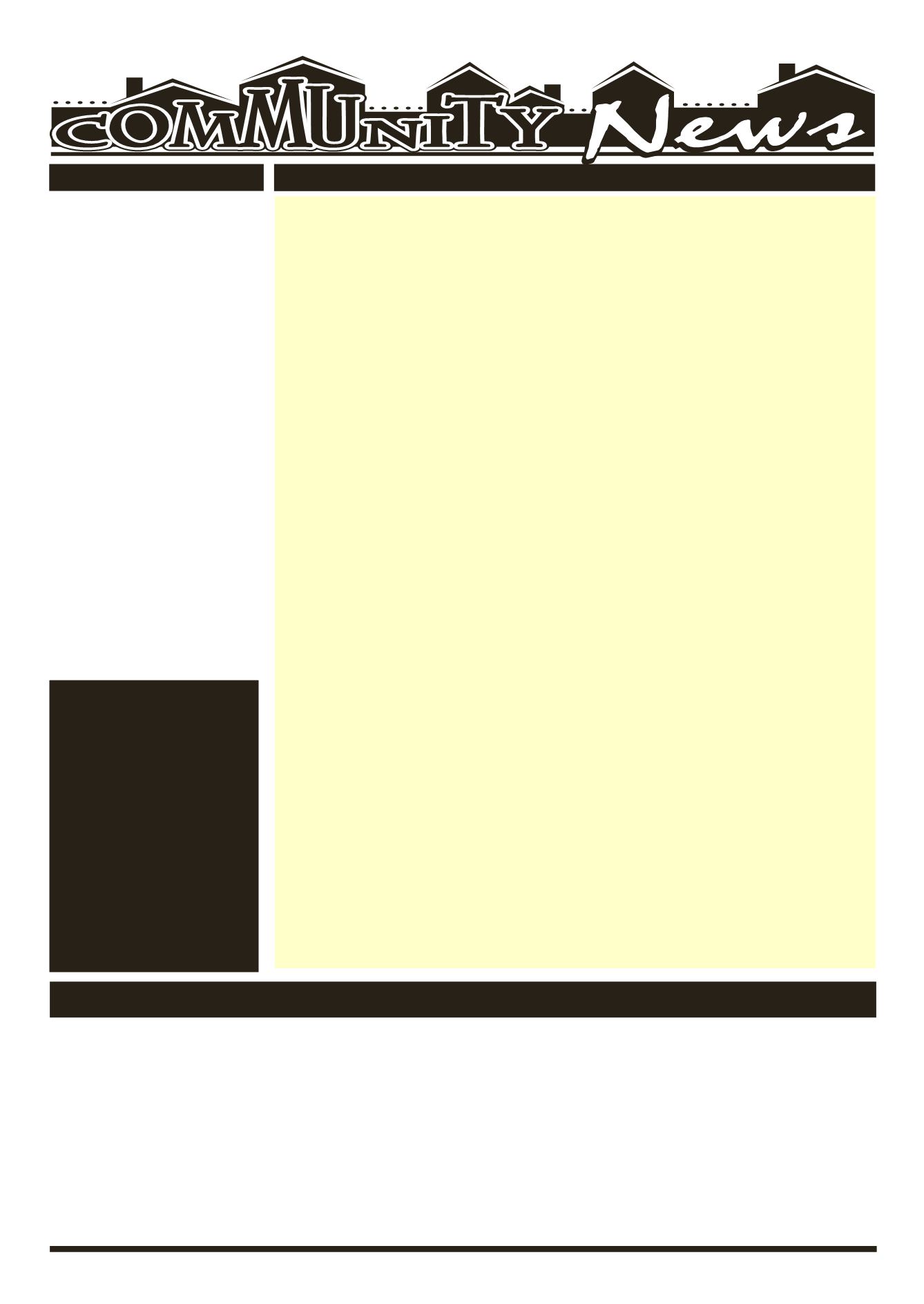 LEROYPENNYSAVER&NEWS - JANUARY 24, 2016
All GeneseeCounty residents, 60andolder, can takepart in thisweek'sactivitiesat theBataviaSenior Center, 2BankSt., Batavia. Formore information, call 343-1611.
(January 25th - January29th)
WEEKLYEVENTS
OBITUARIES
ArthritisExercise
is scheduled tobeginat 9:30a.m.;
HIPPAMeeting
is scheduled tobeginat 10:00a.m.;
Bridge
Cribbage
is scheduled tobeginat1:00p.m.
TaxTraining
is scheduled tobeginat 8:30a.m.;
A representative fromUnivera
will beavailable from10:00a.m. to12:00p.m.;
Euchre
scheduled tobeginat1:00p.m.
NYSTraining
is scheduled tobeginat 8:30a.m.;
TaiChi
is scheduled tobeginat 9:30a.m. ;
LifespanMeeting
is scheduled tobeginat 10:00
GentleFitness
isscheduled tobeginat10:30a.m.;
Cribbage
isscheduled tobeginat1:00p.m.;
Bridge
isscheduled tobeginat1:00p.m.
ArtClass
is scheduled tobeginat 10:00a.m.;
LineDancing
is scheduled tobeginat 10:00a.m.;
A representative fromBlueCross/Blue
Shield
will beavailable from10:00a.m. to12:00p.m.;
Euchre
is scheduled tobeginat1:00p.m.
SUNDAY, JANUARY24
KonnectYouthGroupat LivingWaters Church,
Sundays from6:30 to8:30pm forages12-18. "BringDownall theWalls!
Connect with God and Connect with others." For more information,
checkusoutonlineat: livingwatersleroy.org/konnect-youth-ministry/
MONDAY, JANUARY25
TOPS (TakeOffPoundsSensibly)
meetsMondayevenings at theLe-
Roy Presbyterian Church, corner of Clay &Main Streets. Doors open at
6:00pmandmeeting is from6:30-7:15pm.Visitorsarealwayswelcome.
Call 585-768-7103 formore information.
TUESDAY, JANUARY26
Preschool Storytime:
EveryTuesday at 11 am featuring stories, craft
and songs at PavilionPublic Library, 5WoodrowDr., Pavilion. For info:
LCCP'sGRACE'SKITCHEN:
AFREEdinnereveryTuesdayevening,5-6:30
pmat theMasonicCommunityCenteron12BankSt. Plentyofparking.
Takeout & delivery are available. Formore info. contact Selby Davis at
GRACE'SCLOSET:Aclothinggiveawayprogram
UnitedMethodist Church, 10 Trigon Park, Le Roy, 9:30 am to 11:30 am
everyThursday.Wehaveclothingforallages.Weneedbeddingofallkinds
especiallyblankets.Donationscanbedroppedoffatthehousenexttothe
church. Pleaseput all bags INSIDE on thebackporch. NO ELECTRONICS,
OpenTuesdays5-6:30pm.
AXISStudentMinistryatLivingWatersChurch
Tuesdaysfrom6:30to8:30p.m.for7thto12thgrade.Ourgoal isforteens'
livestobe impacted,andradicallychanged. Formore information,check
Town Zoning Board of AppealsMeeting
at theTownHall, 48MainSt. For further info. Call 768-6910, Ext. 223.
WEDNESDAY, JANUARY27
Wednesdaysfrom6:30pmuntil8:00pm-
behavingtheiryouthprogram. titled"JOYCLUB". It isopentochildren in
thePre-schoolageupto6thgrade. Itwillbeheldatthechurch10956S.
LakeRoad, Rte. 19. It is a fun timeof Bible stories, game time, refresh-
mentsandmemorywork.Callforfurther information585-584-3179ext.
12. Leaveyournameandnumber and the secretarywill call youback.
Village of LeRoy BoardMeeting,
7 pm at theVillage Hall, 3West
Adults:
kickback, relax, andcolorat the
WoodwardMemorial Librar
anytimebetween6 and8p.m.! Intricate color sheetswill beprovided along
with colored pencils andmarkers. Registration Required! Call 768-8300 or
THURSDAY, JANUARY28
TownofLeRoyBoardMeeting,
7pmat theTownHall BoardRoom,
Sensoryplay
WoodwardMemorialLibrary
garten throughGrade 6 from 3:15 to 4:15 p.m. Playwithwater beads, play
dough,coloredriceandmore!Childrenwillhavetheopportunitytoplayatsev-
eraldifferent sensorystationswhere theycanhave funplayingwithdifferent
textures. 768-8300orregisteronlineat
MovieShowingofEverest
foradultsat6:00p.m.attheWoodwardMemorial
Library, 121minutes,RatedPG-13.Registration is required. Call 768-8300or
FRIDAY, JANUARY29
PenuelChristianFellowship,
OneSteptoFreedomaddictionsminis-
try,aChristCenteredAddictionsprogram,aweeklymeetingeveryFriday
at7pm.Call theChurch formore informationat768-6901or594-9575.
Penuel ChristianFellowship
isorganizingayoungadult fellowship
andBiblestudy.Ages:12andup,Time:Fridays from7-9pm,Study: the
bookof Romans (a16week course), taught by JosiahGariboldi.Place:
SATURDAY, JANUARY30
UPCOMINGEVENTS
The LeRoy Town& Country Garden Club
will hold itsmonthlymeeting
on February3rdat 6:00pmat LeRoyPresbyterianChurch. This is our annual
Pot LuckDinnermeeting somembers need tobringadish topass andplace
setting.Visitors arewelcome. Contact AnnWalters at 737-9481or 768-8130
SAVE THE DATE!
12th Annual Oatka Hose Co.
Chicken Barbecue,
CommunityCalendarSubmissions shouldbe sent to:
Le Roy
Pennysaver
BATAVIA/LE ROY - Joseph Carbery 52,
passed away on January 9, 2016 after
a courageous battle with cancer. In lieu
of flowers memorials may be made to
WYOMING - LaVerne G. "Sam" Strat-
hearn Age 87, passed away peacefully
surrounded by his family at the New
York State Veterans Home in Batavia
on January 14, 2016. In lieu of flowers,
memorialsmaybemade to theWyoming
Hook&LadderCo.,Wyoming,NY14591
WYOMING - Lewis "Gary" Hudson, age
74, formerly of Wyoming and South By-
ron, passed away Friday, January 15th,
2016 at the LivingstonCountyCenter for
Nursing andRehabilitation inMt. Morris.
LE ROY - Berniece Joyce Skelton, who
recently celebrated her 95th birthday,
departed this life on January 15, 2016,
at the LeRoy Village Green. Memorials
may be made to Genesee County ARC
(64 Walnut Street, Batavia, NY 14020)
or the Stafford United Methodist Church