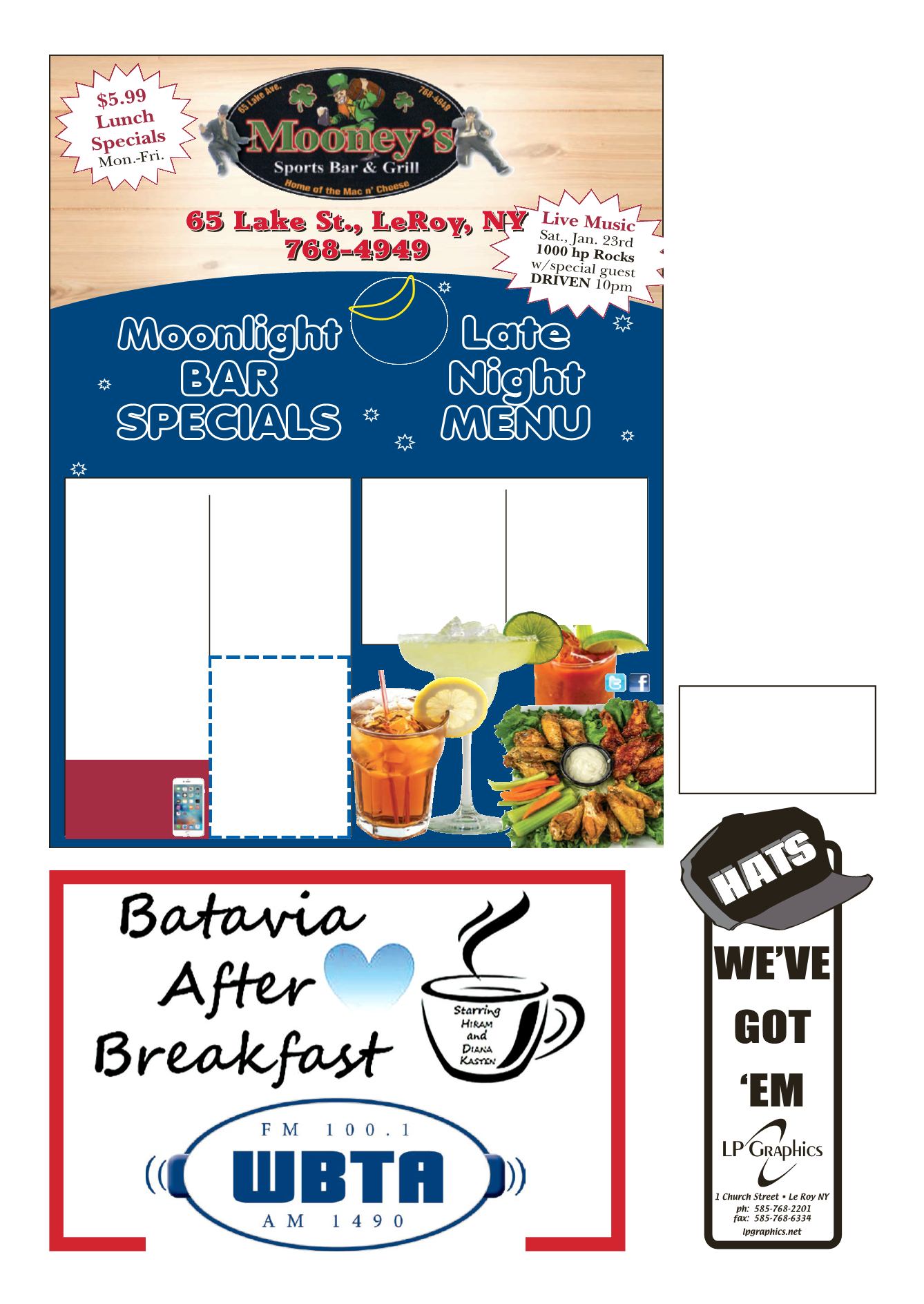 LEROYPENNYSAVER&NEWS - JANUARY 24, 2016
9pm toClose
9pm toClose
Monday
$1
Tuesday
2 for 1
Wednesday
$3
$4
Thursday
LadiesNight
2 for 1
Friday
$5
Saturday
$1.50
Sunday
$4
$5.00
$5.00
$5.00
$5.00
$5.00
$5.00
Stop In for
BREAKFAST
Saturdays&
Sundays
8am-1pm
JoinourMobileVIP
Club&Get
$5OFF your
purchaseof
$25ormore.
Don't waste precious time
Genesee Community College
proudly announces that 372 stu-
dents were named to the Dean's
List for theFall 2015 semester.
Ashley Sheelar, Daniel Smith
NathanReiner, HannesWidrig,
Chad Bobzin, Kristin Hohn of
Justine Reed, Adrian Lambert
Hannah Miller, Elizabeth Car-
ney, ErinNesmith, StephenCap-
potelli, Joseph Griep, Timothy
McCulley, Kristen Stalnecker,
Zachary Grasso, Jessica Griseta
Cassandra Sprague, Kristen
Schwab, Joseph Czworka of Pa-
Gartz, TylerDavis ofBergen
ColtonCunningham,
ion,NYachieved theDean'sList
withHonorswithaGAPof 3.40-
3.69 at TheCollege at Brockport
for fall '15.He isa2015graduate
of Pavilion Central School. Son
ofDoug andDarlaCunningham.