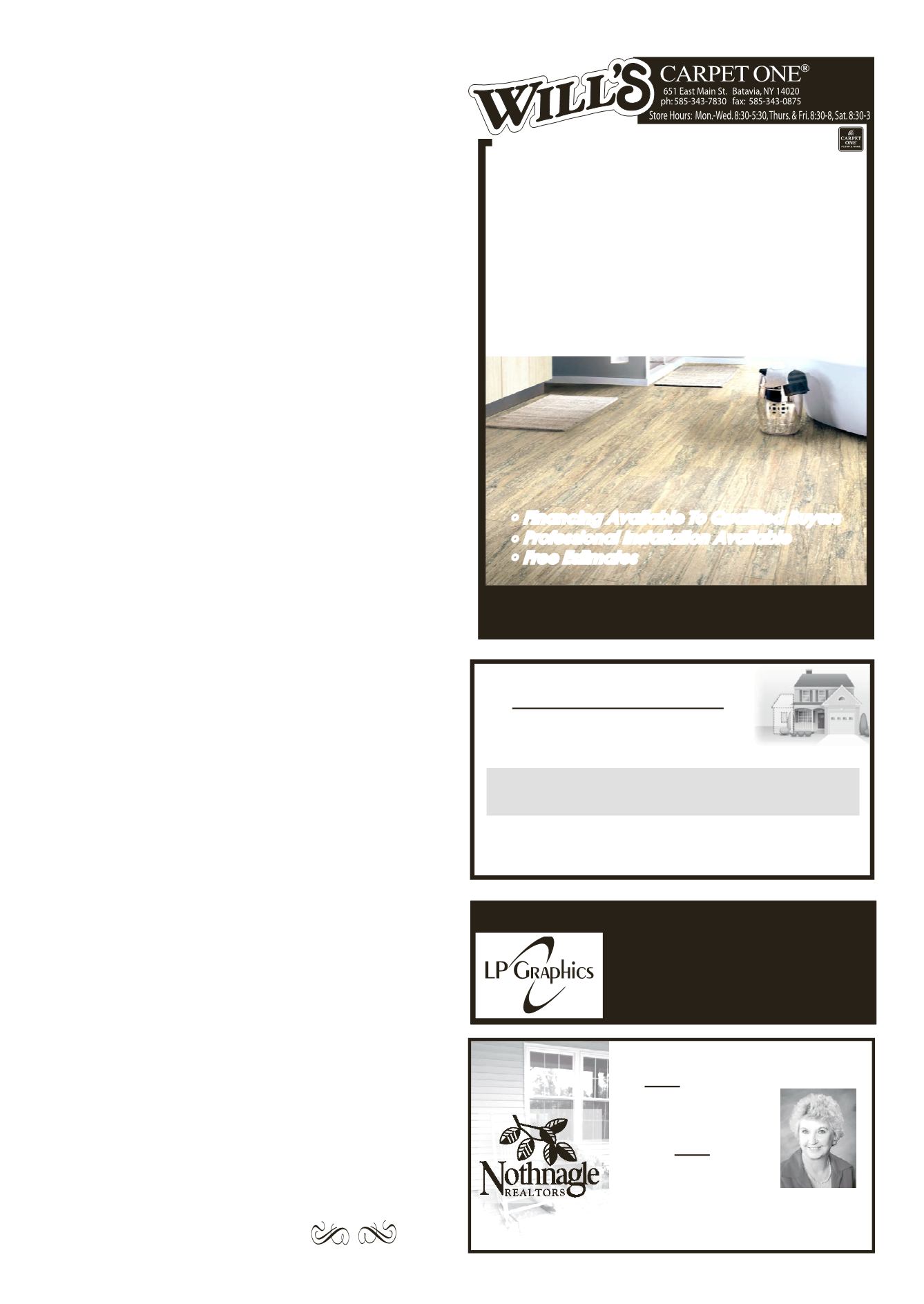 LEROYPENNYSAVER&NEWS - JANUARY 24, 2016
TheONE store for your perfect floor.
FLOOR
&HOME
"CompleteCarpentry Service"
M
ILLER
B
ROTHERS
B
UILDERS
CustomHomes •Remodeling•Additions
Roofing• Siding
DANIEL
MICHAEL
Batavia
585-343-6750
NOW is theBEST time
toBUYwith the interest rates
at their lowest!
Don't wait
toBUY -
call
LindaBeaumont
for all your real
estateneeds.
LindaBeaumont
Home (585) 768-6315
LicensedReal Estate
Salesperson
Multi-MillionDollar Producer
Stop Inand SeeOur Large SelectionOf
• FinancingAvailable ToQualifiedBuyers
• Professional InstallationAvailable
• Free Estimates
(materials only)
1ChurchSt., LeRoy, NY14482
585-768-2201
FAX 585-768-6334
WeDo
The Ramparts organization
had 2 teams representing in the
Top Gun Tournament held in
Amherst, NY fromFriday, Janu-
ary15th–Sunday, January17th.
TheBataviaRamparts PeeWee
A team took the ice Friday, Janu-
ary 18th at 8.20 pm for their first
tournament gameagainst theAm-
herst Blackhawks. The Ramparts
dominated throughout the game
resulting in a 6-1 win. Zachary
Eschberger of LeRoy scored 1
goal and skated away with the
gameMVPawardedby the coach
of the opposing team! Other goal
scorers included Austin Hunt,
team took to the ice in back to
back games Saturday afternoon
against the Amherst Kings and
the Perinton Blades. The Ram-
parts and Kings battled it out
in heated, penalty-ridden match
ending in a 3-2 loss for The
Ramparts. Goal scorers were
Landin Pizzi and Parker Cor-
belli…Corbelli was awarded the
TheRamparts racked up awin
against the PerintonBladeswith
an end score of 3-2. Goal scor-
ers were Pizzi, Hunt and An-
drewKasmarek. Kasmarek was
What ended up being the 4th
and final game for the PeeWee
A Ramparts was played late
Sunday afternoon. It was a high
energymatch against rivalMon-
roe CountyAmerks. The first 2
periods the Ramparts and the
Amerkswentgoal forgoal, how-
ever, theAmerks took control in
the3rdperiodandwon thegame
4-2. Jenna Snieszko, Goaltender
for the Ramparts was awarded
is comprised of players from the
greaterBataviaarea includingLe-
Royans Adam Risewick, Shawn
Morabito and Zack Eschberger.
Additional teammates are Carter
Augello, Parker Corbelli, Col-
in Crane, Austin Hunt, Andrew
Kasmarek, Landin Pizzi, Max
Scott, Brian Valyear and Carter
Wasilewski. Head Coached by
ChadValyear assisted by Joe Es-
chbergerofLeRoy,ChuckAugel-
TheBataviaRampartsSquirtA
cheered for their PeeWee team
Friday night and rested up for
their first game at 6.30 amSatur-
day, the16thagainst theAmherst
WhiteSabres.TheRamparts suf-
fered a 4-1 loss with the 1 goal
being scoredbyWillEschberger,
who alsowas awarded the game
Game 2 for the Squirt ARam-
partswasan intensematchplayed
Saturday afternoon against the
Amherst Rangers. This hard-
fought game resulted ina4-2 loss
with goals scored byWill Esch-
berger and Tyler Kidder. Game
MVPwas awarded togoaltender,
Games 3 and 4 took place on
Sunday, January 17th and result-
ed in 2WINS for the Ramparts
Squirt A team. At 10.20 am
Sunday morning the Rampart
Squirt A's faced off against NC-
CYHA out of Fredonia, NY for
a nail-biter of a game resulting
in a 3-2 win for the Ramparts.
Goal scorers were Gino Falletti
and Tyler Kidder. Goalie Rob-
ert McCarthy was awarded the
game MVP. A few hours later
the Squirt A Ramparts took to
the ice for a final game against
the Amherst Blackhawks and
skated away with a decisive 7-2
win! Gino Falletti and Brennan
Pederson each netted 2 goals.
Additional goals were scored by
Anna Stevens, Tyler Kidder and
The Squirt A Ramparts are
coached by Joe Eschberger with
assistants Chad Valyear, Pete
Stevens and Glenn McClurg.
The Squirt ARamparts areWill
Eschberger and Tyler McClurg
ofLeroyalongwithXavierArm-
strong-Hill, Evan Crane, Gino
Falletti, Andrew Jursted, Tyler
Kidder, Robert McCarthy, Bren-
nan Pedersen, Matthew Rogers,
AnnaStevens, JustinValyear and
BataviaRamparts SquirtA&
PeeWeeATeamsParticipate
InTopGunTournament