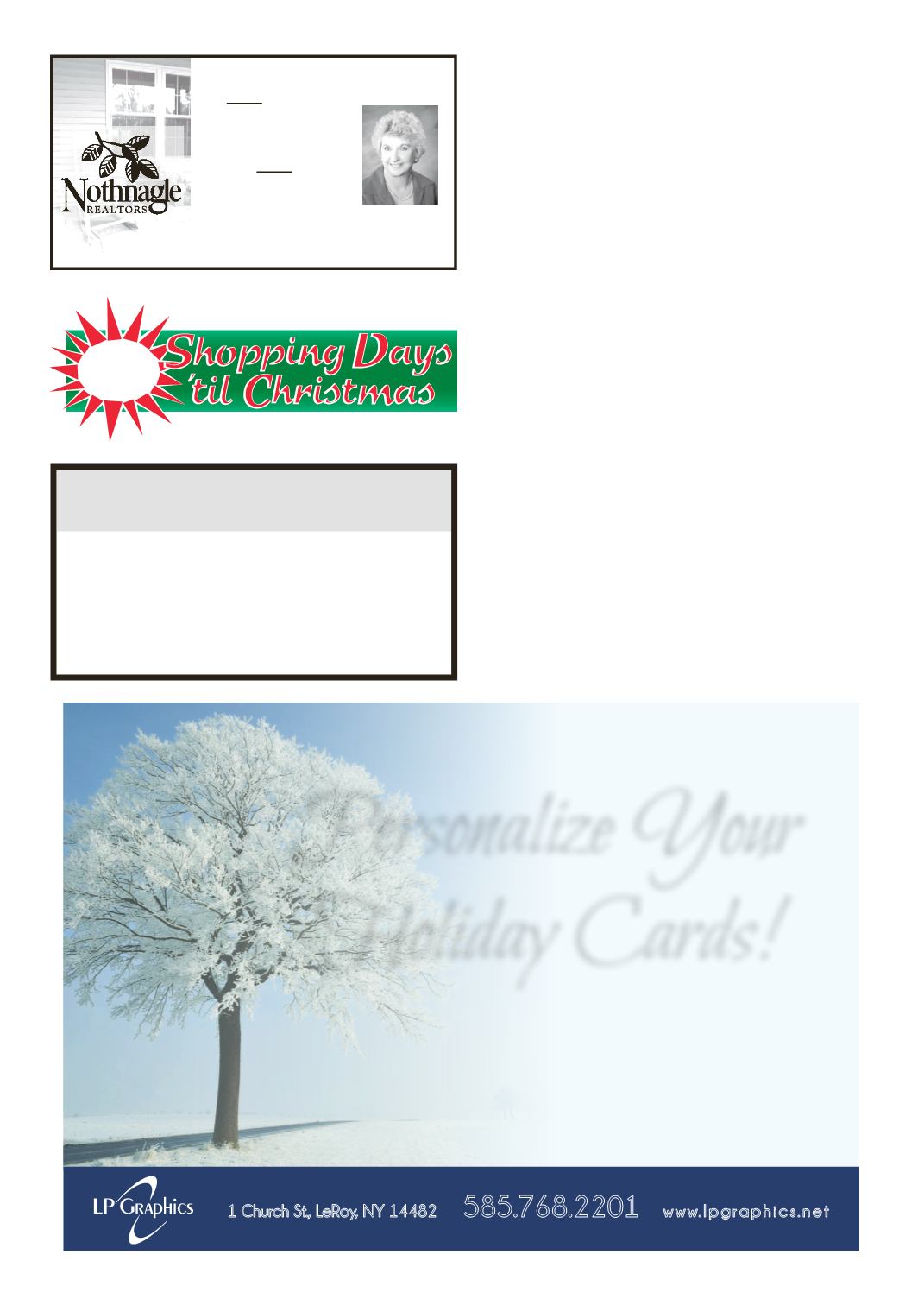 LEROYPENNYSAVER&NEWS -DECEMBER 6, 2015
11/29/2015 -28yearoldWayneLewisofThornStreet,Rochester
was arrested on November 25, 2015 by the LeRoy Police Depart-
ment. Lewis was charged with one count of Grand Larceny in the
4th degree, a classE-Felony.
The LeRoy Police Department was investigating the theft of a
credit card from theTopsSupermarket inLeRoyon11/13/15.After
reviewingvideosurveillanceofficerswereable to identify thesuspect
and thevehicle inwhich the suspectwas operating.Officers located
the suspect and the vehicle in theVillage on11/25/15. After speak-
ingwithLewis it is alleged that he took the credit card andmade a
purchasewith the stolen card.
Lewis was issued an appearance ticket for the charge and is to
return to the LeRoyTownCourt onDecember 17, 2015 at 1:00 pm
11/30/2015 -22yearoldAjiaR.HasenauerofMyrtleStreet,LeRoy
wasarrestedonNovember30,2015by theLeRoyPoliceDepartment
and chargedwith one count of Criminal Possession of aControlled
Substance in the 7thDegree, aMisdemeanor.
HasenauerwasarrestedafterGeneseeCountyProbationwasdoing
ahomecheckat her residence.After abrief investigationHasenauer
was placed under arrest after allegedly possessing Pregabalin, a
Hasenauerwas issuedanappearance ticket for thechargeand is to
appear in theLeRoyTownCourt on12/7/15 toanswer to thecharge.
11/30/2015 - 31 year old Brenda L. Babcock of West Ave,
Brockportwas arrestedonNovember 30, 2015by theLeRoyPolice
Department for an outstanding bench warrant issued in 2008 for
Babcock was arraigned in front of the Hon. JudgeWelsh in the
LeRoyTownCourtandwasROR'd.Babcock is toreturn to theLeRoy
TownCourt on 12/7/15 to answer to the charge.
ALLWORKMANSHIP GUARANTEED • INSURED
297-9097 • 768-7737
• InteriorPainting
• Plaster/LathRestoration
•Drywall&DrywallRepair
•TextureRemoval
• Floors Stripped
&Refinished
•OldCeilings&Walls
MadeLikeNew!
MikeDarby'sPatch&Paint
Batavia
585-343-6750
NOW is theBEST time
toBUYwith the interest rates
at their lowest!
Don't wait
toBUY -
call
LindaBeaumont
for all your real
estateneeds.
LindaBeaumont
Home (585) 768-6315
LicensedReal Estate
Salesperson
Multi-MillionDollar Producer
20
1ChurchSt., LeRoy, NY14482
585.768.2201
raphics.net
holiday cardswithpersonal
photos andmeaningfulwishes