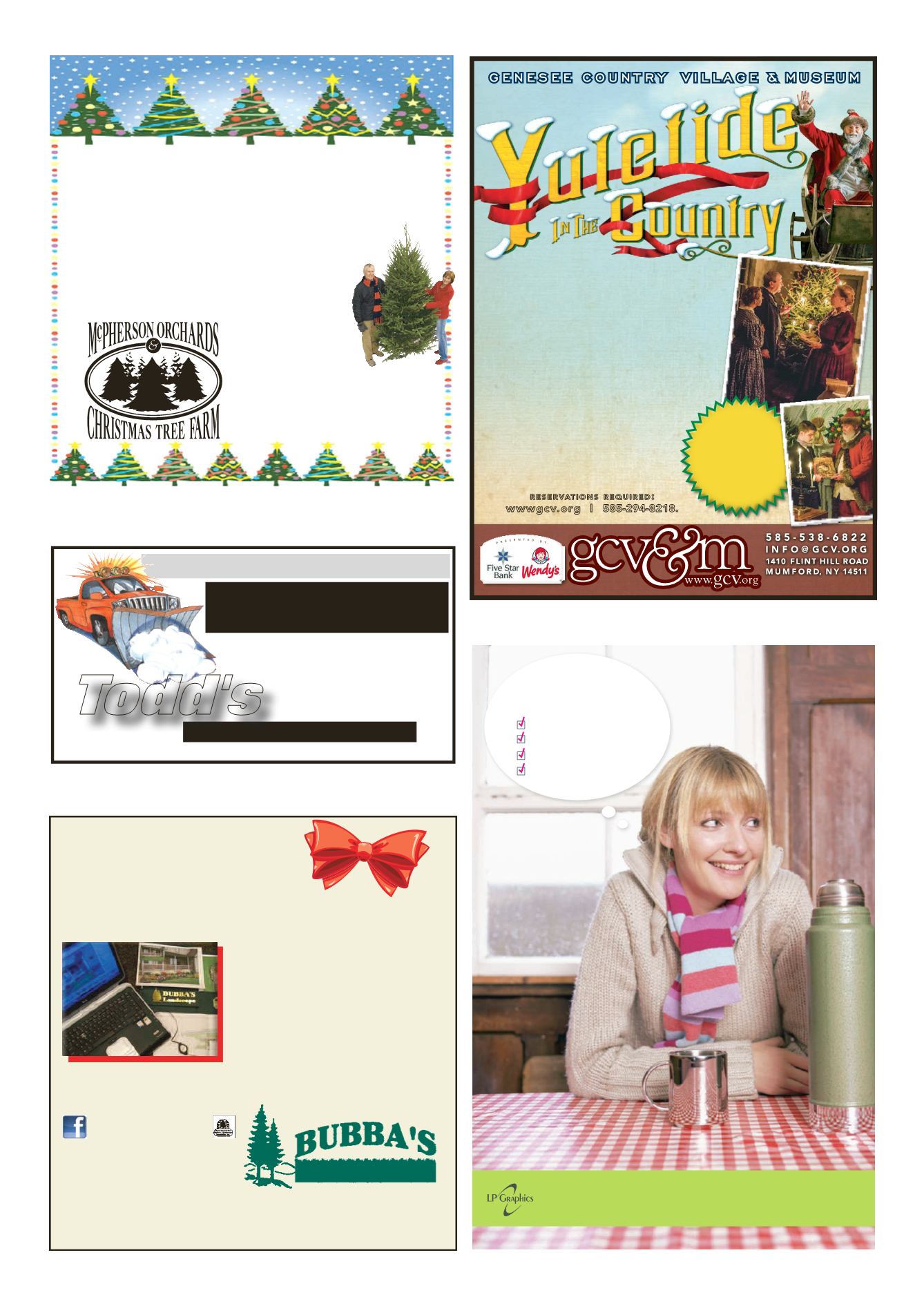 LEROYPENNYSAVER&NEWS -DECEMBER 6, 2015
Toursareo eredevery 15minutes:
December 4-6, 11-13& 18-20
FRIDAYS SATURDAYS SUNDAYS
FREE for children threeandunder.
wwwgcv.org | 585-294-8218.
Revel in the joy of Christmases past this
holiday season. Enjoy reenactmentsof bygone
Yuletides anddelight indiscovering a little
about the roots ofmany favoriteChristmas
traditions. Enjoya festive,mouth-watering,
dinner bu et.
gcvm yule LEROYPennysver 2015.indd 1
Christmas Time at McPhersons
OatkaTrail
LeRoy,NY
Phone 768-7094
Open 9 am-6pm
Trees&WreathsFromHereOnTheFarm!
DouglasFir •Fraser •Balsam •Concolor •Canaan
FREEBailing&Drilling
SomeCutYourOwns
81 LakeSt.
LeRoy
Landscape
Have a hard-to-buy-for personon your list?
What about a landscape designpackage?
Includes:
• Concept Images&Renderings
• Plot PlantingPlanall inanice
portfolioandcanbegiftwrapped.
Gift Certificate
of our services: Landscapes •
LawnMaintenance •SnowPlowing
*Still acceptingplowcontracts for theupcoming snow season
Residential&Commercial
The Holidays are going to be awesome!
EmbroideredHats for the girls
EtchedBeerMugs for the guys
ScreenPrintedTotes for the ladies
1Church St., LeRoy, NY14482
585.768.2201
NewHomes •Additions •Garages •PoleBarns
ToddCarli • Phone 703-0964
Decks •Windows •Doors
Kitchens •Baths•CeramicTile
Basement Finishing
CustomShelves/Built-Ins
Siding •Remodeling •Roofing
FULLY INSURED
Todd's
Residential • Commercial
Salting • Shoveling