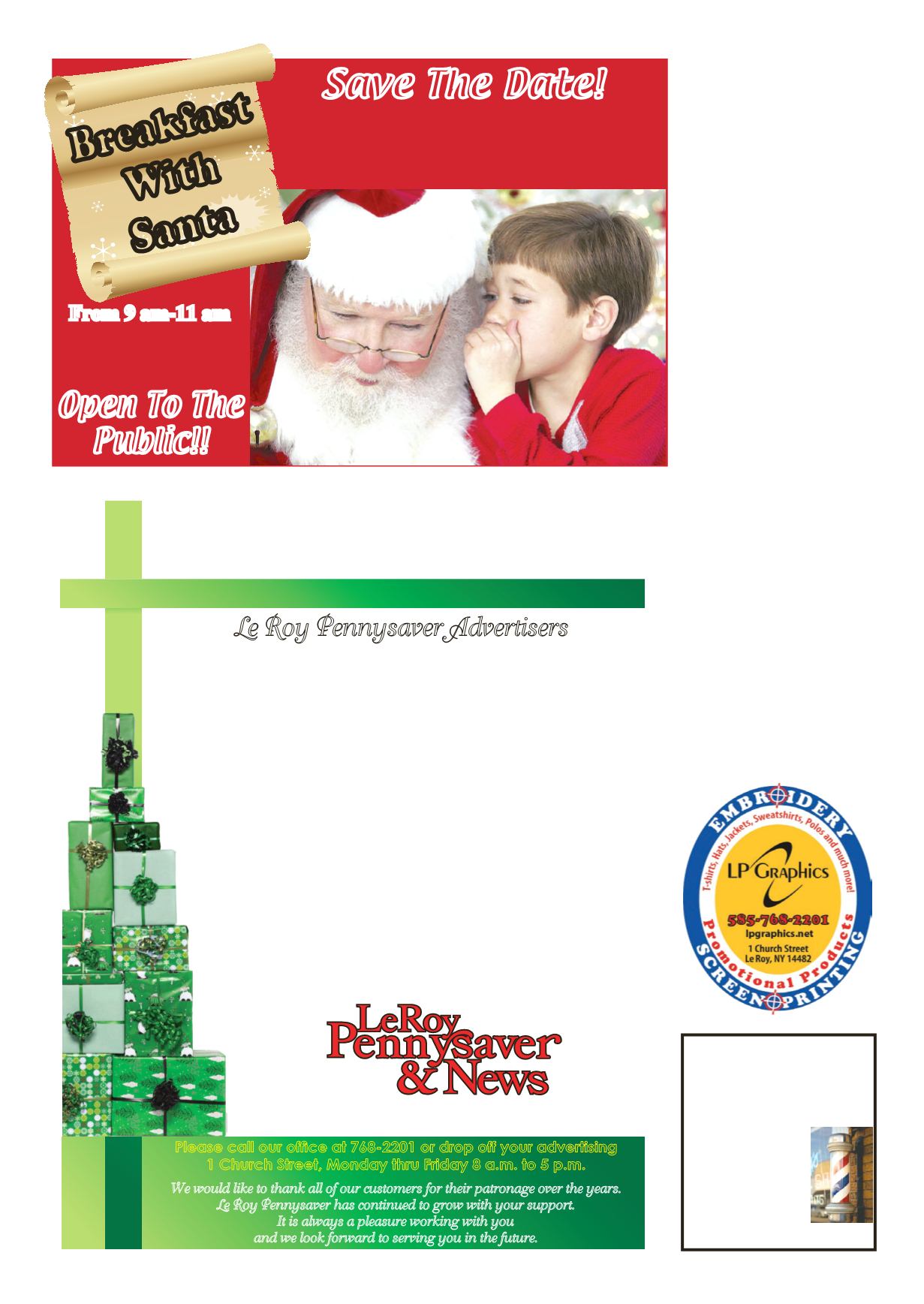 LEROYPENNYSAVER&NEWS -DECEMBER 6, 2015
Wewould like to thankall of our customers for their patronage over theyears.
LeRoyPennysaver has continued togrowwithyour support.
It is always apleasureworkingwithyou
andwe look forward to servingyou in the future.
LeRoyPennysaverAdvertisers
This is theheight of your salesyear, andof course, the timewhenyouradvertisingdollars reallypay
off. It ismore important than ever toget your ads inas earlyaspossible. The earlierwehaveyour ads,
themore timewe can spendon them.
Toaidus inplanningyour advertising campaign, please consult the following schedule:
POBOX 190 • LEROY, NEWYORK 14482
Pleasecall our officeat 768-2201or dropoff your advertising
1Church Street,Monday thru Friday 8a.m. to 5p.m.
ISSUE
COMMENT
These next three issues are filledwith advertising for yourChristmas
Dec. 6th&13th Sales&GiftGiving Ideas! Last chance for those lastminute shoppers.
Help out those peoplewho are still undecidedaboutwhat to buy.
Include your holiday hours!
Christmas Issue - 'Tis the season to thank your patrons.
Deadline for the Christmas issue is
Tuesday, December 15th.
25%OffwhenyouplaceyourHolidayAd inboth issues.
This issue is great forAfterChristmas andClearanceSales.
Deadline for theNew Year's issue is
Monday, December 21st.
HappyNew Year's Ads!
*cannot be combinedwith frequency discounts
TheBataviaRapartsBaltzCon-
certe PeeWeeATeam, coached
by Chad Valyear and assistant
coach JoeEschberger of LeRoy,
wasonfire for their seasonopen-
er as they routedCanandaiguaat
In thefirst period theRamparts
came out strong scoring4goals,
one of them by the dynamic
LeRoy duo of Adam Risewick
assisted by Zack Eschberger!
Throughout the game the entire
offense played strong & team
mates Landin Pizzi, Andrew
Kasmarek, Carter Augello and
ParkerCorbelliallmadesuccess-
Period 2 resulted in 3 goals
scored by the Ramparts along
with 2 goals scored in the final
period; the last one by Collin
CraneassistedbyZackEschberg-
er.Canandaigua tallied their 2nd
gamepoint in the3rdperiod.The
Goaltender, Max Scott, along
with the defense made up of
Carter Wasiliewski, Brian Valy-
ear, ShawnMorabito andCarter
Augello held the Canandaigua
The Batavia Ramparts Baltz
Concerte PWA Team are gear-
ingup fora fast-paced, compet-
Youth
Hockey
December 12th, 2015
Northwood's SportsmanClub
From 9 am-11 am
Lots of
Goodies!
NOTICE