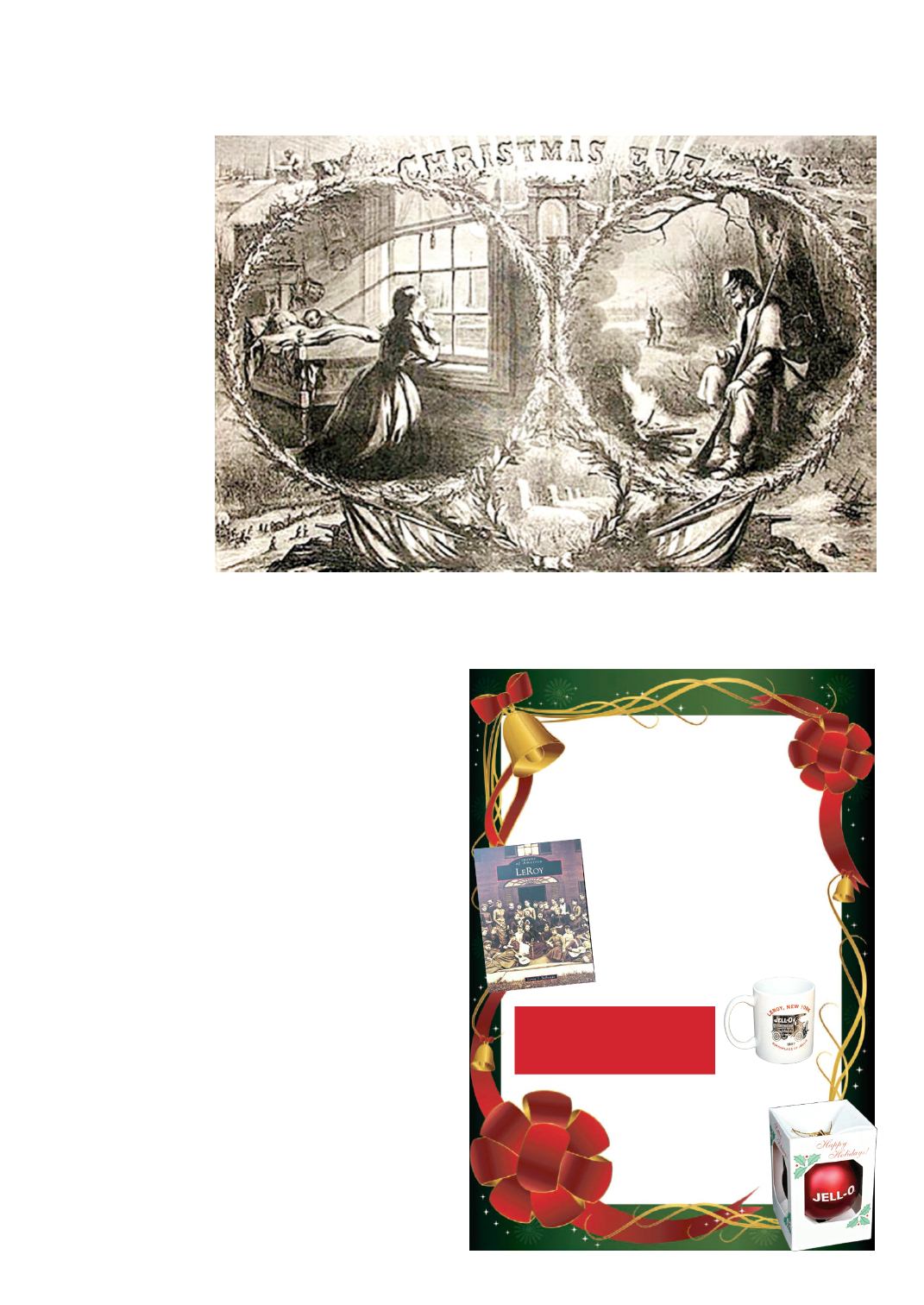 LEROYPENNYSAVER&NEWS -DECEMBER 6, 2015
TheWrongwill Fail,TheRight Prevail,
WithPeace onEarth,GoodWill toMen
byLynneBelluscio
no record of the students
poem, it certainly is feasi-
on Christmas day in 1864 and
was published two years later. It
wasn't until 1872 that it was put
tomusic, andat somepointverses
four and five were omitted and
that story is very interesting.
Longfellowwas an outspoken
abolitionist and when the Civil
War broke out, his oldest son
joined the Union army without
his father's permission and sub-
sequentlywasseverelywounded.
Longfellow was a tragic figure.
His first wife had died during a
miscarriage. His second wife,
diedwhenherclothescaughtfire.
Henry,was burned trying to save
her andwore a beard for the rest
of his life to hide the scars.
Thedeathofhiswife, the fateof
his son and theuncertaintyof the
warweighedheavilyon thepoet,
and from thedepthsofdepression
he penned this poem. Thewords
perhaps are as relevant today as
they were one hundred and fifty
I heard the bells onChristmasDay
Their old, familiar carols play,
Of peace on earth, good-will to
And thought how, as the dayhad
The belfries of all Christendom
Of peace on earth, good-will to
Till ringing, singingon itsway,
The world revolved from night
Of peace on earth, good-will to
Then from each black, accursed
Thecannon thundered in theSouth,
Of peace on earth, good-will to
Itwas as if an earthquake rent
The hearth-stones of a continent,
Of peace on earth, good-will to
And indespair I bowedmyhead;
"There isnopeaceonearth,"Isaid;
Of peace on earth, good-will to
Then pealed the bells more loud
"God is not dead, nor doth He
With peace on earth, good-will
Visit the Jell-OGallery
for lastminute
Christmas Shopping!
Sale on Jell-O Box T-Shirts - Two for
$20
through the end of the yearwhile supplies last
(only in stock items –no special order)
Jell-O ChristmasOrnaments
Cranberry Jell-O–with free recipes
Pot Holders - Aprons - Baseball Caps
Gift Certificates •Memberships
Mon.-Sat. 10 to4
and Sun. 1 to4
23 EMain St.
Le Roy, NY 14482
Buy aBrick on the
Jell-OBrickRoad
for friends and family $50