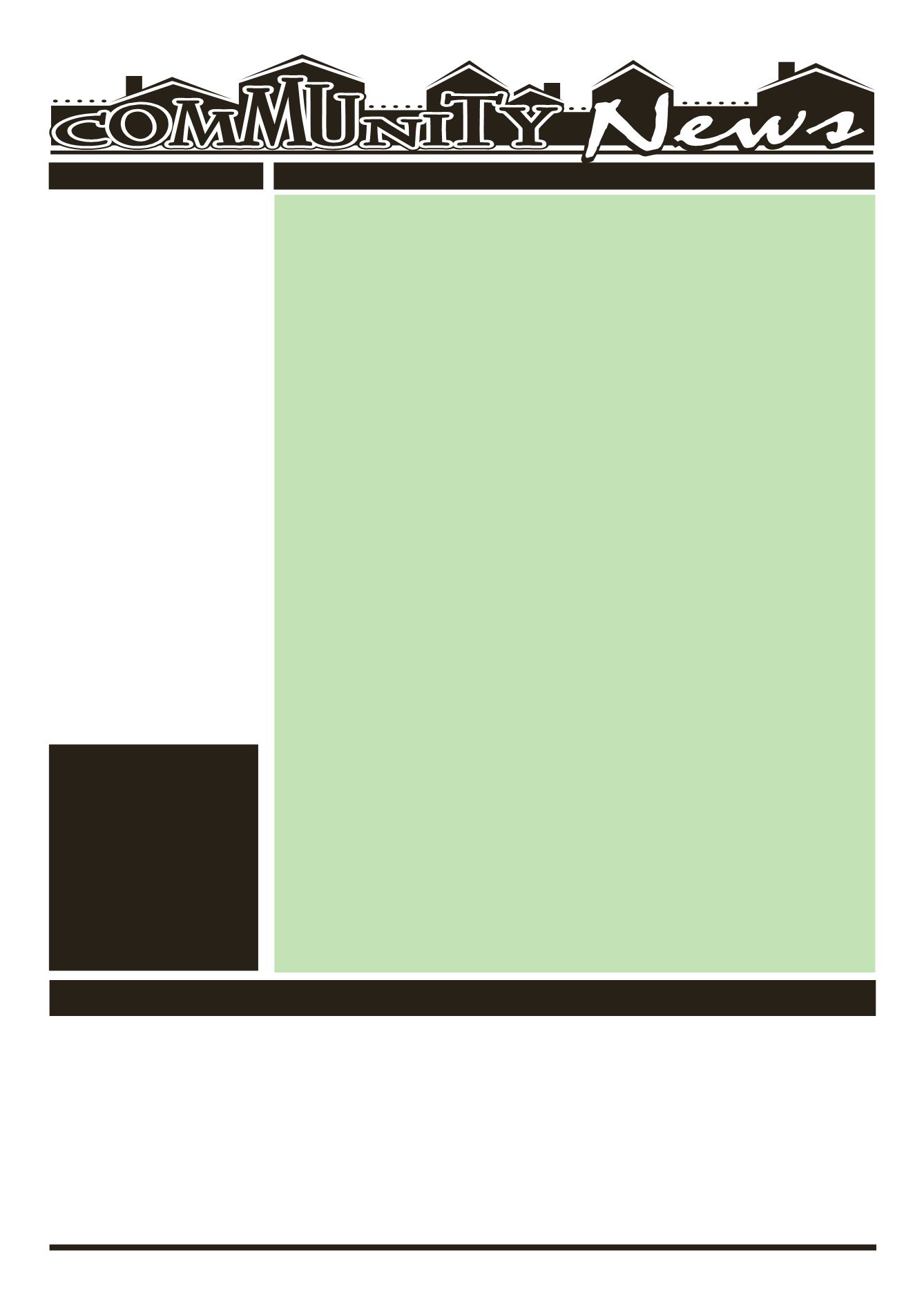 LEROYPENNYSAVER&NEWS -DECEMBER 6, 2015
All GeneseeCounty residents, 60andolder, can takepart in thisweek'sactivitiesat theBataviaSenior Center, 2BankSt., Batavia. Formore information, call 343-1611.
SENIORCITIZENSACTIVITIES (December 7th -December 11th)
WEEKLYEVENTS
OBITUARIES
ArthritisExercise
is scheduled tobeginat 9:30a.m.;
Bridge
is scheduled tobeginat 11:00a.m.
Alzheimer'sCareMeeting
is scheduled tobeginat8:30a.m.;
RTS–TransportationPublicHearing
Cribbage
is scheduled tobeginat 1:00p.m.
Quilters
is scheduled tobeginat 9:00a.m.;
OmbudsmanMeeting
is scheduled tobeginat 9:00a.m.;
Euchre
TaiChi
is scheduled tobeginat9:30a.m.;
GentleFitness
isscheduled tobeginat10:30a.m.;
Cribbage
Bridge
isscheduled tobeginat1:00p.m.;
GeneseeSeniorFoundationMeeting
isscheduled tobeginat2:00p.m.
LegalServices
isscheduled to takeplaceallday forAPPOINTMENTSONLY;
ArtClassandLineDancing
Euchre
is scheduled tobeginat 1:00p.m.
SUNDAY,DECEMBER6
Konnect Youth Group at LivingWaters Church,
Sundays from 6:30 to 8:30pm for ages 12-18. "BringDown all theWalls!
ConnectwithGod and Connectwith others." Formore information, check
usoutonlineat: livingwatersleroy.org/konnect-youth-ministry/
MONDAY,DECEMBER7
TOPS (TakeOffPounds Sensibly)
meetsMonday evenings at the Le-
Roy Presbyterian Church, corner of Clay &Main Streets. Doors open at
6:00pmandmeeting is from6:30-7:15pm.Visitorsarealwayswelcome.
Call 585-768-7103 formore information.
TUESDAY,DECEMBER8
Preschool Storytime:
EveryTuesdayat 11am featuring stories, craft and
songsatPavilionPublicLibrary,5WoodrowDr.,Pavilion.For info:584-8843.
LCCP'sGRACE'SKITCHEN:
AFREEdinnereveryTuesdayevening,5-6:30pm
at theMasonicCommunityCenteron12BankSt.Plentyofparking.Takeout
&deliveryareavailable.Formore info.contactSelbyDavisat585-738-8882
GRACE'S CLOSET: A clothing giveaway program
United Methodist Church, 10 Trigon Park, Le Roy, 9:30 am to 11:30 am
everyThursday.Wehave clothing for all ages. Weneedbeddingof all kinds
especially blankets. Donations canbedroppedoff at thehousenext to the
church. Please put all bags INSIDE on the back porch. NO ELECTRONICS,
Open Tuesdays 5-6:30 pm.
AXIS Student Ministry at LivingWaters Church
Tuesdays from6:30 to8:30p.m. for7th to12thgrade.Ourgoal is for teens'
livestobe impacted,andradicallychanged. Formore information,checkus
WEDNESDAY,DECEMBER9
Wednesdaysfrom6:30pmuntil8:00pm -
FirstBaptistPavilionwillbe
having their youthprogram. titled"JOY CLUB". It is open to children in the
pre-school ageup to6thgrade. Itwill beheldat the church10956S. Lake
Road, Rte. 19. It isa fun timeofBible stories, game time, refreshmentsand
memorywork.Callforfurther information585-584-3179ext.12.Leaveyour
nameandnumber and the secretarywill call youback.
VillageofLeRoyBoardMeeting,
7pmattheVillageHall,3WestMainSt.
The LeRoy Town & Country Garden Club
will be holding it's annual
Christmas Party at the home of Jules Feltes. In lieu of a gift exchange an
optionalmonetary donationwill be taken for the Back Pack Club. Contact
AnnWaltersat737-9481or768-8130 formore information.
Minions - Movie Showing at theWoodwardMemorial Library
children in grades K-6 from 3:15 – 4:45 p.m. Registration Required! Call
768-8300or registeronlineat
TheWoodwardMemorialLibraryBoardofTrustees
THURSDAY,DECEMBER10
Town of LeRoy BoardMeeting,
7 pm at the Town Hall Board Room,
BowmakingattheWoodwardMemorialLibrary
Supplies included. Registration required! Call 768-8300or register online
FRIDAY,DECEMBER11
PenuelChristianFellowship,
OneSteptoFreedomaddictionsministry,a
ChristCenteredAddictionsprogram,aweeklymeetingeveryFridayat7pm.
Call theChurch formore informationat768-6901or594-9575.
SATURDAY,DECEMBER12
Veterans Only Social Club -
Genesee Veterans Support Network an-
nouncesanewmeeting locationatScooter'sFamilyRestaurant,3711West
MainStreet Road, Batavia, NY - for theonceamonthVeteransOnlySocial
Club.Meetings are held the second Saturday of eachmonth from 7:00 to
8:30PM.Veteransof all erasare invited toattend. GVSN is locatedat3837
WestMain Street Road, Batavia, NY. Formore information, contact GVSN,
PO Box 541, Batavia, NY 14021-0541
Paper Ornaments Program at theWoodwardMemorial Library
for Kindergarten through Grade 2, from 1:00 – 2:00 p.m. Led by Julie
Coleman. Registration isrequired. Call768-8300orregisteronlineat
Paper Ornaments Program at theWoodwardMemorial Library
for Grades 3-6, from 2:30– 3:30 pm Led by Julie Coleman. Registration
BREAKFASTWITH SANTA -
9:00 - 10:30 am, First Baptist Church, 5 East
Main Street, LeRoy Come enjoy a FREE BREAKFASTwith your family and
visitwithSanta. A small giftwill begiven toeach child inattendance.The
breakfastmenuwill includescrambledeggs,pancakes,donuts, coffee, tea,
juiceandmilk.Reservationsmaybemadebycalling768-8958.Please leave
yournameandthenumberofadultsandthenumberofchildrenattending.
SponsoredbyFirstBaptistChurch.
UPCOMINGEVENTS
Winterfest Activities at theWoodward Memorial Library
December 5th from11a.m. to4p.m. for thewhole family.Makeanorna-
ment to take home.Make a paper snowglobe or a bowtie pastawreath.
Decorateasugarcookie. Takeyourpictureatourphotoboard.Registration
CommunityCalendar Submissions shouldbe sent to:
Le Roy
Pennysaver
BYRON - Audrey J. Cole (Clarendon) Audrey J.
Coleage87diedNovember26,2015surrounded
by her family at the Martin Linsin Residence.
Memorials to Hospice of Orleans or Clarendon
BERGEN -MAYNE,KennethRichard,BornJanu-
ary28,1918, inBergen,NewYork;diedathome in
Glendale,California,October30,2015. Ifdesired,
memorial donationsmay bemade to theWilliam
A. PatonScholarship – 795378 (734-647-6179),
aUniversity of Michigan fundKen supported.
STAFFORD/LEROY–Mary (Leanen)Waterman,
86, of LeRoy, formerlyof Stafford, diedThursday
evening (November 26, 2015) at LeRoy Village
Green Nursing Home. Memorials may bemade
toSt. Paul'sEpiscopal Church inStafford.
LEROY–NormanD. "Don"Ball,age69,ofSelden
Road, tragically passed away at home Tuesday
morning, Dec. 1, 2015. Family and friends may
call on Saturday, Dec. 5 from 10-12 pm at the
FalconeFamilyFuneral &CremationService Inc.
LEROY–WayneCheeseman, age 86, formerly
of SouthStreet Road, passed awayWednesday
afternoon (Dec. 2, 2015) at the New York State
Veterans Home in Batavia. Mr. Cheeseman and
his family are being cared for by the Falcone
Family Funeral &CremationService Inc.
FLORIDA/LEROY–GaryWHodge,75,ofDaven-
port, FLpassed away onWednesdayNovember
25th 2015. In lieu of flowers, Helene has asked
that you consider making a donation in Gary
Hodge's honor to Good Shepherd Hospice 105
ArnesonAvenue,Auburndale,FL33823-3229.All
donationswillbeacknowledged toHeleneHodge.