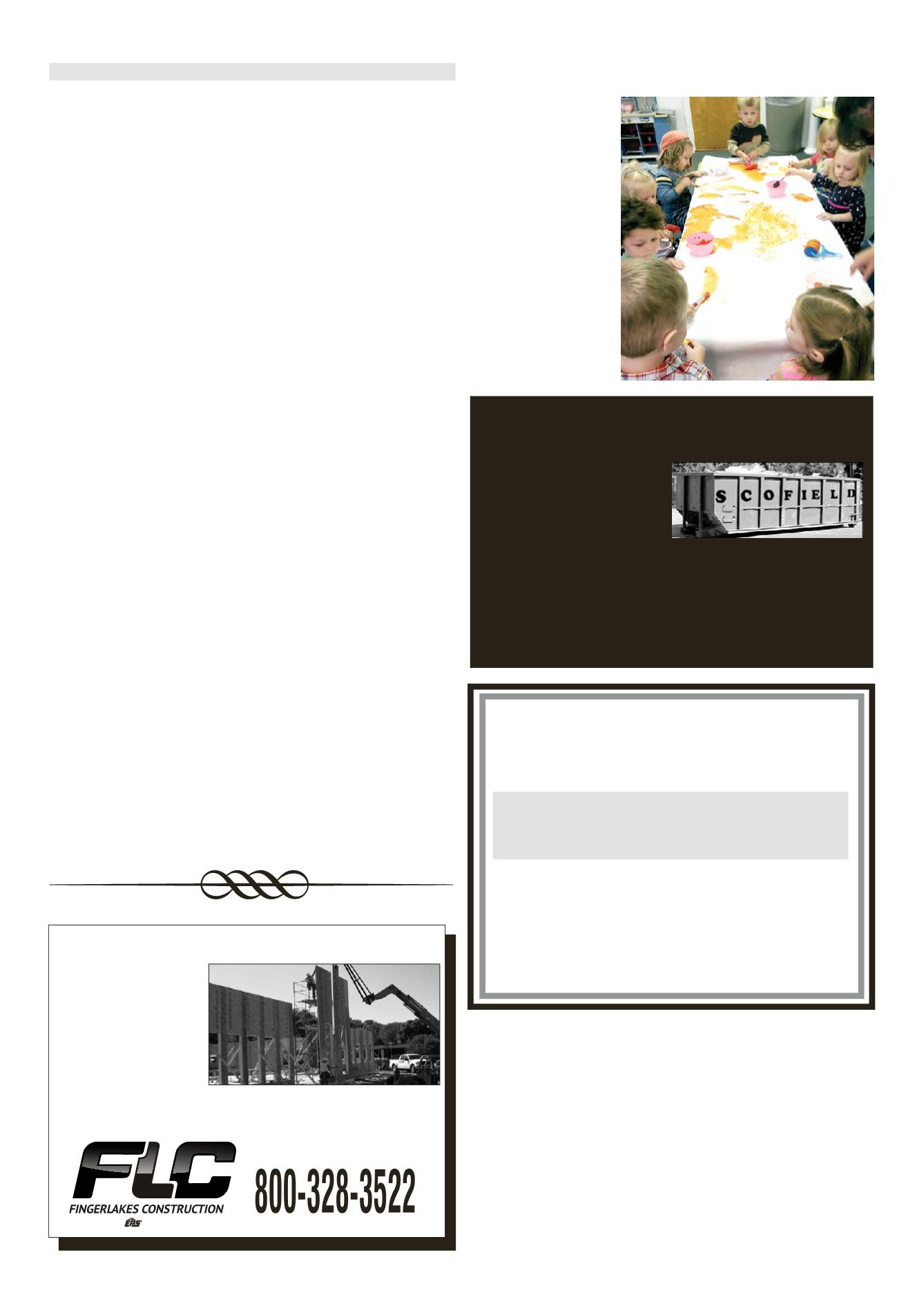 LEROYPENNYSAVER&NEWS -OCTOBER 4, 2015
Part of the family of companies
fingerlakesconstruction.com
High-performanceBuildingTechnology
structural insulatedpanel
9/28/2015 -41yearoldHeidiL.HopkinsofCherryStreet,PerryNY
wasarrestedonSeptember27,2015by theLeRoyPoliceDepartment
and chargedwith one count of Criminal Possession of aControlled
Substance in the 7thDegree, aClassAMisdemeanor, andCriminal
UseofDrugParaphernalia in the2ndDegree,aClassAMisdemeanor.
Hopkins was a passenger in a vehicle stopped for an equipment
violation onWolcott Street in the Village of LeRoy. After a brief
investigation Hopkins was arrested after allegedly being found in
possession of a quantity of heroin and other drug paraphernalia.
Hopkinswas issued an appearance ticket for the charges andwill
appear in theLeRoyTownCourt onOctober 19, 2015.
15, 17, 20, 25, 30,
and 40 cu. yd.
CONTAINERS
ScofieldRolloff •343-8383
NobodyBeatsOur Prices!
The playgroup chil-
dren at Love Bugs
Preschool have en-
joyed their first few
weeks of school danc-
ing to songs, listening
to stories andplaying
withtheirnewfriends!
Thispastweektheyall
came together topaint
a special Playgroup
Pumpkin! Greatteam
work friends!
LittleBugsPlaygroup!
byKimCox,
LeRoySchool Superintendent
October is here and fall is in
full swing. This past week I at-
tended theNewYorkStateCoun-
cil of School Superintendents'
Conference in Saratoga Springs
where I had a chance to hear the
new commissioner of education,
Mary Ellen Elia, speak. She has
spent much of her first 35 days
of service traveling the state
to meet with teachers, parents,
school leaders, and,most impor-
tantly, students.She ishopingher
"listening tour" will help shape
the direction of her leadership
During this conference, she
made it clear that she has made
three issues her top priorities;
the common core standards, the
assessments, and the annual pro-
fessional performance review.
It's no secret that these topics
have been crucial issues for all
districts, includingLeRoy, for the
past several years andMs. Elia's
maingoal is tohelpeveryoneun-
derstand the importanceof raising
standards for our students. How-
ever, shecompletelyunderstands
how poorly executed the roll out
of thecommoncorestandardswas
and how that has caused damage
to the confidence of the both the
educationfieldandourcommuni-
ties. Shevows towork toput the
past in thepast andmove forward
I know that we all agree that
thechildrenofNewYorkdeserve
to have a high quality education
and they have the right to know
that theyareprepared for college
andcareersposthighschool.Ms.
Eliaplanson takingahard lookat
the standards to ensure that they
are aligned anddevelopmentally
appropriate. I think her message
resonated with our community
needshere inLeRoy.Hopefully,
during her tenure, Ms. Elia will
usher in an era where school
district leadership, teachers, and
communitieswork togetherwith
state education regulations to
ensure that we meet the unique
needs of our communities and
provide our students the high
quality education they deserve.
So what does this mean for
Le RoyCentral School District?
I am proud to say that our staff
has worked tirelessly to imple-
ment higher standards for all our
students.Ourdedicatedstaffhave
devoted a great deal of time and
effort developing a culture that
has the capacity to support our
studentson their journey towards
success. Next week, our staff
development institute entitled,
Inspire, Innovate, and Imple-
ment,
will allow us to continue
Walk to
School Day
Wednesday, October 7, 2015
Please plan on joining us at the
8:15am
onWednesdayandwalk toschool
with us. Hope to see you there!
foodlink
Grace's Kitchen
Tues., October 6that 4:00pm
AprilMiller
SAY
YES
TO
FRUITS&VEGETABLES