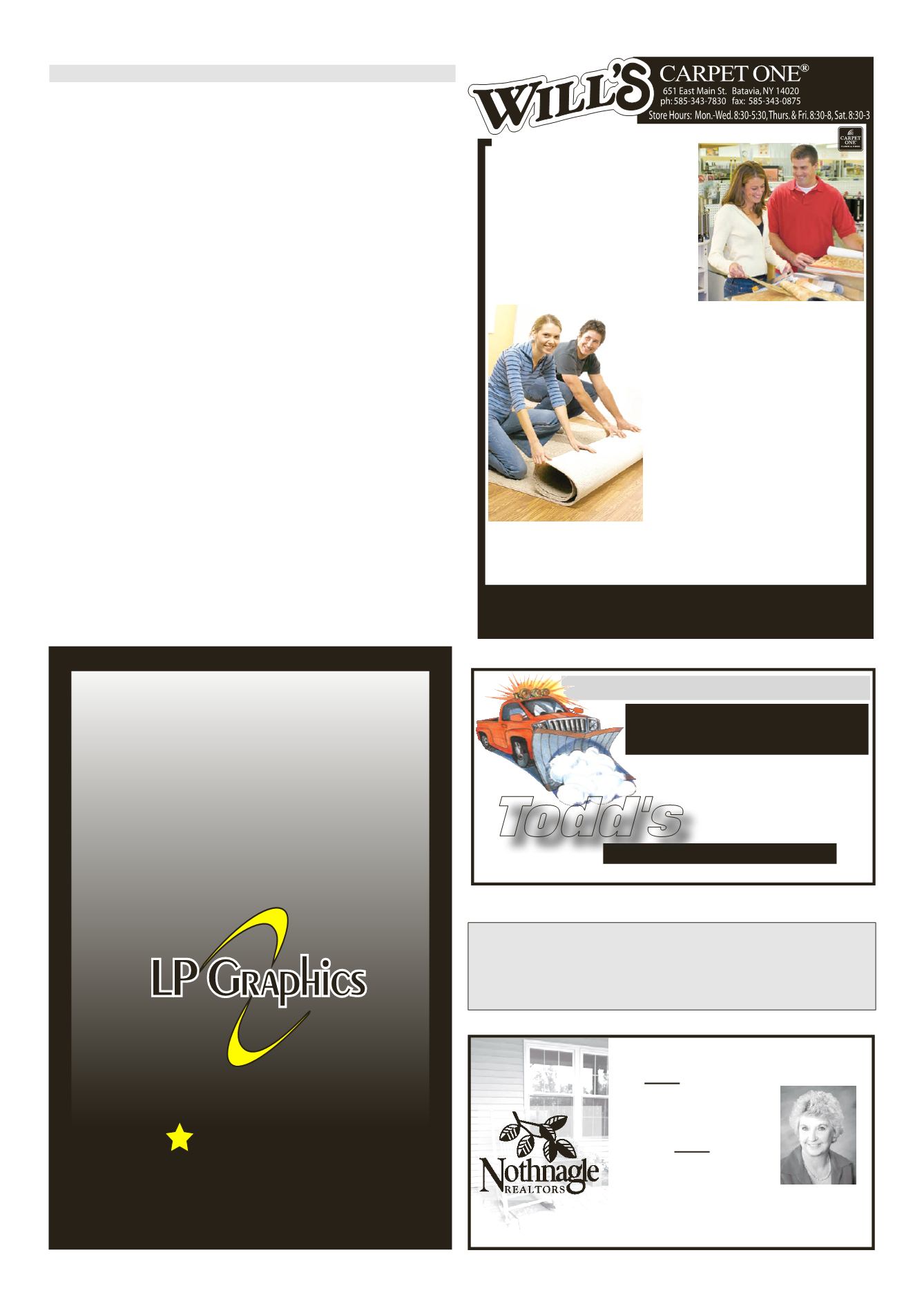 LEROYPENNYSAVER&NEWS -OCTOBER 4, 2015
SUPPORTYOUR LOCALADVERTISERS!
They help sponsor the local news section of the Le Roy Pennysaver.
THANKS FORYOUR SUPPORT!
Batavia
585-343-6750
NOW is theBEST time
toBUYwith the interest rates
at their lowest!
Don't wait
toBUY -
call
LindaBeaumont
for all your real
estateneeds.
LindaBeaumont
Home (585) 768-6315
LicensedReal Estate
Salesperson
Multi-MillionDollar Producer
NewHomes •Additions •Garages •PoleBarns
ToddCarli • Phone 703-0964
Decks •Windows •Doors
Kitchens •Baths•CeramicTile
Basement Finishing
CustomShelves/Built-Ins
Siding •Remodeling •Roofing
FULLY INSURED
TheONE store for your perfect floor.
•FinancingAvailableToQualifiedBuyers
•Professional InstallationAvailable
Todd's
Residential • Commercial
Salting • Shoveling
byGreg "Porp"Rogers,
Mayor
Congratulations toBill Fox, Sr.
who was selected as this year's
"LeRoyanof theYear."Theannu-
alaward isgivenby theAmerican
Legion Botts Fiorito Post 576.
Bill joins anesteemed list of oth-
erswhohavegivenunselfishly to
TheVillageBoardmetwith the
Sewer Board at the Wastewater
Treatment Facility to go over
changes made and to develop a
futureplan for that facility.Many
plans were put into motion, the
first is submitting for grants.Up-
gradesandfinancingwerealsoon
the tablewith theendresultbeing,
that we are trying to continue
operations as close to the same
cost as before, Iwill keep you in
the loop of any progress.
Youmayhavenoticed, thegate
across thealley fromMainStreet
toBacon Street has been closed.
TheBoard is trying todecidehow
to proceed; there are questions
thatneed tobeansweredas to the
ownershipof thewalls. Ifyousee
the gate open please stay away
The next project to hit a snag
is our Main Street Sidewalk
Project; our initial estimate todo
the project was extremely lower
than what we could actually get
theworkdone for.So it isback to
the drawing board for this.
Leaf season is right around the
corner, and the above average
temperatures will probably put
that behind schedule aswell.
Onabrighter note,October 7th
isNationalWalk to School Day.
As a child of the 60's and 70's
this was part of the fun of going
toschool.Pleasemakeanattempt
to join in, Ihadhoped tobe there,
but have work obligations that
have tobemet,but enjoy theday.
In honor of one of the most
"You can observe a lot by just
Notes From TheMayor's Office
FLOOR
&HOME
IN-STOCK
Wallpaper
Remnants!
LargeSelectionof
CarpetRemnants
1CHURCHST, • LEROY, NY • lpgraphics.net
WEHANDLEALLASPECTSOFPRINTING...
PROGRAMS
LETTERHEADS
BILLHEADS
FLYERS
BROCHURES
POSTERS
CARBONLESSFORMS
ENVELOPES
RAFFLETICKETS
NEWSLETTERS
RESUMES
TYPESETTING
RUBBERSTAMPS
ENGRAVEDSIGNS
NAMETAGS
COPIES
LAMINATION
COMMUNITYFAX
NEWSANDPICTURES
ADVERTISING
BUSINESSCARDS
HOURS: Monday thruFriday 8:00 to 5:00