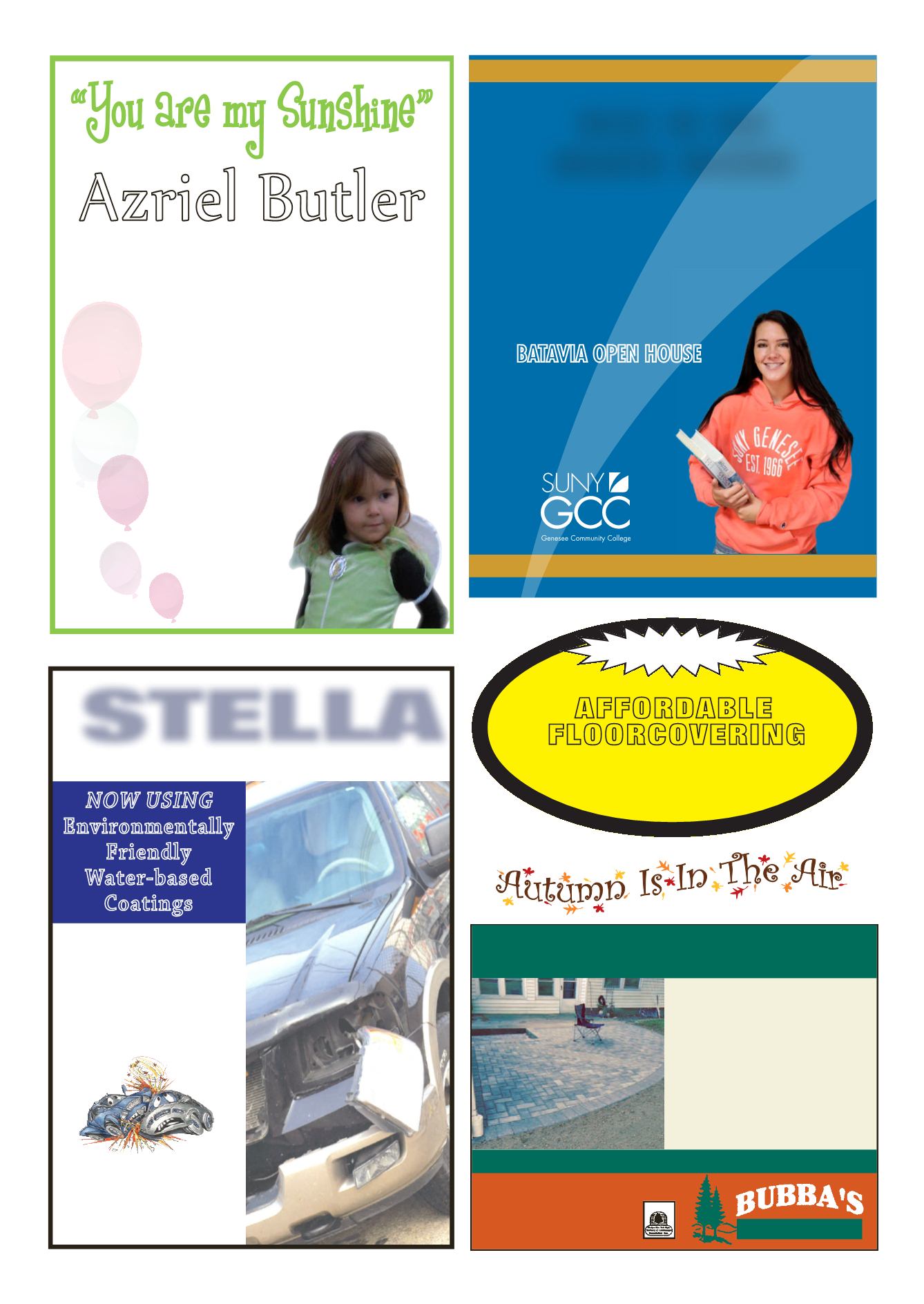 LEROYPENNYSAVER&NEWS -OCTOBER 4, 2015
VALU HOME PLAZA • WEST MAIN • BATAVIA
AFFORDABLE
FLOORCOVERING
AFFORDABLEFC.COM
585-345-1108
M-W-F,8-6pm
Thurs.8-7pm, Sat.8-3pm
0
%
Financing
5K Fundraiser inMemory of
Saturday, October 10, 2015
$25Donation/Person for 5K Run/Walk
Registration begins at 9:00am
and 5K starts at 10:00 am
For information or to register contact:
Sarah Bell at 585-813-1281 or
Katie Norstrand at 585-409-7313
Proceeds will be donated to
Bowling 12:30 pm - 2:00 pm
Collision Service, Inc.
STELLA
Complete
AutoBodyRepair
GlassReplacement
24HourTowing
DowndraftPaintBooth
ComputerEstimating
8375EastMainRd.
LeRoy,NY
768-7370
NOWUSING
Environmentally
Friendly
Water-based
Coatings
genesee.edu/openhouse
GCC IS SO
MUCHMORE
Genesee Community College is an affirmative action/equal opportunity institution
• More than 60 degrees or certificates
• Transferable SUNYCredits
• Financial Aid / Scholarships
• FREE application / FREE Parking
• FREE Career Counseling&Advisement
• FREE Student Services / Tutoring
• College Village Student Housing offers
BATAVIAOPENHOUSE
SATURDAY, OCTOBER24
9-11AM
768-6578
Landscape
Onanynew landscapeor
hardscapeprojectwhen
youmention thisad.
FULLY INSURED • FREEESTIMATES
UPTO
for treeand shrub trimming
We'realsoaccepting
snowplowcontracts!
bubbaslandscape.net