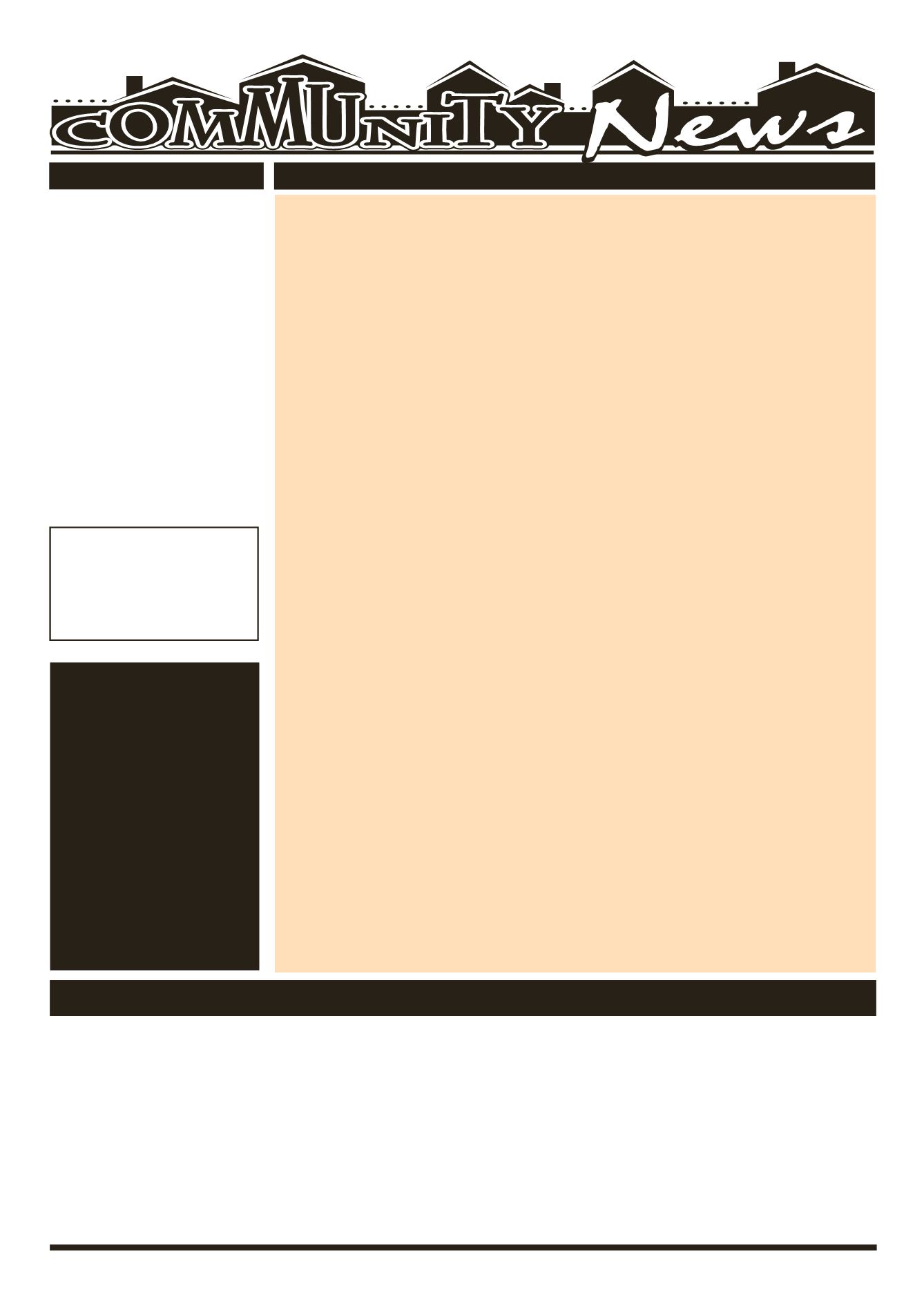 LEROYPENNYSAVER&NEWS -OCTOBER 4, 2015
All GeneseeCounty residents, 60andolder, can takepart in thisweek'sactivitiesat theBataviaSenior Center, 2BankSt., Batavia. Formore information, call 343-1611.
SENIORCITIZENSACTIVITIES (October 5th -October 9th)
WEEKLYEVENTS
OBITUARIES
ArthritisExercise
is scheduled tobeginat 9:30a.m.;
Bridge
is scheduled tobeginat 11:00a.m.
HollandLandOfficeMuseumLuncheon
is scheduled tobeginat 11:00a.m.;
Cribbage
is scheduled tobeginat 1:00p.m.
QuiltersGroup
is scheduled tomeet at 9:00a.m.;
Euchregame
is scheduled tobeginat 1:00p.m.;
OpenHouse forGreenGenesee
is scheduled tobeginat 4:00p.m.
TaiChi
isscheduled tobeginat9:30a.m.;
TheHomeVisitationMeeting
isscheduled tobeginat10:00a.m.;
GentleFitness
Cribbage&Bridge
are scheduled tobeginat 1:00p.m.;
GeneseeSeniorFoundationMeeting
MusicalKeyboardLessons
are scheduled tobeginat 2:30p.m.
Legal ServicesBYAPPOINTMENTONLY
is scheduled to takeplace this date;
Art Class andLineDancing
Euchre
is scheduled tobeginat 12:00p.m.
SUNDAY,OCTOBER4
Konnect YouthGroup at LivingWaters Church,
onMain St. LeRoy. Sundays
from6:30 to8:30pm for ages12-18. "BringDownall theWalls! ConnectwithGod
andConnectwithothers." Formore information, checkus out onlineat: livingwa-
tersleroy.org/konnect-youth-ministry/
MONDAY,OCTOBER5
TOPS (TakeOffPoundsSensibly)
meetsMondayevenings at the LeRoyPresby-
terian Church, corner of Clay&Main Streets. Doors open at 6:00 pm andmeeting
is from 6:30-7:15 pm. Visitors are always welcome. Call 585-768-7103 for more
TUESDAY,OCTOBER6
PreschoolStorytime:
EveryTuesdayat11am featuringstories, craftandsongsat
PavilionPublicLibrary, 5WoodrowDr., Pavilion. For info: 584-8843.
LCCP's GRACE'S KITCHEN:
(will be closed Tuesday, Sept. 29thandwill re-open
onTuesday, October 6th)
A FREE dinner everyTuesday evening, 5-6:30pm at the
Masonic Community Center on 12 Bank St. Plenty of parking. Takeout & delivery
areavailable. Formore info. contact SelbyDavis at 585-738-8882or selbydavis1@
GRACE'S CLOSET: A clothing giveaway program
sponsored by Le Roy United
Methodist Church, 10TrigonPark, LeRoy, 9:30am to11:30ameveryThursday.We
haveclothingforallages.Weneedbeddingofallkindsespeciallyblankets.Donations
canbe dropped off at the house next to the church. Please put all bags INSIDE on
thebackporch. NOELECTRONICS, COMPUTERS,DISHES,etc.
OpenTuesdays5-6:30
pm.
Anyquestions call theoffice768-8980.
Disney'sDescendants-MovieShowingattheWoodwardMemorialLibrary
for children ingrades K-6, from3:15–5:15p.m. Registration appreciatedbut not
required! Call 768-8300or registeronlineat
WEDNESDAY,OCTOBER7
Wednesdays from6:30pmuntil 8:00pm, beginningOCTOBER7th -
Baptist Pavilionwill behaving their youthprogram. titled"JOYCLUB". It is open to
children in thepre-school ageup to6thgrade. Itwill beheldat the church10956
S LakeRoad, Rte. 19. It is a fun timeof Bible stories, game time, refreshments and
memorywork. Call for further information585-584-3179ext. 12. Leaveyourname
andnumber and the secretarywill call youback.
THURSDAY,OCTOBER8
Genesee Veterans Support Network
(GVSN) supports the development of
Veterans focusedAAmeetings everyThursday, 6-7pm at the First Baptist Church,
306E.MainSt.,Batavia.Meetings ledbyMikeW.&areopentonon-veteransaswell.
Handicapaccessible. For additional information call 585-302-0825.
TownofLeRoyBoardMeeting,
7pmat theTownHall BoardRoom, 48MainSt.
FRIDAY,OCTOBER9
Flea&Farmer'sMarketFridays
-GeneseeValleyEMS, 3338CaledoniaAvonRd.
(Rte. 5), Caledonia,NY. 11am to6pm -everyFriday,May1st -October 30th. Fresh
fruitandvegetables, etc.Hot foodanddrinkswillbeavailable forpurchase. 11'x22'
spaces-$20.To reserveaspaceormore info-call585-698-8244.Allproceedsgo to
GeneseeValleyEMS&CaledoniaAmbulance. Come shopandvisitwithus!
PenuelChristianFellowship,
OneStep toFreedomaddictionsministry, aChrist
CenteredAddictionsprogram,aweeklymeetingeveryFridayat7pm.CalltheChurch
formore informationat768-6901or594-9575.
SATURDAY,OCTOBER10
TheCovingtonUnitedMethodistChurch
AnnualHamDinner
withBazaarandBakeSale
from4till7pm.Thechurch is locatedat1557Simmons
Road,Perry,betweenPavilionandPerry. Themenuwill includeham,potatoes,rolls,
squash,greenbeans,applesauce,andhomemadepie.Donation is$9.50 foradults,
$5.00 for children, and free forunderfive.Takeoutswill beavailable.
WyomingHook&Ladder'sHarvestDinner
,WyomingFireHall,26MapleStreet,
Veterans Only Social Club -
Genesee Veterans Support Network announces a
newmeeting locationatScooter'sFamilyRestaurant,3711WestMainStreetRoad,
Batavia, NY - for the once amonthVeterans Only Social Club. Meetings are held
the secondSaturdayof eachmonth from7:00 to8:30PM.Veterans of all eras are
invited toattend. GVSN is locatedat 3837WestMainStreet Road, Batavia, NY. For
more information, contact GVSN, POBox 541, Batavia, NY14021-0541Director@
UPCOMINGEVENTS
TheLeRoyTown&CountryGardenClub
willmeetat7:00pmonWednesday,Oc-
tober14thattheFirstPresbyterianChurchofLeRoy.Wewillbepaintingourcement
leafcastings. ContactAnnWaltersat737-9481or768-8130 formore information.
Genesee Co. 2015Anti-Rabies Immunization Clinic,
Garage, 58 North St., LeRoy, NY. Thursday, October 15th, 4:00 to 7:00 pm. Every
animal must be accompanied by someonewho can control it. A $5.00 voluntary
LeRoyUnitedMethodistChurch
,10TrigonPark in theVillageof LeRoy,hosting
AnnualHarvestRoastBeefDinneronSaturday,October17
6:30pm. Eat inortakeout. Pre-saleticketsavailableatTheHobbyHorse,Vintage&
VogueandTheDivineTreeorby calling the churchoffice@768-8980.
St.Mary'sAnnualChurchAllYouCanEatBreakfast
from8amtilnoonatthePavilionFireHall,Rte.19.Therewillbea$500cashdrawing,
basket auction, 50/50 raffle, bake saleandmuchmore.
TheGeneseeValleyCivilWarRoundtable
presents JoyceThompson - Hovey on
"CivilWar Mascots & Pets"onWednesday, October 21. Themeetingwill take place
at 7pm at LeRoyUnitedMethodist Church, 3rddoor on right end of long sidewalk,
10TrigonPark, LeRoy, NY. Discussionperiodwill followprogram. Newmembers are
The Pavilion Clothes Closet which is now at the First Baptist Church of
Pavilion
will have some new hours just for themonth of October. They are as
follows. The closet will be open every Friday evening from 6-8 pm and Saturday
morning the10thandMondaymorning the12thofOctober from9am - 12noon.
CallwithanyquestionHopeSpeechley585-483-1858.
CommunityCalendar Submissions shouldbe sent to:
Le Roy
Pennysaver
BERGEN — Barry Garfield Miller,
50, of Bergen passed away suddenly
doingwhat he loved: helpingothers on
Wednesday (Sept. 23, 2015) at United
MemorialMedicalCenter inBataviadue
to injuries sustained in amotor vehicle
accident. In lieu of flowers, memorials
maybemade toBergenRescueSquad,
PO. Box 428, Bergen, NY14416.
LE ROY — Richard M. "Dick" Ladd,
91, of Summit Street passed away
peacefullyearlySundaymorning (Sept.
27, 2015) with his family at his side at
the Batavia VAMedical Center. In lieu
of flowers,memorialsare suggested to
a charity of the donor's choice.
Don't waste precious time