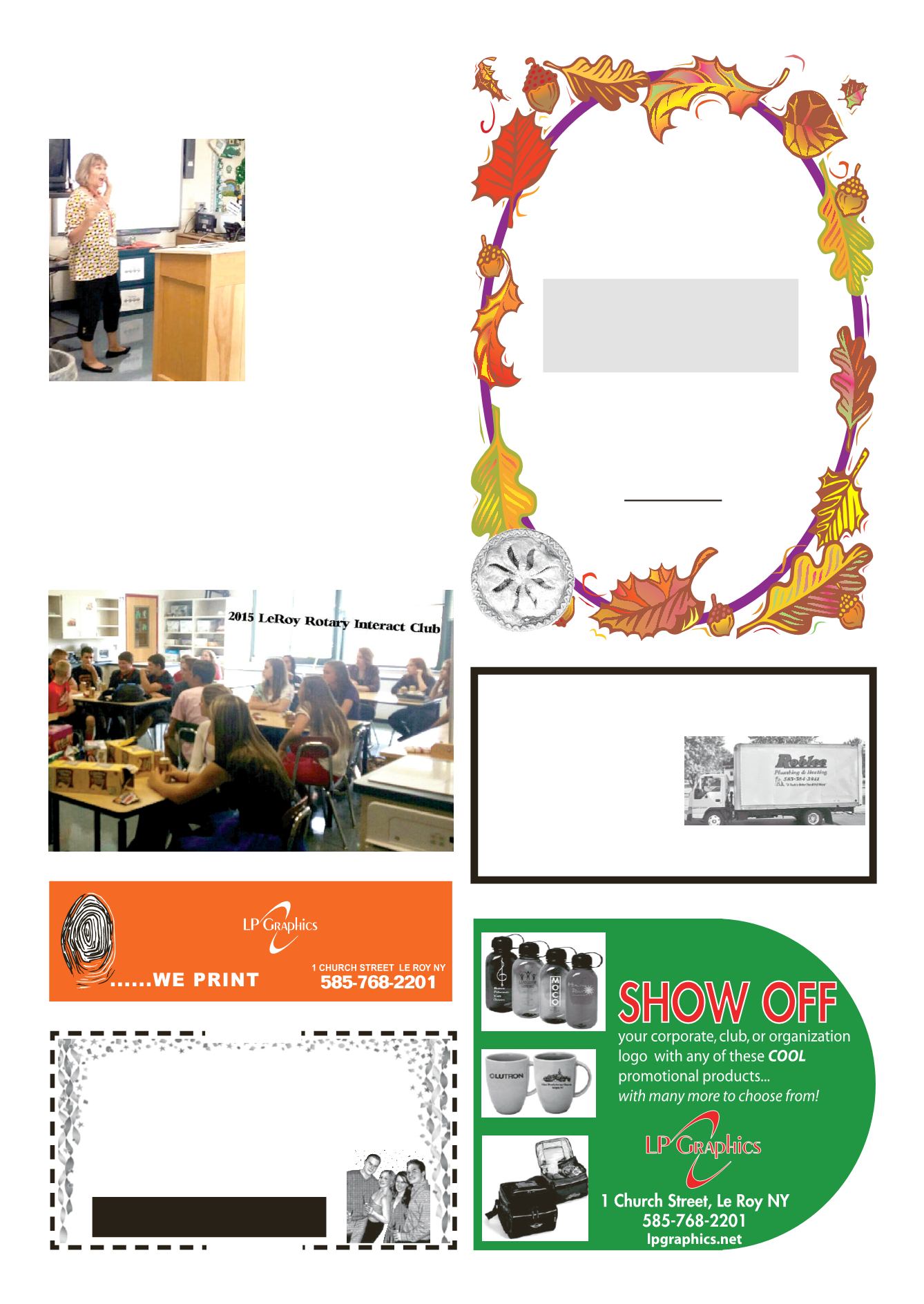 LEROYPENNYSAVER&NEWS -OCTOBER 4, 2015
ROBLEE
Plumbing&Heating, LLC
10991LakeRd., Pavilion • (585) 584-3841
Full Insured
LUXAIRE
GOULD
NYSCertifiedBackflowTester
Water&Sewer Lines •Water Treatment&ConditioningSystems
American Legion
Post 576
585-768-2090
CLIP&SAVE
CLIP&SAVE
Inside - 2RoomsAvailable
Outside - LargePavilion
10 TrigonPark, LeRoy, NewYork
Children6-12 - $6.00, 5&Under Free
(Wearehandicappedaccessible!)
Presale tickets availableat TheHobbyHorse,
Vintage&Vogue, TheDivine Tree
or call thechurchoffice.
Ticketswill beavailableat thedoor.
(leaveamessage& your phonenumber please)
SaladBar, Squash, Desserts, Rolls, Beverages
LeRoyUnitedMethodist Church
Central School Rotary Interact
Club met for the first time this
year. This year marks the 5th
anniversary of the program at
Approximately30students reg-
ularlyparticipate in theprogram.
The students, along with Super-
intendentKimCox,AdvisorSam
Vagg, andHealth teacher, Sarah
Horganbeganplanning fun, safe,
and inexpensive community
serviceprojects&events for this
In previous years, the club has
hosted festivals, assemblies, and
roller skating parties. The club
has also raised funds&products
formanyorganizations, including
Honor Flight, American Cancer
Society, andother local charities.
The first event of the year
scheduled is Fall Fest, which
will take place on October 18th
from 2-4 pm at Wolcott School
Interact is open for all students
in grades 7-12, and all meetings
& projects count towards com-
munity service hours. Please
contact SamVagg at samvagg@
gmail.com ifyouwould likemore
information on the program.
LeRoy InteractCelebrates
5YearAnniversary
lpgraphics.net