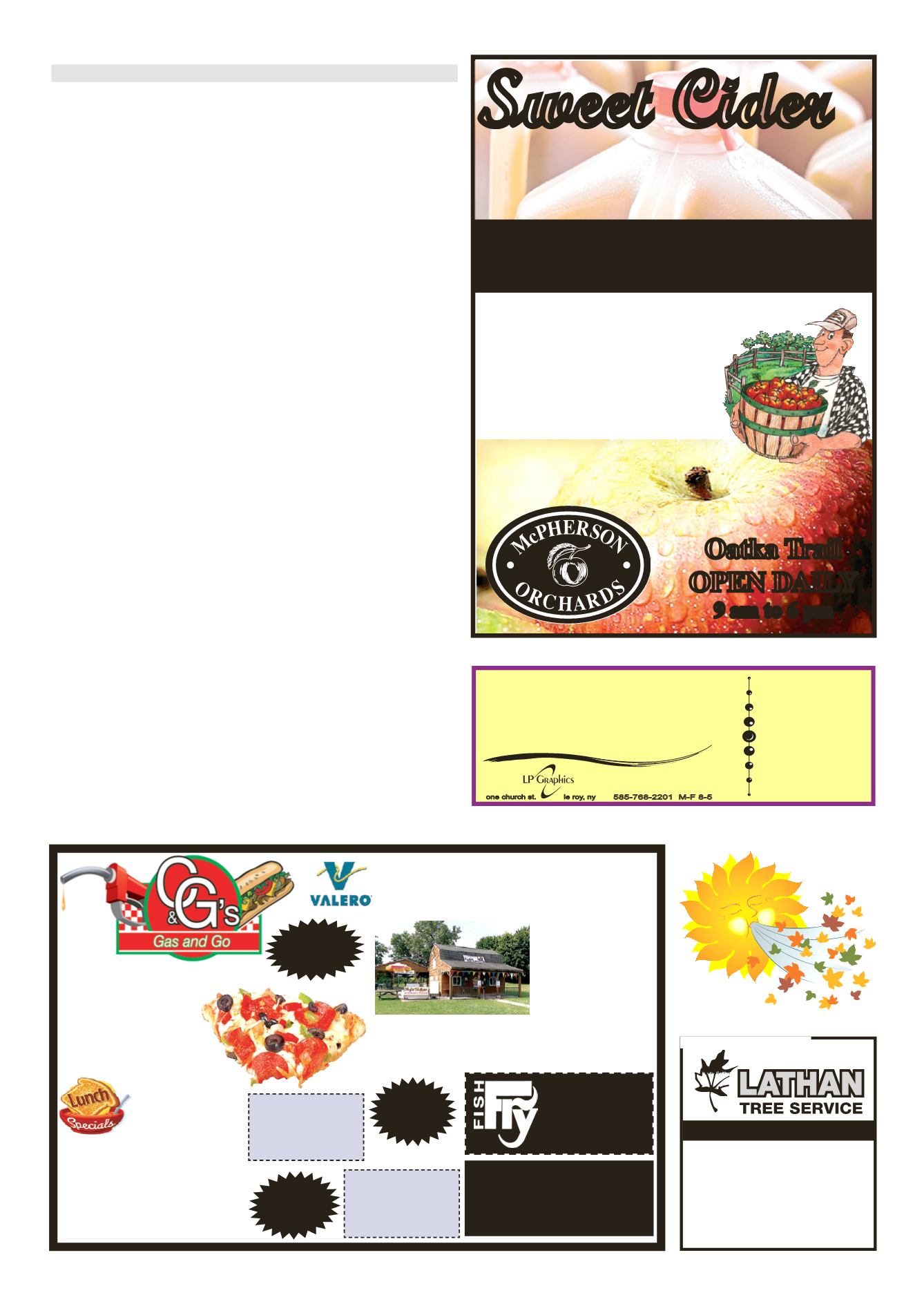 LEROYPENNYSAVER&NEWS - SEPTEMBER 20, 2015
LATHANTREESERVICE
TreeSurgery • TreeRemoval
StumpRemoval • Planting
FreeEstimates Fully Insured
Thurs. -2SlicesPizza& 3ChickenWings
Fri. - FishSandwichw/coleslaw
(add $1.00 for FrenchFries)
byKimCox,
Superintendent of Schools
BACK TO SCHOOL!
had a wonderful opening to the
2015-16 school year. The stu-
dentswereexcited tobebackand
the staff was glad to see them. I
can'tbelieveweareactually into
our thirdweek of school. It was
a sultry start with temperatures
into the90's.Thehint of autumn
in the air at the end of last week
I have been fortunate enough
to get in all the classrooms over
the past fewweeks. It is my fa-
vorite part of my job. I also had
the opportunity to spend time
withournewest students, thekin-
dergarteners,as theyexperienced
theirfirst school lunch!Theydid
In many classrooms students
are trying out some new tech-
nology usingChromebooks and
iPads. These tools are designed
toenhance instruction, aswellas
the learning skills of both staff
and students. As the district be-
gins its journey tohaving aone-
to-one device for every student,
(our threeyear technologyplan),
weembrace thenotion thatpeda-
gogycomesfirst,and technology
second. Instructional expertise
and good teaching are abso-
lutely at the heart of learning,
but technology can help. In the
words of EricSheninger, author
DigitalLeadership,Changing
Paradigms for Changing Times,
"pedagogy is thedriverand tech-
nology is the accelerator." It is
vital thatweprepareour students
for theworld inwhich theywill
be expected to navigate.We are
excited to be able to launch this
very important initiative.
Weareproud toannounce that
the Le Roy Central School Dis-
trict hasbeenawardeda$10,000
grant from theAmerica'sFarmers
GrowRuralEducation, sponsored
by the Monsanto Fund. This
grant is thanks to the hard work
and dedication of Mr. Michael
Chiulli, science teacher, who
wroteandsubmitted thegrant last
spring. The money will be used
to purchase new equipment and
instructional materials to allow
teachers to design high tech,
hands-on labs for students taking
upper level science classes. I
would like to publicly thankMr.
Chiulli formaking thishonorpos-
sible. I would also like to thank
Mr. JeffCunningham,Monsanto
Company representative,andMr.
Donn Branton, from Branton
Farmswhonominated thedistrict,
for joiningus for thepresentation
It has been a terrific start! I
look forward to sharingmore of
thegreat things that happen each
dayat theLeRoyCentralSchool
OatkaTrail
OPENDAILY
9 am to6pm
S
weet
C
ider
Starts
Sept. 19th
BakeryOpen Sat. & Sun.
AppleVarieties
one church st. le roy, ny
one church st. le roy, ny
OFF
Dinner -
Expires 9/30/15
COUPON
PIZZA SLICES
2/
$
3.00 Every Day!
HOURS: 5 am-9 pm •Deli 11 am-8 pm • Lunch11 am-2 pm
ClairBears
IceCream
FallHours Starting
Sept. 1st, 4-9 pm
Please check out our fall flavor ice cream
ServingTheHighest QualityHershey's IceCream
CheckOut Our
GAS PRICE
5¢OFF
Every SUNDAY
COUPON
$
2.00
OFFAny
LargePizza
Expires
9/30/15
COUPON
$
2.00
OFFAny
Large Sub
Expires
9/30/15
Everything
Made FRESH
Daily
Never
Frozen
Generous
Servings
at
Affordable
Prices!
(additional
toppings $1.50)