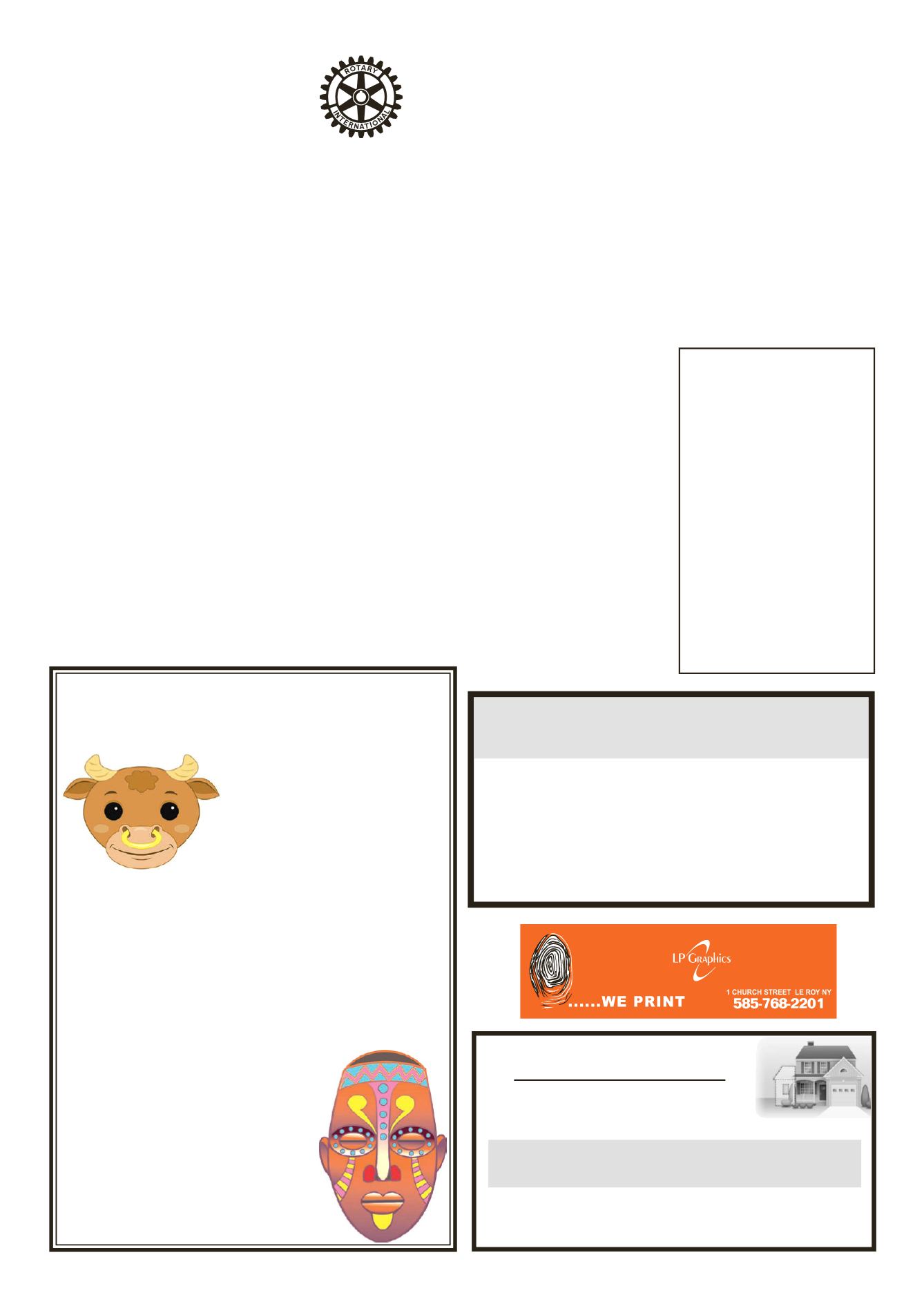 LEROYPENNYSAVER&NEWS - SEPTEMBER 20, 2015
"CompleteCarpentry Service"
M
ILLER
B
ROTHERS
B
UILDERS
CustomHomes •Remodeling•Additions
Roofing• Siding
DANIEL
MICHAEL
Notes September 9, 2015
President,TonyGuginoopened
Pledge
of Allegiance
invocation and the Rotary Four
Crosby,ourDistrictGovernorand
JohnMcClurg of the PerryClub.
It looks like fallwill be a busy
time forusas therewereplentyof
announcements today. The 27th
Annual ApplianceRafflewill be
held on Sunday, November 1st.
Thereare tengreatprizes.Tickets
are still only $10 and includes
food and beverages. You can get
your tickets from any Le Roy
Rotarian. Sign-up sheets went
around for our Rotary Picnic on
September 27th and for the Past
Presidents' Dinner on the 29th.
Anil remindedus thatTheEastern
Cities Dinner is scheduled for
October18thwhichhappens tobe
thesameday that InteractClub is
planning their Fall Festival.
that the America's Best Cities
Dinner was very successful and
that there are still opportunities
to invest in the project. David
Grayson reminded us that the
EveryRotarianEveryYear drive
will start inOctober and is look-
ing again for our usual 100%
participation.ScottMcCumiskey
alertedus to the fact thatOctober
isDomesticViolenceAwareness
Month. Lauren Humphrey has
tickets for the LCCP Quilt that
will be auctionedoff at their Fall
Fund-raiser on the 26th. And for
thepeople that really like toplan
ahead, Randy Vink announced
that the Rotary Christmas Party
There were several people
that had to account for missed
meetings. KimCox, PhilWeise,
Carol Wolfe, June Dusen and
Bob Boyce either hadmake-ups
or paidwith a green card. Carol
presented President Tony with
a sweet spicy gift from her trip
LeRotary
Notes
toVermont and asked him to re-
member that when hewas doing
Governor Kevin Crosby. He
first acknowledged some of our
members for their above and
beyond service; Martha Bailey
for her service as Past Assistant
Governor, RandyVink for earn-
ing the President's Citation and
Lighthouse Award for our Club,
Bob Bennett for his 27 years as
Appliance Raffle chairman and
Samantha Vagg for co-chairing
theHospitalityCommittee for the
DistrictConference.BobCarlsen
was congratulated for having 38
years of perfect attendance.
TheGovernor spoke about his
goals for the year and how, as
Rotarians, we can accomplish
great things.Only two countries,
Pakistan and Afghanistan have
reports of polio thanks to Rotar-
ians around the world working
together.Whether it is helping a
thirdworldcountryget cleanwa-
ter orworkingon a local project,
NOVENATO
ST. JUDE
9 consecutive days. Oh Holy St.
Jude,ApostleMartyr,great invirtue
& rich inmiracles, near kinsmanof
Jesus Christ, faithful intercessor of
allwho invokeyour special patron-
age in time of need, to you I have
recourse from thedepthsofmyheart
& humbly beg to whom God has
given such great power to come to
myassistance.Helpme. In return, I
promise tomakeyour nameknown
& cause you to be invoked. (Say 3
Our Fathers, Hail Marys' &Glory
Be's) St. Jude pray for us all who
invokeyouraid.Amen!!Publication
mustbepromised.ThisNovenahas
neverbeenknown to fail. Ihavehad
Rotarymakes a difference.
President Tony presented the
Governor with a check from our
Club to the Rotary Foundation
After the raffle the bell was
rung and themeeting adjourned.
LikeusonFacebookat"Rotary
WoodwardMemorial Library
and ExploreandMoreMuseum
presents
AnimalMasks
Kindergarten –Grade2
Saturday, Sept. 26
12:30 – 1:30p.m.
MulticulturalMasks
Grades 3-6
Saturday, Sept. 26
2:30 – 3:30
Learnabout different cultures and
why theyusemasks! Create your ownmask!
Registration is required.
ThisDecentralizationRegrant Program
ismadepossibleby theNewYork State
Council on theArtswith support from
Governor AndrewCuomoand theNew
York State Legislature.
ALLWORKMANSHIP GUARANTEED • INSURED
297-9097 • 768-7737
• InteriorPainting
• Plaster/LathRestoration
•Drywall&Drywall Repair
•TextureRemoval
• Floors Stripped
&Refinished
•OldCeilings&Walls
MadeLikeNew!
MikeDarby'sPatch&Paint
lpgraphics.net