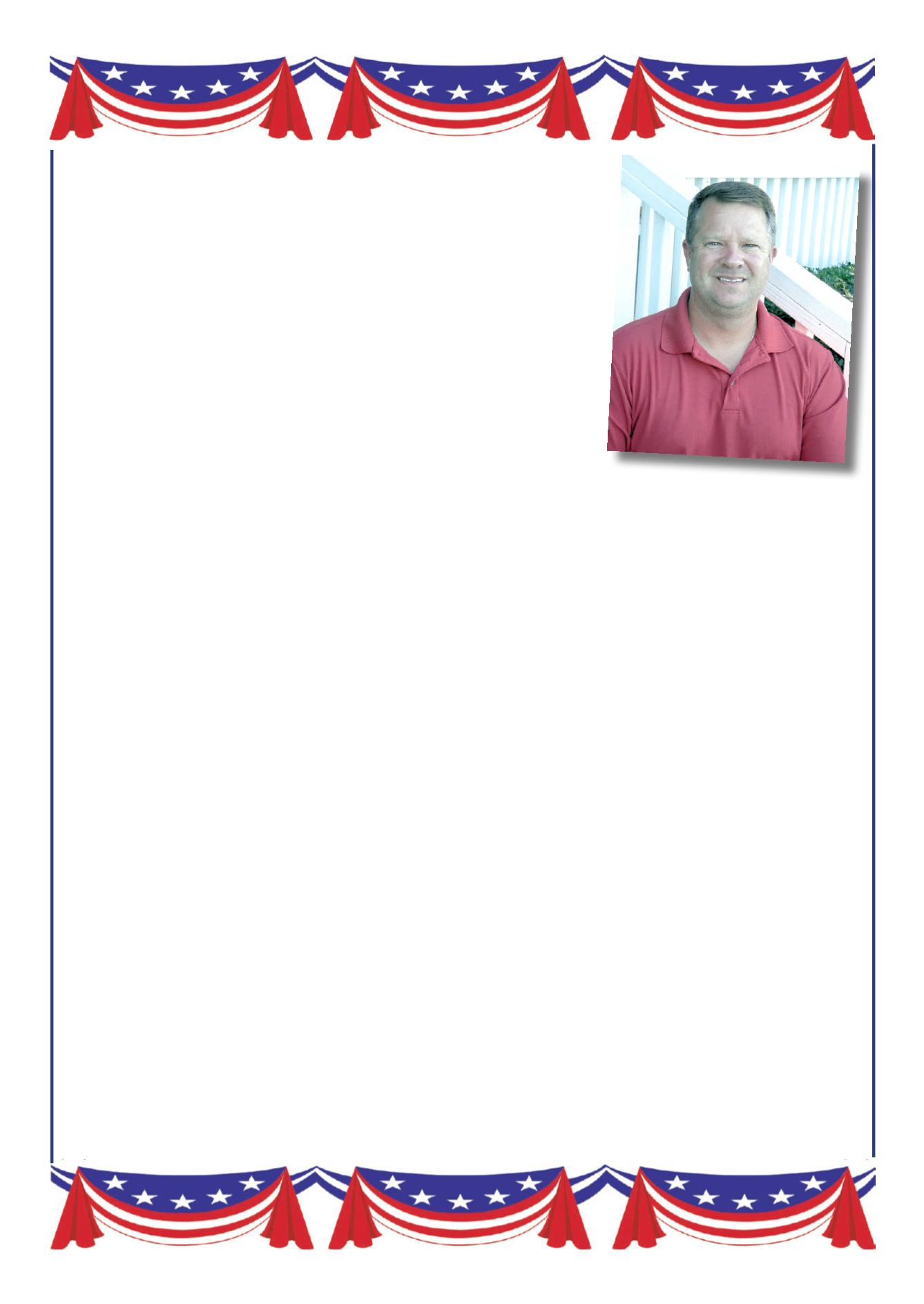 LEROYPENNYSAVER&NEWS - SEPTEMBER 20, 2015
WHO IS ERIC STAUFFER?
Raised in Scottsville, NYona family ownedDairy Farm, I learned the value
of hardwork that I carry withme today. I moved to LeRoy 17 years ago,
when I marriedmywife, Alisa Page, a lifelong resident of LeRoy. We have
twochildren, Collin (15) andCarley (13).
I have been employed by the LeRoy Highway Department since I
was hired inAugust 2002by JerryRoth.
WHATARE ERIC'SQUALIFICATIONS?
I havemaintainedacleanClassA License thatenablesme todriveequip-
ment currentlyownedby thedepartment.
-Experiencedmachineequipment operator
-Strongcommunication skills
WHAT IS ERIC'SAGENDA, SHOULDHE BE ELECTED?
With13yearsofexperience in thedepartment, Iwouldbeahands-onHighwaySuperintendentwho iscapable
of performingall tasks, operation, andmaintenanceof all equipment ownedby theHighwayDepartment.
I would implement smarter budgetingof your taxpayer dollars bydoing such things as cutting fuel usageand
saltwasteand instead focus spendingon theactual needsof the Town. Iwouldmaintainanadequateamount
of salt to keepour roads safe in thewinter.
I have realistic ideas thatwould significantly reduce the$20,000 - $30,000/year loss from the transfer station.
I intend toutilize theexisting talent andequipmentwithin thedepartment.
I will improve themanagement of employees' time toaccomplishnecessary tasks suchas -
-Maintainingditches andculvert pipes
-Maintenanceof our communitypool
MUST
STRONG
working relationshipwith theVillageDPW to helpcut costs by utilizing
equipment and personnel to perform jobs such as leaf pick up in the village during the fall. Village residents
should receivemore services from the TownHighway for the taxes that theypay!
Most importantly, I wouldwelcome theopportunity toaddress complaints, concerns, andquestions from the
communityand/or townandvillagedepartments ina timelyand respectfulmanner.
This is the time for me to give back to our community! Please take this into considerationwhen you vote on
Eric Stauffer
Candidate for Highway Superintendent
Endorsedby theDemocratic, Independence,Working FamilyParties andWNYUnitedAutoWorkers