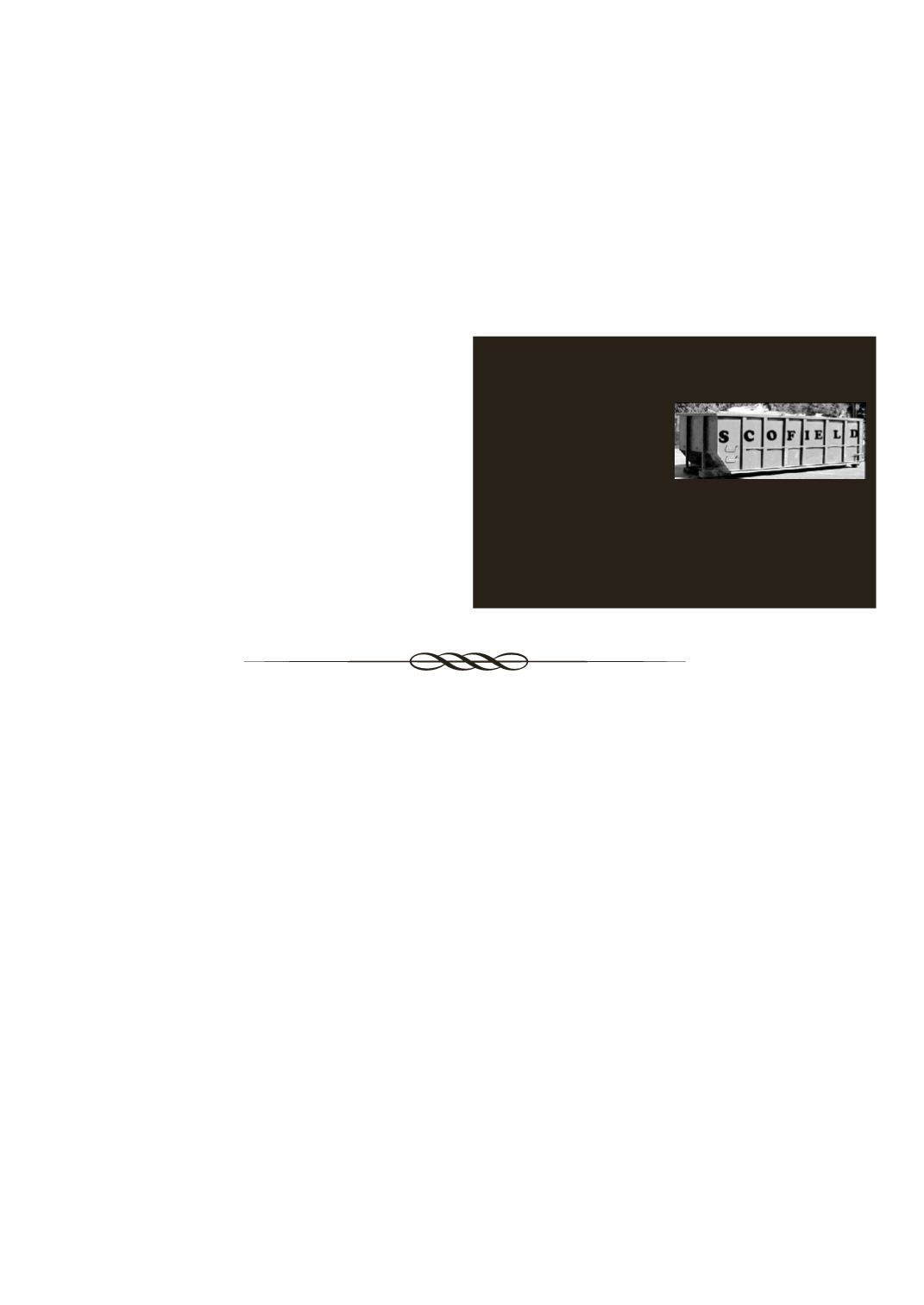 LEROYPENNYSAVER&NEWS - SEPTEMBER 20, 2015
LeRoyYouthFootball Seniors - LeRoy 28 -Livonia0
LeRoy JuniorFootball -LeRoy 30 -Livonia 6
CYFL power Livonia into town
for theirfirsthomegameonSep-
tember13th. TheJuniorKnights
dominated the Junior Bulldogs
for theentireafternoon,winning
with the ball on their own 35.
After several long runs, Drew
Strollodarted in from8yardsout
on the 4thplay from scrimmage
togiveLeRoy an early6-0 lead.
LeRoy's defense was up to the
task, forcing 3 plays for loss on
tackles by Strollo and Connor
Hegeman, forcing a punt. After
a 15 year return by Jackson
Fix, the Knights began another
scoring drive. Fix would finish
whathestarted,draggingseveral
defenders into theendzonewith
him toscorea6yardTD.Strollo
would scoot in untouched to se-
cure the 2-point conversion and
extend the lead to 14-0 early in
A quick 3 and out would pro-
vide theoffensewithanotherop-
portunity. The Knights method-
ically moved the ball down the
field behind excellent blocking
by JaycePanepento,DJO'Geen,
Holden Sullivan, Danny Howe,
TristanWeiseltier, JoeyBiletskiy,
andCamMaxwell.Thedrivecul-
minated in a 10 yard TD run by
Tommy Condidorio and 2-point
conversionbyTonyPiazza. After
another defensive stop, the half-
time score stood at 22-0.
LeRoy's offense began the
2nd half with the ball, and the
results remained the same. After
a 37yard runbyFix and10yard
pass fromCondidorio toStrollo,
fullbackTonyPiazza rumbled16
yards to the end zone for a TD.
After a holding call on the first
conversion attempt, Strollo ran
for 13 yards to tack on another
2-point conversion, giving the
Knights a 30-0 lead early in the
exchanged unsuccessful offen-
sive series for the rest of the
3rd quarter andmuch of the 4th
quarter.Eventually,aftermultiple
penalties, Livonia scored on a
quarterback keeper to close out
The Knights dominated in all
facets of the game leading to
the 30-6 victory. Drew Strollo
led a balanced running attack
with 117 yards on the ground (1
TD, 2 conversions) and10yards
receiving. Jackson Fix added
85 yards rushing (1 TD) and 15
returnyards. TonyPiazzagained
43 yards including a TD and
conversion. Tommy Condidorio
ran for 11 yards and a TD and
passed for 10 yards. ConnorHe-
geman added 20 yards andLuke
Lathan added 18. Other Knights
to tote the rock included Adam
Woodworth, Aaric Luce, Jude
Sherman, Alex Spezzano, and
Defensively LeRoy was ag-
gressive and it seemed as if a sea
ofRedandBlack followedevery
Livonia runner. Drew Strollo
led the squad with 10 tackles,
including4 for loss. Linebackers
XavienWalker and Tony Piazza
also had multiple with 5 and 6
(1 for loss) respectively. Connor
Hegeman was a pest all day de-
fensively as well, with 5 tackles
(1 for loss) of his own. Adam
WoodworthandJacksonFixeach
had 3 tackles, providing import-
ant tocontainon theoutside. Jake
Higgins, Tommy Condidorio,
Adrian Stephens, and Wyatt
Draper all added 2 tackles. Also
on the tackle tally sheet were
Jace Jedrewski (also had a fum-
ble recovery), Aaric Luce, Jude
Sherman,HunterBeverly,Aiden
Davis (whoprovideddoubleduty
and sang the national anthem!),
JoeyBiletskiy, andXavierKing.
The Knights travel to Letch-
worthonSeptember 20th to face
the Genesee Valley Bills in an
important CYFLNorthernDivi-
In a rematch of last year's se-
niorschampionshipgame, theLe
Roy Senior Knights once again
defeated the Livonia Bulldogs.
This timebya scoreof 28 to0 in
Le Roy received the opening
kickoffandput togethera12play
scoringdrive, cappedoff bya30
yardAdamRisewick touchdown.
LeRoywould go for the 2 point
conversion but was stopped just
shortof thegoal line.TheLeRoy
defense dominated on the field.
TylerStrollo, JacksonLockeand
BrockFlintcontrolled themiddle
of thefiled,whiledefensiveends
BrettBabcockandRyanHiggins
kept theBulldogsfrombeingable
to run outside. ZachVanderhoof
was a monster at the linebacker
position and immediately set
the tone for LeRoy by dropping
theLivonia running back for a 5
Twoplays laterona3rdand10
Livonia would attempt to pass.
Le Roy's Brady Fix stepped in
front of the Livonia receiver
intercepting the pass and raced
60 yards untouched for the TD.
Zach Vanderhoof added the 2
point conversion, putting the
knights up 14-0. Le Roy would
punch in another touchdown be-
forehalf time.On the9thplayof
thedrive,AdamRisewickwould
goaround the leftendand takeoff
untouched for a 25 yard touch-
down for the Knights. LeRoy
would follow with Risewick
adding the 2 point conversion.
At the end of the 1st half Le
Roy led22-0.TheKnightswould
add another touchdown in the
second half. Again it was Adam
Risewick. This time Risewick
took the handoff to the left side
of the offense, saw a hole in the
defense, and cut back across the
field outrunning everyone for a
35 yard touchdown, his 3rd TD
Late in the 4thquarter Livonia
put together an impressive 11
play drive only to be stopped at
the3yard linebyLeRoy'sCory
Wallace, Zach Vanderhoof and
Risewick10carriesfor131yards,
Brady Fix 9 carries 30 yards,
ZachVanderhoof6carries for25
yards,BrockFlint4carries for21
yards. Also carrying the ball for
Le Roy was Tyler Strollo, Cory
Wallace, Jackson Locke, Ryan
Higgins, and JohnPanepento.
and Zach Vanderhoof led the
way, each with 6 tackles. Brett
BabcockandTylerStrollorecord-
ed 3 tackles each. Also getting
tackles for the Knights were
Landen Saeva, Brady Fix, Cory
Wallace,BrockFlint, JackTonzi,
John Panepento, Ryan Higgins,
JacksonLocke,EthanHowe, and
15, 17, 20, 25, 30,
and 40 cu. yd.
CONTAINERS
ScofieldRolloff •343-8383
NobodyBeatsOur Prices!