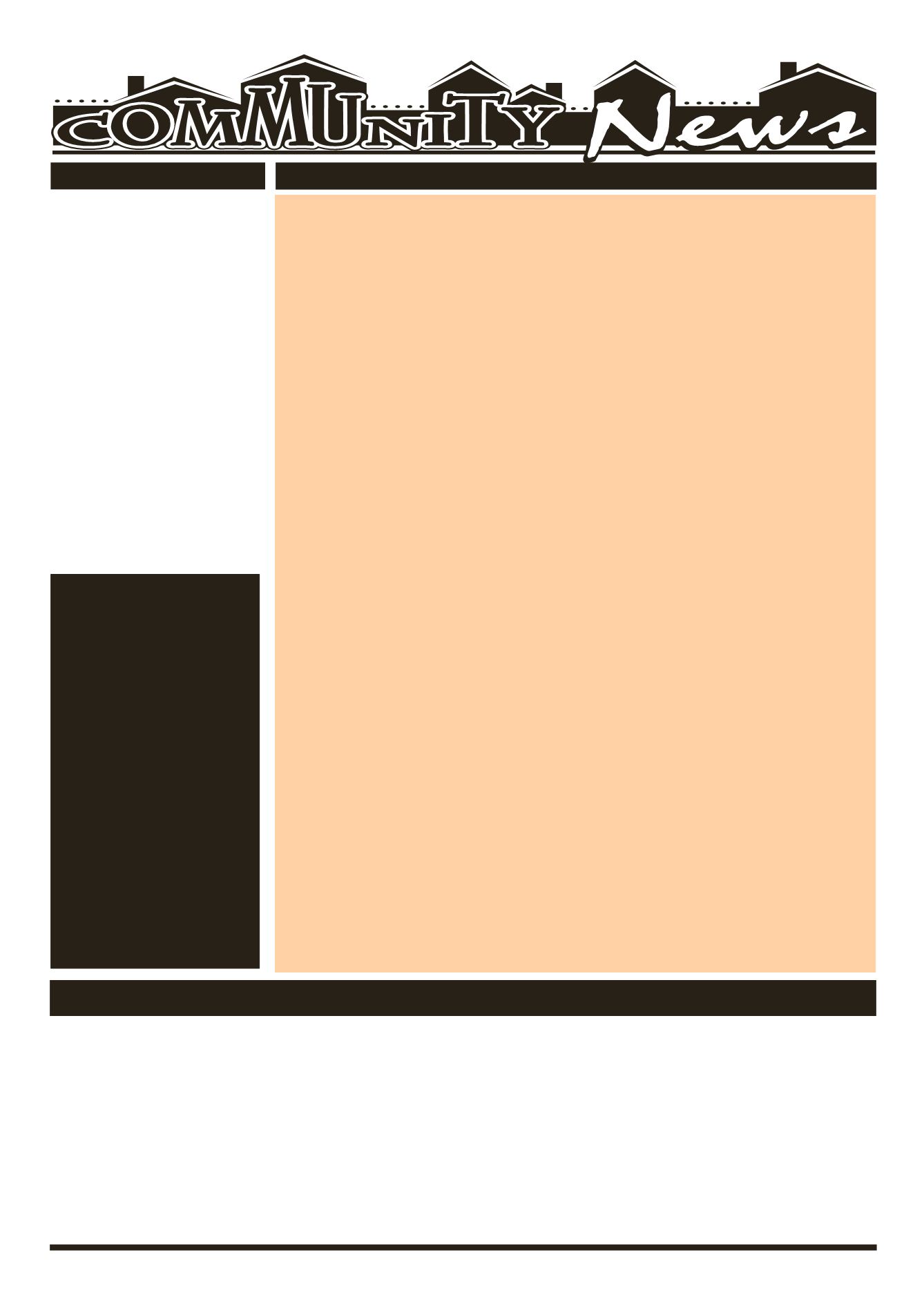 LEROYPENNYSAVER&NEWS - SEPTEMBER 20, 2015
Le Roy
Pennysaver
All GeneseeCounty residents, 60andolder, can takepart in thisweek'sactivitiesat theBataviaSenior Center, 2BankSt., Batavia. Formore information, call 343-1611.
SENIORCITIZENSACTIVITIES (September 21st - September 25th)
WEEKLYEVENTS
OBITUARIES
ArthritisExercise
is scheduled tobeginat 9:30a.m.;
Bridge
is scheduled tobeginat 11:00a.m.
ACUUMeeting–
CaregiverForumMeeting isscheduled tobeginat9:00a.m.;
Cribbage
isscheduled tobeginat1:00p.m.
QuiltersGroup
is scheduled tomeet at 9:00a.m.;
Euchregame
is scheduled tobeginat 1:00p.m.
LifespanMeeting
is scheduled tobeginat 9:30a.m.;
TaiChi
is scheduled tobeginat 9:30a.m.;
GentleFitness
uled tobegin at 10:30 a.m.;
Cribbage&Bridge
are scheduled to begin at 1:00 p.m.;
Musical Keyboard Lessons
scheduled tobeginat 2:30p.m.
ArtClassandLineDancing
is scheduled tobeginat 10:00a.m.;
Euchre
is scheduled tobeginat 12:00p.m.
SUNDAY, SEPTEMBER20
Konnect YouthGroup at LivingWaters Church,
onMain St. LeRoy. Sundays from
6:30 to8:30pm for ages 12-18. "BringDownall theWalls! ConnectwithGodandCon-
nect with others." Formore information, check us out online at: livingwatersleroy.org/
MONDAY,SEPTEMBER21
TOPS (TakeOffPounds Sensibly)
meetsMonday evenings at the LeRoy Presbyterian
Church, corner of Clay&MainStreets. Doors openat 6:00pmandmeeting is from6:30-
7:15pm.Visitorsarealwayswelcome. Call 585-768-7103 formore information.
TUESDAY, SEPTEMBER22
PreschoolStorytime:
EveryTuesdayat11amfeaturingstories,craftandsongsatPavilion
PublicLibrary, 5WoodrowDr., Pavilion. For info: 584-8843.
LCCP'sGRACE'SKITCHEN:
AFREEdinnereveryTuesdayevening,5-6:30pmattheMasonic
CommunityCenteron12BankSt. Plentyofparking.Takeout&deliveryareavailable. For
more info. contact SelbyDavisat585-738-8882or
GRACE'SCLOSET:Aclothinggiveawayprogram
sponsoredbyLeRoyUnitedMethodist
Church, 10TrigonPark, LeRoy, 9:30am to11:30ameveryThursday.Wehaveclothing for
all ages. We need bedding of all kinds especially blankets. Donations can be dropped
off at the house next to the church. Please put all bags INSIDE on the back porch. NO
ELECTRONICS, COMPUTERS,DISHES, etc.
Open Tuesdays 5-6:30 pm.
LeRoyZoningBoardofAppealsMeeting
(asnecessary),7:30pmat theTownHall,48
MainSt. For further info. call 768-6910, Ext. 223.
Cinderella - Movie Showing at theWoodwardMemorial Library
gradesK-6,from3:15–5:15p.m.Registrationappreciatedbutnotrequired! Call768-8300
WEDNESDAY, SEPTEMBER23
TheGeneseeValleyCivilWarRoundtable
presents"Heroes in theAttica" -UntoldStory
of 2 CivilWar Soldiers", Dennis P. Bielewicz. Themeetingwill take place at 7 pm at LeRoy
UnitedMethodistChurch, 3rddooron right endof long sidewalk, 10TrigonPark, LeRoy,NY.
Discussionperiodwill followprogram.Newmembersarewelcome.
ThemonthlymeetingoftheStaffordHistoricalSociety
will featureDr.MichaelEula
withhis informational talkon"AmericanCultureandCookbooks inGeneseeCounty,New
York, 1830-1920". Dr. Eula is theGeneseeCountyHistorian. Themeeting isat7:00pmat
theStaffordTownHall, locatedat8903Rt. 237.
VillageofLeRoyBoardMeeting
, 7pmat theVillageHall, 3WestMainSt.
LEGO&GameClubat theWoodwardMemorial Library
for children ingrades K-6,
from3:15-4:15p.m. BuildwithLegos,playboardgameswithyour friends,or jamouton
GuitarHero. There is something for everyone. Registration isNOT required.
THURSDAY, SEPTEMBER24
GeneseeVeterans Support Network
(GVSN) supports the development of Veterans
focusedAAmeetings everyThursday, 6-7pmat theFirstBaptist Church, 306E.MainSt.,
Batavia.Meetings ledbyMikeW.&areopentonon-veteransaswell.Handicapaccessible.
For additional information call 585-302-0825.
TownofLeRoyBoardMeeting
,7pmat theTownHall BoardRoom, 48MainSt.
FRIDAY, SEPTEMBER25
PenuelChristianFellowship,
OneSteptoFreedomaddictionsministry,aChristCentered
Addictions program, aweeklymeeting every Friday at 7 pm. Call the Church formore
informationat768-6901or594-9575.
Flea&Farmer'sMarketFridays
-GeneseeValleyEMS, 3338CaledoniaAvonRd. (Rte.
5), Caledonia, NY. 11am to6pm - every Friday,May1st -October 30th. Fresh fruit and
vegetables, etc.Hot foodanddrinkswill beavailable for purchase. 11'x22'spaces -$20.
To reserve a space ormore info - call 585-698-8244. All proceeds go toGeneseeValley
EMS&CaledoniaAmbulance. Come shopandvisitwithus!
SATURDAY, SEPTEMBER26
RoastPorkDinner,
SouthByronUnitedMethodistChurch.
from4:00pn till.Tickets$9.00,Takeoutsavailable.
Animal Masks Program at theWoodwardMemorial Library
throughGrade2, from12:30–1:30p.m.PresentedbyExploreandMoreMuseum. Learn
about animals masks andmake your own! Registration is required. Call 768-8300 or
MulticulturalMasksProgramattheWoodwardMemorialLibrary
from 2:30– 3:30 p.m. Presented by Explore andMoreMuseum. Learn about different
cultures andwhy theyusemasks! Create your ownmask! Registration is required. Call
768-8300or registeronlineat
UPCOMINGEVENTS
First Dinner of the Fall - Chicken&Biscuit dinner Sept. 19
Chili-RigaCntr.Rd.(Rt.33A@36)Churchville.Servingbeginsat4:30untilallserved!Entree
withcoleslaw ,veggie,beverageandhomemadepies !Adults$9,children5andunder$5
Greathome styledinner andNOdishes ! Joinus!
FoodlinkFreeMobileFoodPantry:
MorganvilleUnitedChurchofChrist ispartnering
with Foodlink of Rochester to host a freemobile food pantry, Tuesday, September 29,
4:00-6:00pmatMorganvilleUnitedChurchofChrist,8466MorganvilleRoad (offRt237,
1milenorthofStafford). Theexact food itemsandquantityavailablearenotknown,but
freshproducewill be available. Must be 18 years of age, no income requirement or ID
required. Mustprovideownbags/vehicletotransport itemstoyourhome. Foodprovided
onafirst come, first servebasiswhile supplies last.
TheStaffordUnitedMethodist Church
isworking inpartnershipwith
Foodlinkof
Rochester
to sponsor the Foodlink FreeMobile FoodPantry. Itwill be held on Friday,
October 2 from3 to5p.m. at EmeryPark, locatedat 6061Route5 inStafford.Theexact
items are not known, but fresh produce is always available. Food is distributed on a
first-come, first-servedbasiswhile supplies last. There is no income or ID requirement,
but recipientsmustbe18yearsof ageandprovide theirownbagsand transportation.
PulledPorkDinneratNorthBergenPres.Church
BergenonSat.,Oct.3rd. Servingwillbe from4:30pm-6:30pm. Takeoutsareavailable.
Themenuwill bepulledpork, saltpotatoes, bakedbeans, cabbage salad, beverage, and
dessert. Call 585-494-1815 formore information.
CommunityCalendar Submissions shouldbe sent to:
LE ROY - Theresa D. Butera, 95,
passed away into the open arms
of her LordandSavior onSaturday
(Sept. 12, 2015) while in the loving
presence of her family at Highland
Hospital in Rochester. In lieu of
flowers,memorialsaresuggested to
Our Lady of MercyParish, 44 Lake
CONN./LE ROY - Mary E. Fussell
died peacefully and painlessly in
the sun roomof her Clinton, Conn.,
home on Sept. 1, 2015. She was
70. Memorials may be made to
Connecticut Hospice or Planned