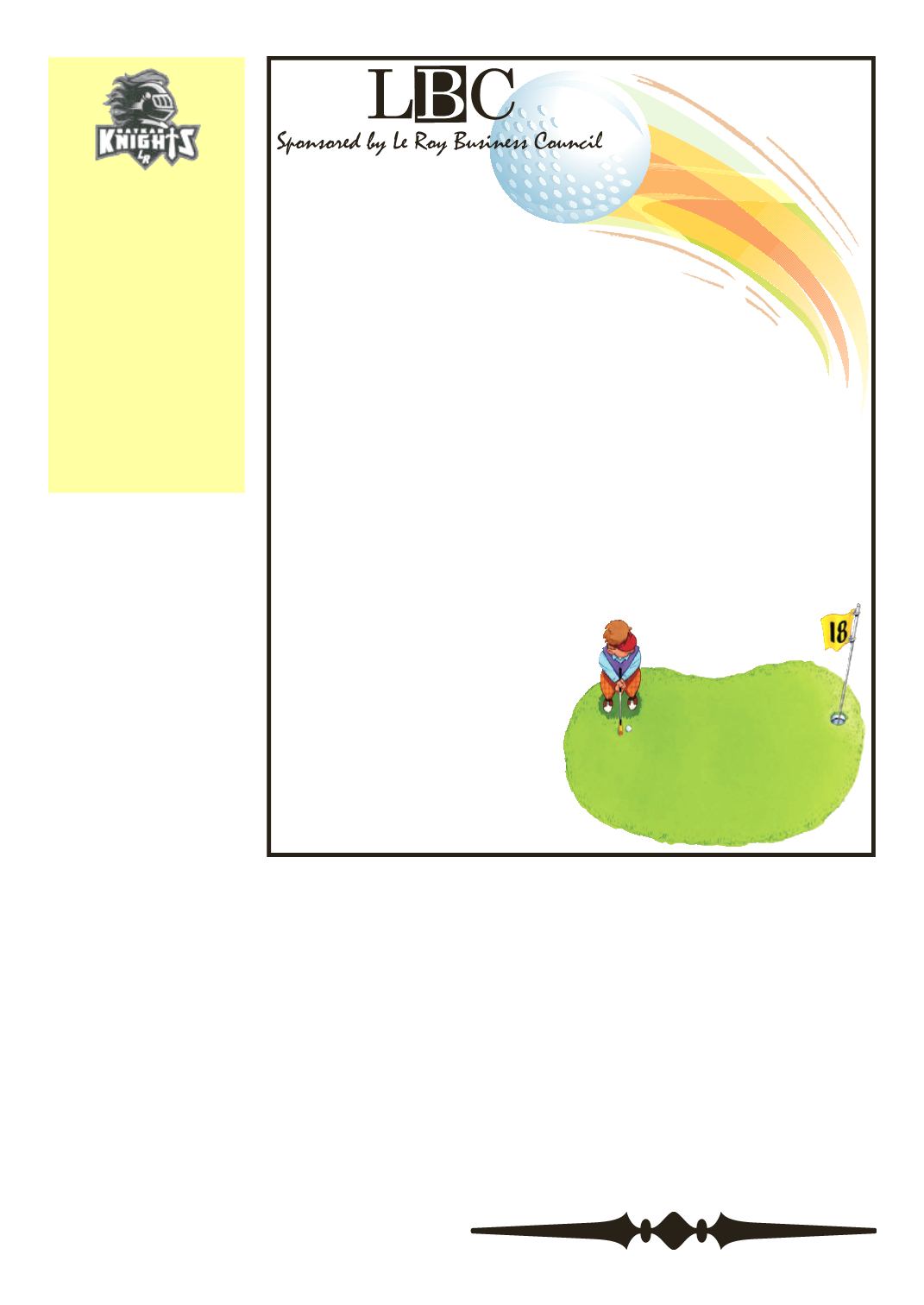 LEROYPENNYSAVER&NEWS - JULY 19, 2015
LeRoy
CountryClub
7759EastMainRoad, LeRoy, NY 14482
Tuesday, September 8th
Enjoy a complete program of special events,
18holes of golf (including cart), lunch
and an exciting awards banquet...
All for just $65 / player
· Longest drive contests
· Closest to thepin
· Closest to the line
Lauren Pencille
NYhasbeennamed to theDean's
ListatRensselaerPolytechnic In-
stitute for thespring2015semes-
ter. The Dean's List recognizes
full-time students who maintain
grade-point averages of a mini-
mum of 3.0 out of a possible 4.0
and have no grades below "C."
Pencille studies Chemical
TaraKelly
been named to the Dean's List
at the College at Brockport for
the spring 2015 semester. She is
a 2013 graduate of LeRoy Cen-
tral School. Daughter of Shawn
& Jackie Kelly. Tara is also a
recent inductee into Psi CHI,
the National Honor Society for
The following students grad-
uated from RIT in the spring
AmandakaySands
received aBachelor of FineArts
degree in photographic and im-
aging arts fromRIT'sCollegeof
Laurette Evringham
gen receivedaMasterofScience
degree in secondary education
of studentswho are deaf or hard
of hearing from RIT's National
Technical Institute for theDeaf.
EricStella
a Bachelor of Science degree in
packaging science from RIT's
College of Applied Science and
Jonathan Kemnitz
ford received a Bachelor of Sci-
encedegree inpublicpolicy from
RIT'sCollege of LiberalArts.
The following local residents
made the Dean's List at Roch-
ester Institute of Technology
for spring semester 2014-2015.
Degree-seeking undergraduate
students are eligible for Dean's
List if their termGPA is greater
thanorequal to3.400; theydonot
haveanygradesof"Incomplete",
"D" or "F"; and theyhave regis-
tered for, and completed, at least
EdwardAmidon, ElizaHar-
vey,PeterMadau,RyanMange-
frida&Eric Stella
Michael Barnard, Nicho-
las Haywood, Rachel Kobel,
Paramjit Sembhi, Michael
Slack, Joanna Stacy & Traci
Turner
BenjaminEzard
CassidyMcGinnis
MajorGeneralPatrickA.Mur-
phy, the Adjutant General, an-
nounces the recent reenlistment
of members of the New York
July 24th& 25th
54Wolcott St.
Proceeds
tobenefit
2016 Senior Class
ArmyNationalGuard in recogni-
tion of their continuing commit-
ment to serve community, state
and nation as part of the Army
SergeantJeremiahPrine
LeRoy,NYhas reenlisted tocon-
tinue service with the Company
A (Distribution), 427th Brigade
Staff Sergeant KevinCzach-
orowski
enlisted to continue servicewith
the Company B, 642nd Support