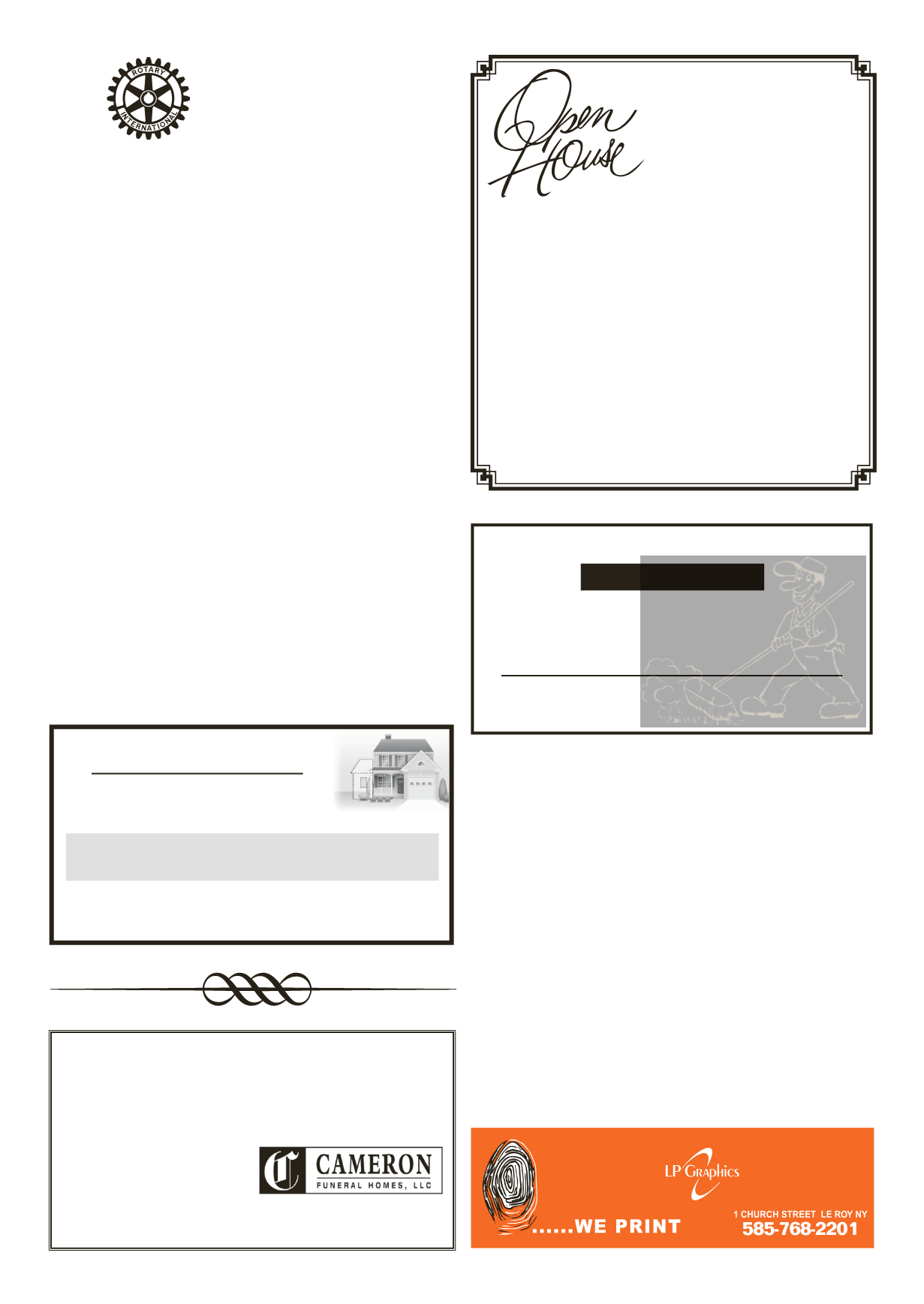 LEROYPENNYSAVER&NEWS - JULY 19, 2015
HelpingFamiliesCelebrateaLifeLived
"Our FamilyServingYours Since 1907"
Trusted•Honest •Proven
Cameron, Brady&Steuber
FuneralHome
111Wolcott Street
LeRoy,NY14482
(585) 768-6800 •
Likeus onFacebook
"CompleteCarpentry Service"
M
ILLER
B
ROTHERS
B
UILDERS
CustomHomes •Remodeling•Additions
Roofing• Siding
DANIEL
MICHAEL
LeRotary
Notes
Notes - 7/8/2015
President TonyGuginoopened
the meeting. Bob Sullivan lead
Pledge
Ellison's invocationand theFour
phrey's daughter Cecelia as our
guest for today'smeeting.
Upcoming events announced
- Rotary Board of Directors
Meeting - 7/15-11 am - The
-DistrictGovernor'svisit - 9/9
Marcia McKenzie announced
that chairs fabricated with the
help of theMain St. Revitaliza-
tionGroupwillbeplacedonSat-
urday in the Main St. Walkway
Regarding the Oatka Festival,
Scott McCumiskey still needs
helpwith the Hot Dog Stand as
doesBobBennettwith theFish-
Martha Bailey was fined for
somemisdirected textmessages.
BobSullivanwasrecognizedbut
paid forhismanyyearshandling
theOatkaFestivalParade. Mar-
ciaMcKenziepaid for aGarden
Pennysaver
Christine Gephart and Lauren
Humphreywerefined for agirls
night out photo. Lastly, Randy
Vink paid for a photo receiving
his President's citation from
Assistant District Governor
Ourprogram todaywaspresent-
edbyMaryYoung regarding the
American Cancer Society Relay
For Life onAugust 8 - 9 from 7
pm to7amatLeRoyJr./Sr.High
School.Cancer toucheseveryone
in some way whether directly
or through a family member, a
friend or a member of the com-
munity.TheRelayForLifeunites
communities across the globe to
celebratepeoplewhohavebattled
cancer, remember lovedones lost
and to take action to finish the
fight onceand for all. Therewill
be many activities throughout
the night. Please join us in this
opportunity to raise funds and
awareness tofight back andhelp
Lamps, antique furniture - drop leaf
tables, dressers, desk& chair, chairs,
3wingback chairs (2 recline);
crystal, china, silverware, dishes,
glassware, wicker furniture.
16OrchardDrive, LeRoy
July 25th
8:30 am til ?
CleaningService
•Carpet &UpholsteryCleaning
•Spot Cleaning&Odor Removal
•Tile&WoodFloor Cleaning&Waxing
•Complete Janitorial Services
TheAmericanLegionPost 576
Le Roy is asking that each club,
church, society, organization or
individual submitanominee tobe
consideredas the2015LeRoyan
The award recognizes people
who demonstrate the following
plifies the true spirit of Amer-
icanism, its ideals, love of flag
and country, regardless of race,
- Good citizenship by carrying
out theseprinciples,oftenbeyond
- Good citizenship by carrying
out theseprinciples,oftenbeyond
- Service to the community
signified by excellence in life of
purpose and accomplishments.
Applications can be obtained
LeRoyan of theYear
lpgraphics.net