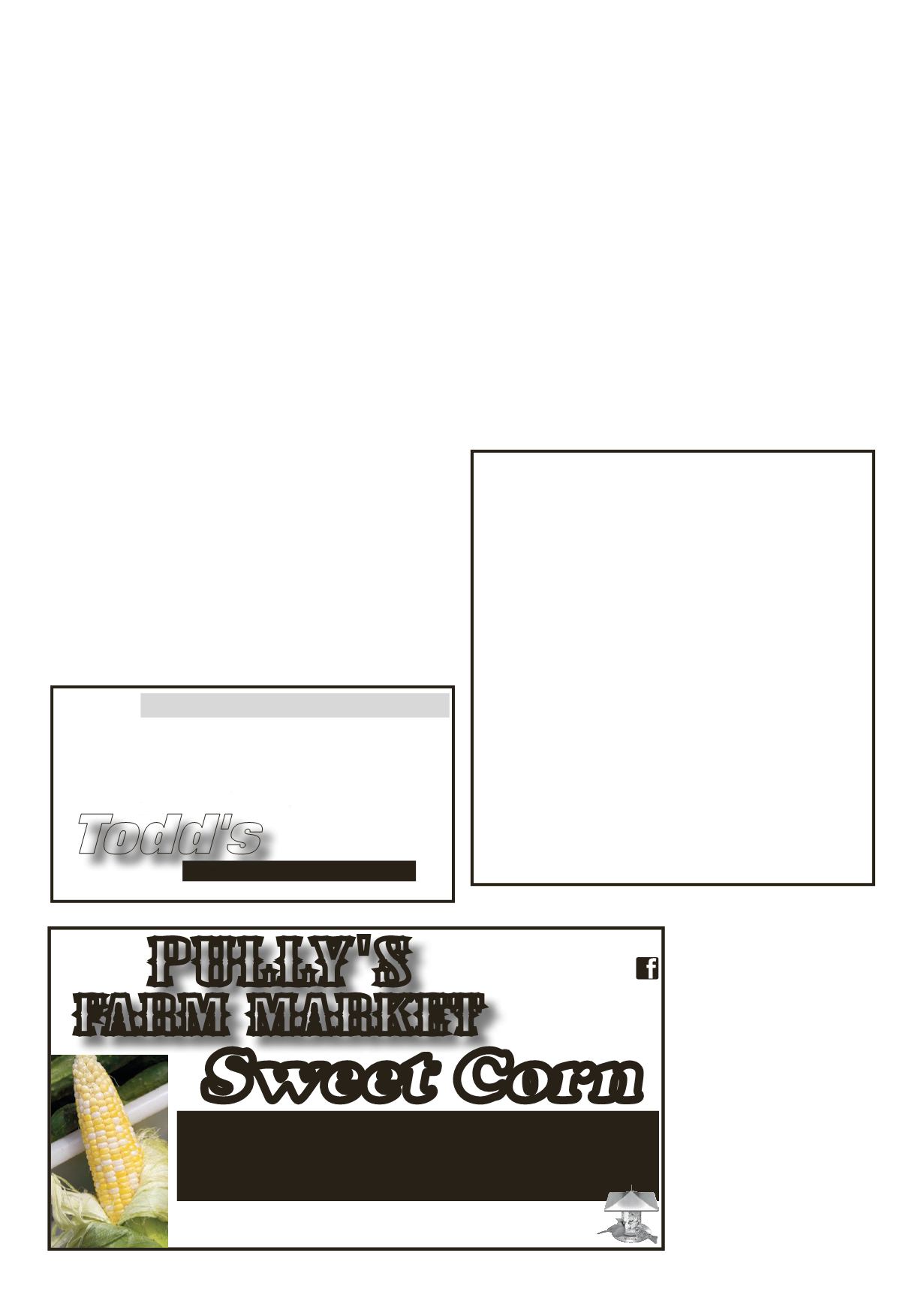 LEROYPENNYSAVER&NEWS - JULY 19, 2015
bySenatorRanzenhofer
July 2015
I ampleased to report that one
of my top legislative priorities,
extending the property tax cap,
has been accomplished during
thefinal days of the2015Legis-
Residents all across the 61st
SenateDistrict have stressed the
importance of renewing the tax
cap. In fact, three out of every
four residents expressed to me
their support for making the
property tax cap permanent in a
recentConstituentQuestionnaire.
As youmay know, if the State
Legislature did not act by next
year, the property tax capwould
have expired. It was absolutely
imperative to extend this tax
savingmeasuresooner rather than
later. Inmy opinion, waiting an-
otheryear toextend thecapwould
have put its future in jeopardy.
Now, under the new law, the
tax cap has been extended to
2020. Renewing the tax cap
protects property owners from
a return to the days of skyrock-
eting budgets and spiraling tax
increases. Inaddition, extending
thecapsecurescontinuedsavings
forhomeownerson theirproperty
tax bills for years to come.
While the property tax cap
hasn't solvedall of our problems,
it has helped to encourage fiscal
discipline and keeping a lid on
tax increases. In fact, according
to a recent study, taxpayers have
savedmore than$7.6billionsince
thecapwasfirstenactedfouryears
ago. In2015-16alone,homeown-
ers are expected to save a total of
$3.3billion in school taxes.
Fortunately, this isn't the only
good news for property tax-
payers from this year's session.
throughout Western New York
will beeligible for$3.1billion in
newproperty tax rebatesover the
next few years, starting in 2016.
When the new rebate amounts
are combined with the existing
tax freezecheckplanned fornext
year, a total of $900 million in
property tax relief checks will
PropertyTaxCapRenewal SecuresContinuedSavings,
Prevents SpiralingTax Increases forYears toCome
be sent. In 2019-2020, this new
tax relief will be fully phased in
and a total of $1.3billionwill be
Thenew tax rebate lawwill help
tobolsterproperty taxsavings from
theSTARProgram,aswellasongo-
ing savings for local governments.
This year's State Budget ap-
proveda recordamount,$3.4bil-
lion, for theSTARandEnhanced
STARprograms, twooutstanding
programs for middle-class fami-
Our localgovernmentswillcon-
tinue tobenefit fromsomemandate
relief to help hold down property
taxes. As a result of ongoing sav-
ings fromMedicaid and pension
reforms enacted in recent years,
local governments will be pro-
tected from hundreds of millions
ofdollars inhigher costs thisyear.
From the extension of the cap
tonew tax rebates, someprogress
has been made to help alleviate
thechallengeofNewYork'shigh
property taxes. As your State
Senator, I will continue to lead
the effort toprovideproperty tax
relief andmoremandate relief to
FACTORYPOSITIONS
AVAILABLE
We are looking for dependable individuals to work year
round in our established localmanufacturing operation.
Wages start at $11.00 per hour andwe offer:
Ifyouareover18and interested infindingoutmore –please
send a letter of interest andwork history or a resume to:
FactoryPositionsAvailable
NewRank,
NewResponsibilities
MajorGeneral PatrickA.Mur-
phy,TheAdjutantGeneral for the
State of New York, announced
the promotion of Kevin Czach-
orowski of the NewYork Army
National Guard in recognition
of his capability for additional
responsibility and leadership.
Byron, servingwith theCompa-
ny B, 642nd Support Battalion
is promoted to the rank of Staff
Army National Guard promo-
tionsarebasedonoverallperfor-
mance, attitude, leadership abil-
ity, and development potential.
NewHomes •Additions •Garages •PoleBarns
ToddCarli • Phone 703-0964
Todd's
Decks •Windows •Doors
Kitchens •Baths
CeramicTile
Basement Finishing
CustomShelves/Built-Ins
Siding •Remodeling
Roofing • SnowPlowing
FULLY INSURED
Cantaloupes •Watermelon •Zucchini
Summer Squash •Watermelon
Cucumbers • Pickles •Cherries •Tomatoes
8160LakeRd. (Rt. 19)
LeRoy, NY
1/2mile southof Thruway
768-2280 • 704-1157
Hours:Mon.-Sat. 9-6, Sunday 9-5
pullysfarmmarket.com
BirdSeed
&Feeders
Jams • Jelly • Seeds •Honey • Syrup
Gift CertificatesAvailable!