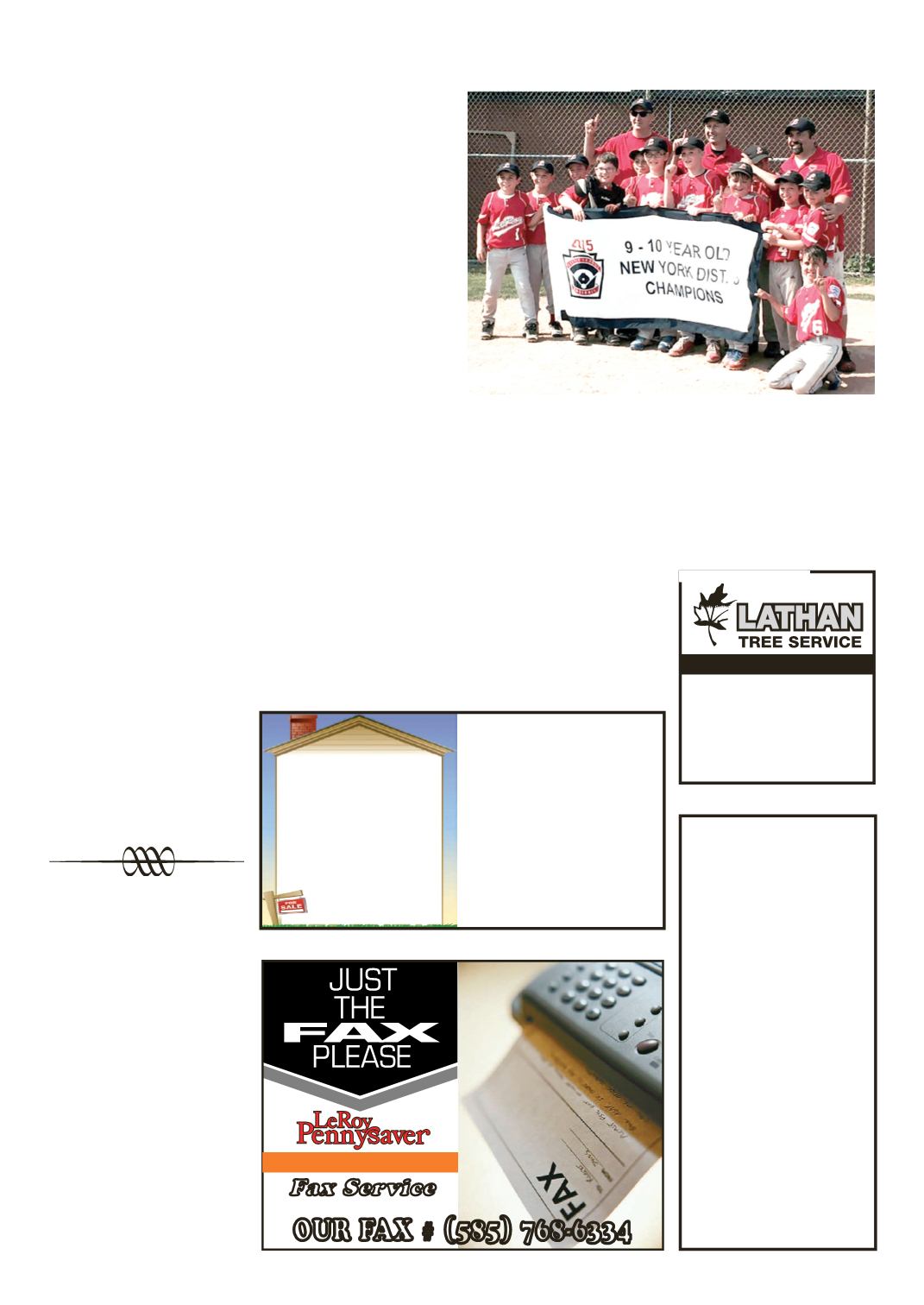 LEROYPENNYSAVER&NEWS - JULY 19, 2015
1ChurchSt., LeRoy, NY • (585) 768-2201
LeRoy's 9&10YearOldAll StarsAreDistrict 3Champions!
7/11/15 - LeRoy earned a spot
in the District 3 Championship
GameagainstBatavia (4-0) after
finishing pool play with a 3-1
record. LeRoy would win the
coin tossandelect tobe theHome
Both teams would struggle
to find their offense in the first
2 innings, only mustering one
hit each. In the top of the 3rd
inning,Bataviawouldget things
startedwith a hit to center field.
LeRoy's center fielder Gianni
Ferrara made an outstanding
effort for the out, but had the
ball pop out of his glove as
he fell to the ground allowing
Batavia's batter to score on the
hit. Batavia's next batter would
reach on error as the throw got
by LeRoy's 1st baseman. The
next 2 Batavia batters would
collecthits. Bataviawouldget4
runsacrossbeforeLeRoy retired
LeRoy would threaten in the
bottom half of the 3rd as Ryan
Higginswould lead off reaching
on error. LeRoywouldwork the
bases loaded, but would fail to
plate any runners in the3rd. Le-
Roy would quiet Batavia's bats
again in the topof the4th inning.
Heading into the bottom of
the 4th down 4-0, LeRoywould
begin to get things going. Tyler
Strollo would lead things off
drawing a walk. Luke Caccam-
ise would follow with a walk
of his own. After both runners
advanced, JacksonFixwouldsin-
gle to left scoringStrollo. Jason
LaSagewouldapproach theplate
anddrive a single into right field
After Batavia retired it's first
LeRoy batter, Drew Strollo
would draw a walk loading the
bases. Gianni Ferrara would
single to center field scoringLa-
Sage. With thebases still loaded
and one out,MavericMcKenzie
wouldstroll to theplate.McKen-
ziewould singlepast theBatavia
shortshop to center field plating
LaSageandDrewStrollo;giving
another run by working a dou-
ble steal with McKenzie and
Ferrara. John Panapento would
single himself, scoring McKen-
zie. Stillonlywithoneout,Tyler
Strollowould approach the plate
a second time in the inning and
collect an infield single. LeRoy
wouldn't collect another hit in
the inning but was able to plate
Panapento and Stollo after the
Batavia shortstop miss played a
LeRoy would head out to the
field in the top of the 5th inning
witha9-4 lead.Bataviawouldget
another run in the5thand3more
in the6th inninggiving thegame
Batavia is a very good hitting
team and Luke Caccamise was
brillianton themound in thestart
for LeRoy. Caccamise mixed
locations and speeds keeping the
Batavia hitters off balance all
afternoon. Caccamise would go
5 2/3 innings scattering 10 hits,
allowing 8 runs and striking out
4. John Panapento would close
things out forLeRoy, allowing1
This is LeRoy's 4th consecu-
tive District 3 title at the 9&10
year old level. LeRoy heads to
Cuba,NY tobeginSectionsplay
with their first game on Friday,
July 17th at 6:00 pm against
LorenWetzel
SeniorGolfLeague
1st team 5 -
David Jeary, Augie Ianello,
BillMcPherson, PhilO'Geen
2nd team 3 -
GeorgeBeckman,LarryCanale
T 2nd team 2 -
Dane Sprague, Duane Anchor,
Neal Bedford, RonPangarzio
3rd team 7 -
4th team 1 -
5th team 6 -
6th team 8 -
7th team 4 -
8th team 10 -
9th team 9 -
Most5s&6s
Quiet Residential
Neighborhood
7Poplar Lane
LeRoy, NY
3 bedroomRanch
2 1/2 bathrooms,
family room,
new kitchen, finished
basement,
2 fireplaces, new roof,
2 1/2 car garage.
Call (585) 993-1982
LATHANTREESERVICE
TreePruning Fertilizing/IPM
TreeSurgery • TreeRemoval
StumpRemoval • Planting
FreeEstimates Fully Insured