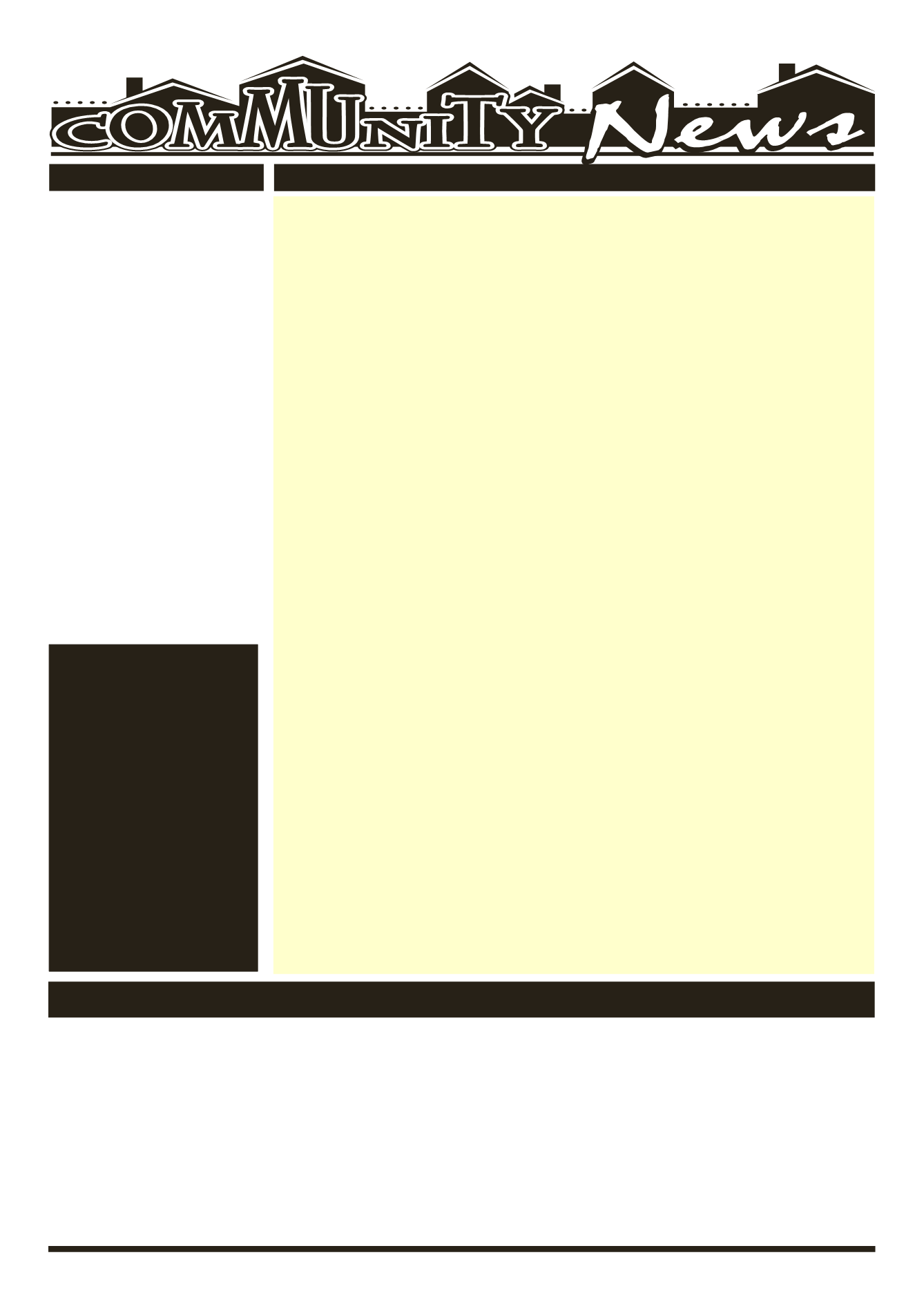 LEROYPENNYSAVER&NEWS - JULY 19, 2015
Le Roy
Pennysaver
All GeneseeCounty residents, 60andolder, can takepart in thisweek'sactivitiesat theBataviaSenior Center, 2BankSt., Batavia. Formore information, call 343-1611.
WEEKLYEVENTS
OBITUARIES
DefensiveDrivingClass
(PRE-REGISTRATIONONLY) is scheduled tobeginat9:00a.m. to4:30p.m.;
ArthritisExercise
Bridge
isscheduled tostartat11:30a.m.;
FarmersMarketCouponsDistribution
NewsletterAssembly
is scheduled to takeplaceat 8:45a.m.;
Cribbage
is scheduled tobeginat 1:00p.m.
QuiltersGroup
is scheduled tomeet at 9:00a.m.;
Euchregame
is scheduled tobeginat 1:00p.m.
FarmersMarketCouponsDistribution
is scheduled to takeplace from9:00a.m. to11:00a.m.;
LifespanMeeting
Cribbage&Bridge
arescheduled tobeginat1:00p.m.;
ViolenceTraining
isscheduled tobeginat1:30p.m.
ArtClassandLineDancing
is scheduled tobeginat 10:00a.m.;
Euchre
is scheduled tobeginat 12:00p.m.
SUNDAY, JULY19
KonnectYouthGroupat LivingWatersChurch,
days from6:30 to8:30pm forages12-18. "BringDownall theWalls! Connect
withGodandConnectwithothers." Formore information, checkusoutonline
at: livingwatersleroy.org/konnect-youth-ministry/
MONDAY, JULY20
TOPS (Take Off Pounds Sensibly)
meets Monday evenings at the LeRoy
Presbyterian Church, corner of Clay &Main Streets. Doors open at 6:00 pm
andmeeting is from6:30-7:15pm.Visitorsarealwayswelcome.Call585-768-
7103 formore information.
ToddlerTimeforTwosandThrees
beginsattheWoodwardMemorialLibrary.
Program runseachMonday from June29–August10 from10:30 -10:50am.
ToddlerTime isa storytime for childrenwhoare2and3yearsoldandacaring
adult. Spend 20minutes listening to stories that feature themes like shapes
andcolors,singingsongsanddancing,coloring,andplayingwithbubbles.Call
768-8300or registeronlineat
International Spy Academy Vacation Bible School
20th-Thursday, July 23rd 6-8:15 pm. Children 4-12 years. Fun-filled activi-
ties-lively songs, drama, creative crafts, excitinggames, BibleStories,mission
projects,tastysnacks.For informationcall768-2308.SponsoredbyFirstPresby-
terian,FirstBaptist,UnitedMethodistandSt.Mark'sEpiscopalchurchesofLeRoy.
TUESDAY, JULY21
Preschool Storytime:
Every Tuesday at 11 am featuring stories, craft and
songsatPavilionPublicLibrary, 5WoodrowDr., Pavilion. For info: 584-8843.
LCCP'sGRACE'SKITCHEN:
A FREE dinner everyTuesday evening, 5-7:00pm
at theMasonicCommunityCenteron12BankSt. Plentyofparking.Takeout&
delivery are available. Formore info. contact SelbyDavis at 585-738-8882or
GRACE'SCLOSET:Aclothinggiveawayprogram
MethodistChurch,10TrigonPark,LeRoy,9:30am to11:30ameveryThursday.
Wehaveclothing forallages.Weneedbeddingofallkindsespeciallyblankets.
Donationscanbedroppedoffatthehousenexttothechurch.Pleaseputallbags
INSIDEon thebackporch. NO ELECTRONICS, COMPUTERS,DISHES, etc.
Open
Tuesdays5-6:30pm.
Anyquestions call theoffice768-8980.
The Stafford UnitedMethodist Church
is working in partnership with
Foodlink
of Rochester to sponsor the Foodlink FreeMobile Food Pantry. It
will be held from 5-7 p.m. at Emery Park, located at 6061 Rt. 5 in Stafford.
Theexact itemsarenot known, but freshproduce isalwaysavailable. Food is
distributed on a first-come, first-servedbasiswhile supplies last. There is no
incomeor ID requirement but recipientsmust be18 years of ageandprovide
theirownbagsand transportation.
Townof LeRoyPlanningBoardMeeting
(as necessary) 7:30pm at theTown
Hall, 48MainSt. For further info. call 768-6910, Ext. 223.
WEDNESDAY, JULY22
JurassicParkReptilesat theWoodwardMemorial Library
p.m. for children in kindergarten through6thgrade. Learn about dinosaurs
and their relationship tomodernday reptiles andbirds. See liveanimals and
fossils. Presented by R.E.P.C.O.Wildlife. Call 768-8300 or register online at
VillageofLeRoyBoardMeeting
7pmat theVillageHall, 3WestMainSt.
THURSDAY, JULY23
GeneseeVeterans Support Network
(GVSN) supports the development
ofVeterans focusedAAmeetings everyThursday, 6-7pm at the First Baptist
Church, 306 E. Main St., Batavia. Meetings led by MikeW. & are open to
non-veterans as well. Handicap accessible. For additional information call
TownofLeRoyBoardMeeting
7pmat theTownHallBoardRoom,48MainSt.
MakeSuperheroMagnetsandCoasters
attheWoodwardMemorialLibrary
from1 to2p.m. Thisprogram is forgrades7-12. Makemagnetsandcoasters
usingModPodge andold comics. Call 768-8300or register online at
FRIDAY, JULY24
Penuel ChristianFellowship,
One Step to Freedom addictionsministry, a
Christ CenteredAddictions program, aweeklymeetingeveryFridayat 7pm.
Call theChurch formore informationat768-6901or594-9575.
Flea&Farmer'sMarketFridays
-GeneseeValleyEMS,3338CaledoniaAvon
Rd. (Rte. 5), Caledonia, NY. 11 am to 6 pm - every Friday,May 1st - October
30th. Fresh fruitandvegetables, etc.Hot foodanddrinkswill beavailable for
purchase.11'x22'spaces -$20.To reserveaspaceormore info -call585-698-
8244. All proceeds go toGeneseeValley EMS&CaledoniaAmbulance. Come
Legos, Games, and a Movie
at theWoodward Memorial Library from
12 – 2 p.m. for children in grades Kindergarten through 6. Registration is
SATURDAY, JULY25
ByronKiwanisBBQ
-July25th,HeritageDays.ByronPark,4pmtilgone.$10.
UPCOMINGEVENTS
LCCP'sMommy&Me Playgroup: Every 2nd& 4th Friday,
Le Roy Physical Therapy (in the back gym). Anymoms and their birth-kin-
dergarten children are welcome to come enjoy socialization, lunch, coffee,
structuredgames& freeplay.
CommunityCalendar Submissions shouldbe sent to:
PAVILION/FAIRPORT—DebraE.Sherman
died June 10, 2015, at age 51. In lieu of
flowers,memorialsmaybemade to theFirst
BaptistChurchofFairport (SteepleFund), to
Lollypop Farm (99 Victor Rd., Fairport, NY
14450) or PavilionFireDept. (POBox 156,
PAVILION/GREECE — Miriam G. (nee
Paine)FarrofGreecepassedawayonJune
30, 2015.Mrs.Farrgraduated fromPavilion
Central School in 1945. Memorials may
be made to the Ronald McDonald House
Charities,333WestmorelandDr.,Rochester,
EASTBETHANY—YvonneP.Eschenlauer,
80, of East Bethany died Tuesday (July
7, 2015) at the Genesee County Nursing
Home. In lieu of flowersmemorialsmay be
BYRON— Richard "Dick" Austin of Byron
passedawayonApril 17,2015,athishome.
Memorials would be appreciated if sent to
the Byron Rescue Squad whosemembers
didsoverymuch forDickevenwhileoffduty.