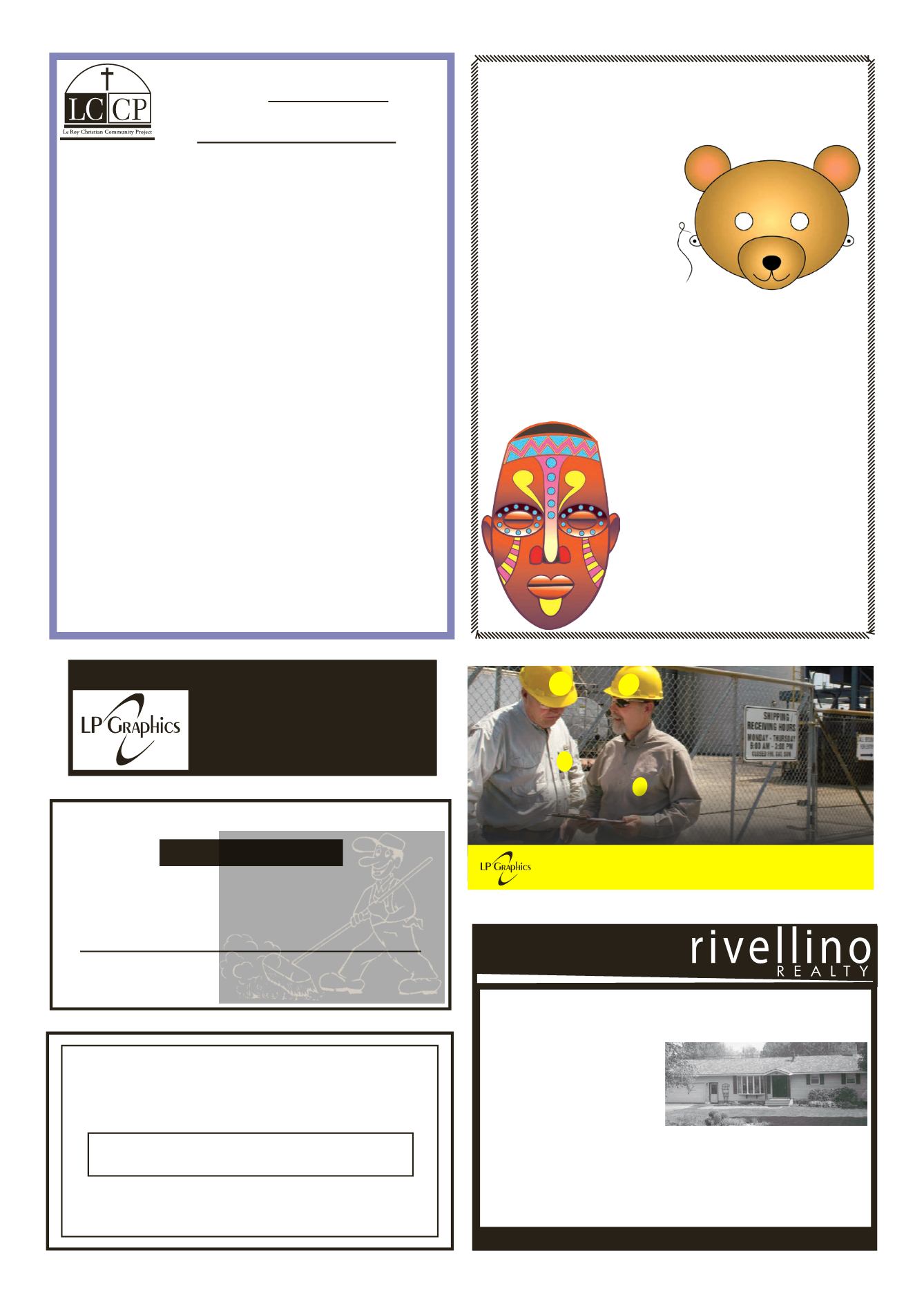 LEROYPENNYSAVER&NEWS - JUNE 21, 2015
1ChurchSt., LeRoy, NY14482
585-768-2201
FAX 585-768-6334
WeDo
Plumbing • Heating
Installation&Repair Service
For All Residential &Commercial Work
CleaningService
•Carpet &UpholsteryCleaning
•Spot Cleaning&Odor Removal
•Tile&WoodFloor Cleaning&Waxing
•Complete Janitorial Services
TheLeRoyChristianCommunityProject
would like toTHANK everyone that
helpedmake our 3rdAnnual
SpringCelebration a success!
Thank you to the community for coming out to support us.
THANKSTOOURSPONSORS:
Gold –
TompkinsBank ofCastile InsuranceAgencies
HumphreyMediaSolutions •CameronFuneralHomes, LLC
GriffinGraphics • FidelisCare • LPGraphics
Silver –
St. JosephCatholicSchool • LeRoyDental Center
Bronze –
Dr. Anthony J. Gugino, DDS • StellaCollisionServices
THANKSTOOURVENDORS:
Botts FioritoAmericanLegionPost #576
VickiMcArdle -Artist andQuilter •KozyKabin
Relay for LifeLeRoy •AmericanHeritageGirlsTroopNY 0146
LoveBugsLeRoy • LeRoyNurserySchool •ChelseaLeeAnne
TheLeRoyEcumenicalVacationBibleSchool
SunshineNurserySchool • FidelisCare
TheMasonicChild IDProgram •DoreenVantranBortle
BlueEyesBarkshop •WoodwardMemorial Library
RicksRadical Customworks,
Thanks for providing greatmusic,MAC.
Thanks for the delicious chickenBBQ, TomMcGuinnis
WoodwardMemorial Library&
Kindergarten –
Grade 2
Saturday, June 27
12:30 – 1:30p.m.
Grades 3-6
Saturday, June 27
2:30 – 3:30
Learn about different cultures andwhy they use
masks! Create your ownmask!
Registration is required.
Call 768-8300or register online at
ThisDecentralizationRegrant Program
ismadepossible by theNewYork StateCouncil
on theArtswith support from
GovernorAndrewCuomo and the
NewYork State Legislature.
Dress Shirts, Polos, Vests, Hats, Jackets, Etc.
1ChurchSt.
LeRoy, NY14482
585.768.2201
250N.MainSt.
Warsaw
786-3614
585
786-3614
463 STARR RD., COVINGTON:
This fantastic offering, foundon
almost 7 acres, this beautifully
landscapedprivateyard isamaz-
ing!Mature fruit trees andmany
flowering trees alongwith room
to gardenmake this the perfect
setting. Two plus car garage and a lovely back deck. Insidewe find a
completely renovated interior. Large great room that includes brand
new solid surface kitchen counters, beautiful new hardwood floors
andadiningarea thatoverlooks thebackyard.Hugemasterbedroom
andnewlyfinishedmasterbath, alongwith twomorebedroomsanda
nice sizedbathcomplete theupstairs
. REDUCEDTO$167,500.
OPENHOUSE
SATURDAY,JUNE20TH1TO3PM